Welcome to Millfields Community School
| | |
| --- | --- |
| | |
Latest News
Message from Headteacher
Fri 22 Sep 2023
We are at the end of another busy week -it seems like we have been back for ages, and it's only the end of week 3!
Individual school photos were taken on Tuesday, and all of the children looked so smart in their uniforms. The photos are available to purchase via the QR code on the slip that your child should have brought home. please see your child's teacher in the first instance, and then Crystal at the main office if you have not received yours! Sibling photos will be taken later this term -watch out for the date!
Well done to all the Reception and Nursery children who are coming in through the gates on their own now and skipping down to their classrooms. There are still a few children finding the morning separation difficult but they will soon join their classmates -parens don't worry! The children will get there in their own time!
Another huge 'thank you' to everyone who baked and/or bought a cake, or made a cash donation for the Morocco Earthquake disaster fund last Friday. We collected more than £300 in cash at the gates, and £340 from the cake sale. Thank you for your generosity as always -money is still being collected and counted so will announce the total next week!
Next week is Maths Week at Millfields, and across the school, all of the children will be thinking about 'gaming' but not the electronic kind but bard games! The aims of the week are to make Maths exciting, reinforce a growth mindset, encourage collaboration and strengthen Maths learning behaviours. Every day will begin and end with playing games, White Rose Maths Lessons will continue as usual, and there will be Homework Task -this will be sent out on Monday 25th, and on Friday 29th September -it is dress up day - dress as a Timetables Rockstar! Get your costumes sorted this weekend! Also, during assemblies next week, we will be looking at and learning about famous and influential mathematicians!
On Wednesday, 8 of our very active KS1 children took part in a Hackney multi-sports event -the children had a great time learning different skills and taking part in some non-competitive sport! Well done to Kaden, Jua, Caia, Florence, Aaliyah, Mars, Amari and Aiden! Thanks to Jo and Vickie for taking them and encouraging them!
Also this week, Y4 Mykong Cla
ss visited the British Museum as part of their History work, and took part in a workshop about decoding Egyptian tomb paintings. This experience will enhance their learning in class, and help with their project homework!
The Millfields & Empathy Animals Dog Show, 'Dog's Day Out' takes place tomorrow Saturday 23rd September in the school playground. Please see the link 
here
for more information and get your dog registered, or just come to take part in the fun!
Next week is also 'Cycle to Work and School Week' -look out for the letter with more information on Google Classroom and via Scopay!
Finally, I do hope to see some of you and your dogs at the show tomorrow. If not, I hope you have a good weekend.
Best Wishes, Jane
Message from Headteacher
Fri 15 Sep 2023
Welcome back to all our wonderful Millfields families and welcome to our new families who have joined the Millfields community this term.  A special welcome to all our new Nursery and Reception class children and parents/carers and other new starters throughout the school. I know it may seem a bit daunting for the children (and you!) but they will soon settle and get the hang of all the school routines. Welcome also to all our new staff; Dean, Leigh, Tom and Ven, and welcome back to Claire who has been on maternity leave.
The children and staff have already been very busy getting back to the daily routines, setting new expectations and working hard. The school has been a very happy and purposeful place, as the children and staff have enjoyed the new learning this term.  We have reinforced the behaviour expectations, to be READY, RESPECTFUL and SAFE at all times.  Please talk to your child about their new class routines and expectations in class and around school. One area of the curriculum that I know that all the children are enjoying already, is PE with our PE coach Kea.  Thank you for sending your child into school wearing their PE kits on the days that their class has PE, it works really well.  A reminder however, that football shirts should not be worn, so please try to wear a blue or white t-shirt and dark shorts, and black or dark coloured trainers.
All of the classes have also been electing their Champions and Councillors.  Every year, classes choose an Eco, Language and Equality Champion and a Class Councillor and Deputy Class Councillor.  These groups ensure that all classes have a say through their reps on the things that happen at school.  We will be hearing from our school Prime Minister, Iris and Deputy, Orla, in the Mag next week.
Thank you to all the Y6, Y1 and y2 parents who attended the welcome meetings this week -I hope you found them useful. The powerpoint will be emailed to you for information and for those who could not attend. Today, if you are in Y1-Y6, you should also receive a Class Information Booklet that will give you an overview of the curriculum expectations and topics for this term, as well as other useful and important information for your child's class, as well as a homework project leaflet. Please look out for the email, and also look at Google Classroom for the Class Information Booklet . This year, the main form of communication will be via Google classroom and email, so please make sure we have the correct email contact details. Parents in Reception classes, please look out for joining details that will also be emailed out, and  Nursery will be emailed out next week.
But if there is anything else that you need to ask or want to know more about, please email the class teacher, Age-phase Leader or one of the Senior Leaders, and we will be happy to try our best to help!  (All teaching staff emails are on the school website under staff). However, please note that teachers cannot always reply to emails immediately, but will try to respond in a timely manner.  There is also lots of information emailed to parents and also text reminders, as well as lots of the information that you may need on the school website, which is regularly updated.
Thanks also, for your cooperation and understanding while we ensure that the new, and very popular, clubs are established and tried and tested routines are put back in place. We will continue to review and keep you informed of any changes, and strive to find the best solutions. I am aware that there was a lot of disappointment about not getting the clubs that you wanted but we unfortunately have limited space on each day, although we are trying hard to introduce new and exciting clubs that we hope your child might enjoy.
Year 6 classes started the week visiting Kew Garden as an initial stimulus for their learning on the Amazon and Year 2 classes enjoyed a workshop to spark their curiosity forlearning about Africa.  All classes will have a visit linked to their Humanities learning each term, and as many of you know, we have lots of other trips planned for throughout the year, so please complete the permission form within the Google Form in the email that came to you on Friday 8th September or please complete the link to give permission for all London trips this academicyear here:
https://forms.gle/dfk3W6LeTT3q9Ziu7
Please note the dates of our Sharing Assemblies that will be starting next week, on 22ndSeptember, with Y6 Yukon and Mississippi Classes.  For our new parents, there are 2 Sharing Assemblies each year, so the youngest classes tend to be in the Spring and Summer terms.  The two assemblies run at the same time in different halls first thing in the morning.  We invite all parents/carers to come to watch the assembly that showcases some of the work that the children have been doing.
On Tuesday 19th September, we have professional photographers in school to take individual school photos.  On this day, please wear school uniform, and shoes even if it is PE, and bring PE clothes with you.
A reminder that we have our, now annual, Dog show, 'Dog's Day Out' that will be taking place on Saturday 23rd September in the school playground. Please see the link here for more information and get your dog registered, or just come to take part in the fun! we are looking for any face painting volunteers for the day or anyone who can help with selling tea and coffee. Please email info@millfields.hackney.sch.uk
Also, please remember that we need to be mindful and respectful of our school neighbours. Please do not stand in groups on the road or on the street corners, and please do not lean up against cars that are parked there.  And, please do not park on the double yellow lines/corners of the roads as this is a danger to all our community.  Thank you in advance for your support with all of this.
Finally, thank you to all the parents who have brought cakes to sell tonight at the Cake Sale to raise money for Morocco Earthquake Appeal. We have already collected more than £300 in cash this morning at the gates, so thank you for your generosity as always. Buying a cake tonight will help to raise more! Thanks to the PSA for their support, and thanks to all of you!
Have a lovely weekend. Best Wishes, Jane
Meet the teacher -welcome meetings
Mon 21 Aug 2023
Each year there is a whole Year Group meeting, followed by a brief class teacher meeting for parents and carers who have children in Years 1-6. This is an opportunity to meet the teachers, look at the classrooms and to find out about what your children will be learning this year, as well as familiarising yourself with some of the class and school routines and expectations. The teachers will also let you know how and when it is best to contact them. You should get an idea of the school day for your child and receive a Maths and Literacy booklet specific for your child's age group as well as the term's overview. There will be time for questions too!
All meetings will take place in the middle hall.  The meeting times are below:
Class Welcome Meetings 2023
Year 6: Monday 11th September at 3.45pm
( YUKON -Orla,  ORINOCO–Sumon, MISSISSIPPI–Emily )
Year 1: Tuesday 12th September at 3.45pm
( KILIMANJARO –Dean,   KARISIMBI–Ashraf,  OLYMPUS -Ven/Kimberlie)
Year 2: Thursday 14th September at 3.45pm
( DOURO–Rosa,   ZAMBEZI–Naomi,  NILE –Mia )
Year 3: Monday 18th September at 3.45pm
( ARARAT -Angela,  FUJI-Bruno,  ANNAPURNA- Hurvinder )
Year 4: Tuesday 19th September at 3.45pm
( GANGES–Leigh, MEKONG –Jess,  YANGTZE–Theo )
Year 5: Thursday 21st September at 3.45pm
( SHENANDOAH–Tom,  ACATENANGO –Claire/Roz,  FITZ ROY-Mehmet )
Summer Holidays
Tue 25 Jul 2023
There are also some wonderful events and activities happening over the summer. There are lots of free and cheap activities for your children to do during the holidays. There is free swimming for children at Hackney pools (not the Lido) and parks, libraries and museums all have free activities during the holidays. Children can also visit their local adventure playground.
Please look at the Hackney Summer Activity Guide here.
Here are a few other links/ideas in case you find yourself stuck for something to do:
Summer Reading Challenge - https://summerreadingchallenge.org.uk/
Events at your local library - https://hackney.gov.uk/libraries-whats-on
https://hackneycityfarm.co.uk/
Some ideas for those 'what shall we do today?' days!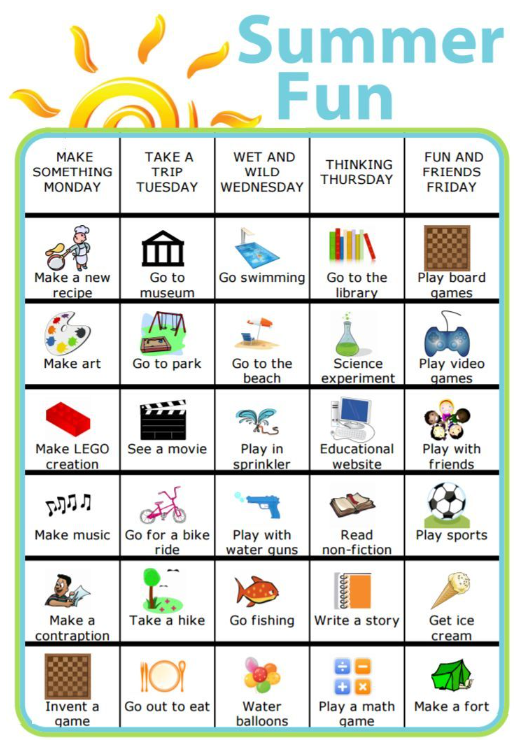 Message from Headteacher
Fri 21 Jul 2023
Well we have made it to the end of another busy, fun-filled, and immensely enjoyable year at Millfields, and I can only again, thank the whole school community - the children, the parents andfamilies and the brilliant staff we have at Millfields, who have worked hard every day, who have all made it another fabulous chapter of learning. A huge 'thank you' to all the amazing parents and carers who have supported their children and the whole school community in so many ways. High-lights of the year for me have been many, but I will just mention a few - greeting all the lovely Reception children every morning, Families Week including 'Bring Your Pet to School, Creative Evening, the Summer Fair, World Book Day dress up and cakes, the Y6 Show, all the trips and visits, The Hackney Run, all the sporting events that we have taken part in, and especially winning the Cycling League for the 8th successive year... the list goes on!
Thank you again to all the parents/carers who completed the Parents Survey earlier this year -it will be published on the website for you to read. As always, we will endeavour to answer any questions or concerns. Also, please note that if you do have any concerns or complaints, or even compliments, please don't wait until the end of each term or the end of the term - please make an appointment to meet the teacher (they willbe available outside the gates at least twice a week from September) and/or a member of SLT. We are very approachable and always try our very best to deal with issues in a timely and appropriate manner.
You should have received your child's Annual Reports and any relevant test results in Y1, Y2, Y4 and y6. Thank  you to the parents who gave us feedback! Sports Fortnight continued this week, and the children in Y3 and Y4 enjoyed a chance to try out the Rollerbikes, and also Y4 children tried a martial arts class! The ever popular morning aerobics continued until Thursday! Again - thank you to Ashraf for organising us all! A special congratulations and well done to all ofthe 30 + riders who have taken part in the Cycling League events over the year. They won the league quite  convincingly again, and we are so proud of them all! There were big shoes to follow with organising the team of riders from across Y4, Y5 and Y6, so thanks to Sharon and Nishie and the parent volunteers for making this another amazing year! We celebrated today with a pizza! The new trophy will be coming ourway in the new term.
On Wednesday, we celebrated all the wonderful singers and musicians at Millfields at our end of term concert at St James Church. The 2 choirs, the guitarists, brass, drummers and string players, and the rock bands, all played brilliantly. A massive 'well done' to them all. And a sepcial mention to Anno and Lila foir their solo performances. Thank you as ever to Roz, Tom, Lawrence and Luciano for making it happen!
The whole school went out to local parks yesterday for Outdoor Day. It was a lovely day with so many great adventures and activities for all the children - tree climbing, rounders games, nature art, making dens, making potions and so much more! A lovely end to the year altogether.
As well as being a celebratory time of the year -finishing primary school and moving on, this is also a sad time for the Y6 children and their families, and for me and many of the staff who have seen the current Y6 group develop into confident, inclusive, brilliant, thoughtful and all round amazing human beings -our change-makers for the future! As they get ready to move on to the next stage in their educational journey, we celebrate the brilliant individuals and collective year group who have been true ambassadors for the school in every way and on every forum. From their very first day, at the start of their journey at Millfields, it has been a joy! They have thoroughly enjoyed the last few weeks (and I hope the last 7 or 8 years!) at Millfields - the Y6 play, the Sports Days, the trips and other activities, and of course, the Y6 Party last Friday - there were so many emotions, but mostly they had a great time. Thank you to all the children and their families in Y6 -you have all been so supportive and we will miss you all! Good luck on the next stage of your journey and remember – continue to make sure your voice is heard and be the best that you can be!
Another really BIG THANK YOU to the PSA and all of you -you will have received an email this week letting you know how much money has been raised over the year -a whopping £14,700! It is a huge help to the school, so thank you for supporting all the various events. SPECIAL THANKS to Heather, Karen, Bettina and Melissa and the rest of the PSA committee.
this is the last Mag of the year, we are saying a goodbye and a huge 'thank you' to some members of staff who are moving on/taking time out for new and exciting ventures. Good luck and best wishes to Ben, Hizza, Clara, Rosie and Kamilah and Devon! Thank you and good luck in your new ventures! I know you will join me in thanking them for all their work at Millfields and wishing them all the best and good luck for the future! Good luck also, to all the children and families who are moving out of London to new houses and new schools in the UK and further afield over the summer – we will miss you all!
Thank you everyone, have a great summer break. I will see you on Wednesday 6th September. Take care and stay well! Jane
Message from Headteacher
Fri 14 Jul 2023
What a brilliant day the Millfields community had last Saturday! The Summer Fair was a huge success again - despite the rain and the fact that lots of families were away that weekend! The PSA committee and other parent volunteers did an amazing job - it ran like clockwork. There were lots of great games and activities, karaoke, the school choir singing, food and drink, arts and craft stalls, lots of pre-loved things to buy, tombola and the raffle and lots more. Thanks to everyone for coming along and joining in the fun and helping to raise a fantastic £9,022.61, even with the rain! This includes money raisedt hrough Keaton's sponsorship. THANK YOU to each and every parent who volunteered before, during and after the event, and to those who donated raffle prizes, but a special thanks to all of the PSA committee especially Heather, Melissa, Karen and Bettina. A great community effort!
We are at the end of another busy, fun-filled, and really enjoyable week of sporting activities! Each morning started with lots of energetic aerobics and dancing, which the children, staff and some of the parents loved! Thanks to Jose, Roz and Reegan for their morning aerobics and fitness sessions! The children have also enjoyed extra PE sessions this week including the daily mile around the school each day; and lots of different activities have been on offer for children in different year groups. Children in Reception enjoyed a multi-skills session with Arlo's dad - big thanks to him for volunteering his time. Tag Rugby sessions took place for all children from Reception to Y6 - many thanks to Tiernan's dad and Hackney Rugby FC for volunteering their time and patience! Badminton sessions for Y4 and Y5 were very popular, as was online chess with Theo. Some Y4 and Y5 children enjoyed the opportunity to learn to sail - thanks to Dave (Klara and Loutro's dad for organising!). Y4 enjoyed the chance to play netball with Zaheera (Inayah and Hidayah's mum), Y6 had fun circuit training with Des, and Y2 enjoyed Hockey sessions with Jose. KS2 Sports Day was great fun yesterday - the children had great fun and
it was very competitive too, and that was only the parents! Today, despite the rain, Nursery and Reception children continued to have fun with all their Sports Day activities at Hackney Downs. Huge 'thank you' to Ashraf for organising us all, and to Sharon, Chris - our PE coach for the week, and all the staff who worked hard to make the Sports Days run so smoothly! More sports activities and Sports Days next week, so sports clothes and water bottles again next week!
Also today, the Cycling Team is in action for the final race of the season, at the Olympic Park Velodrome. Good luck to you all - do your best, and I hope that the Hackney Cycling League Shield will be coming back to Millfields for another year! (Fingers crossed!)
On Wednesday, it was Transition morning for all of the children and staff. Children met their new teacher and the teacher met their new class. We welcomed lots of new children to the Nursery andreception - lots of little brothers and sisters, as well as new teachers, Leigh, Dean, Hurvinder and Tom to the Millfields staff team. Our class names have changed this year! All classes are now named after rivers and mountains from across the UK and the rest of the world. It is going to take all the staff and children some time to learn all the new names, but I hope that your child will have spoken to you about their class name and that you will help them research and find out more about their class names overthe holidays. I know that all the feedback that I have had from children is very positive. It is always adifficult task to allocate teachers to classes and there are always many reasons that my team and I have to consider when making this decision, factors that you may not be aware of as parents, but please be assured that the decisions are not taken lightly and much thought always goes in to the process to ensure the best outcomes, both academically and socially, for all of the children in the class as a whole, and for all the classes across the school. The class allocations, with the new names can be found on the website under the parents information section and here in the Mag. Support Staff allocations have not yet been finalised, but will be decided by the end of the year and shared in September.
Y6 put on a great show (3 shows) over this week - 'Pandora's Box'. It was a brilliant way to round off and showcase the many talents - singers, dancers, musicians, comedians and actors! One more week to go!
Next week is UKS2 Sports Day on Monday 17th, KS1 Sports Day on Tuesday 18th, and a whole school Outdoor Day -Thursday 20th July (to replace London Day, as train strikes will impact all London buses and tubes). The whole school will be going to Hackney Marshes for activities and games and apicnic lunch! Finally, please remember that you need to complete a leave request form if your child needs time off during term time, and that this needs to be considered and authorised (or no) before taking the leave.
Have a lovely weekend. Take care. Jane
Message from Headteacher
Fri 07 Jul 2023
CONGRATULATIONS, to Iris Adams, our new Prime Minister and Orla McMahon, our new Deputy Prime Minister whose party 'Brilliant Blue Dragons' won with a very small majority - it was very close. as always!
It has had a brilliant, albeit short 'Democracy Week' -some fantastic ideas in the party manifestos, great debate, very professional press conference, amazing teamwork and great reporting. This week is truly magical and showcases all that is so brilliant about all the children, staff and wider community at Millfields!  From last Friday afternoon, all the excitement began as classes voted for 'members of class' and then the election of 5 excellent leadership candidates!  A massive 'Well Done' to Akaash and Tessa, Tia and John, Grace and Dixie, Iris and Orla, Tessia and Rudy  for their excellent manifestos and amazing husting speeches.  There were lots of fantastic ideas ranging from more playtime, more fundraising, more vegetarian and vegan meal options, more chill out spaces to help our well-being, more anti-bullying workshops and projects, better playtime games and equipment and so much more!  Thank you to the party advisors - Adele, Jo, Nino, Dudley and Izaac for supporting and guiding them.  All of the fantastic ideas will definitely be part of the work that all the candidates will be doing next year as part of the Millfields Cabinet. I am really looking forward to working with them and making some changes next year! All of the manifestos can be read on the website. I would also like to say a huge 'thank you' to Tafari and Vinne, our out-going PM and Deputy, who have been great ambassadors for our school and community!  And finally a big 'thank you' to Councillor Ian Rathbone who came to announce the new PM yesterday afternoon! He commented: 'It was a real privilege coming to Millfields and sharing in the elections. The school has such a community vibe and friendliness to it.'
All of the children from across the school have been so involved in all of the activities and events this week. They have been learning about democracies, the voting process, parliament and world leaders, and have been excited to hear all the candidate's ideas for our school.  The children made fantastic rosettes, and took part in a march around the local area to support and promote their parties.  They then listened to the leaders' speeches, cast their vote in the Millfields' polling station and they heard the PM announcements this morning.  There have also been lots of Y6 journalists, journalists and vloggers/bloggers at work, writing articles, sharing the gossip and showing the results of questionnaires, for the daily Democracy Week newspaper, 'Democracy Daily', as well as gathering opinions and views and making online videos etc.  Huge 'thank you' to Olivia (Debi's daughter) who organised and coordinated the newspapers..  The whole week has been organised so meticulously and creatively by Emma! Thank you so much as always!
Next week is the beginning of 'Sports Fortnight' and I am hoping that all of the children will really enjoy all the activities that are planned.  Please note that children can wear different sports clothes and sports shoes/trainers every day during this week.  As already mentioned, Sports Days for all the year groups have already been advertised in the Mag and via email. Text reminders will also be sent!
Please also be reminded that time off during term-time is not an automatic right and that any leave of absence must be authorised before booking any flights/holidays etc.  Schools are closely monitored for attendance, so anything below 90% attendance is considered a cause for concern.
Finally, it is the SUMMER FAIR tomorrow, SATURDAY 8th JULY from 11am-3pm. Hope to see lots of you there and hope that the weather holds!
Have a good weekend.Take care and keep well. Jane
---