Welcome to Millfields Community School
| | |
| --- | --- |
| | |
Latest News
Message from Headteacher
Thu 19 Jul 2018
It is the end of another academic year that has has certainly been a challenging one, a difficult one at times, but has also been a rewarding year in so many different ways. We organised many amazing events; we had successes, academically, in the sports arena and in the creative field; we celebrated together; we achieved a successful Ofsted; and we showed and shared compassion and grief together.  Thanks to all the children, staff, parents and the wider community for all of your support, compassion, enthusiasm and energy – none of the amazing things that happen at Millfields could happen without all of you. And this year especially, with the loss of our dear friend and colleague, Alice, we have become a stronger, more empathetic and resilient community.  As I reinforce every year, the Millfields School community is definitely very special, and I am humbled and proud to be a part of it.
As always we are very sad to see the children in Year 6 get ready to move on to the next stage in their educational journey. This group of Year 6 children have been a great group from the beginning of their time at Millfields. Some of them were the first children to come to Millfields Children's Centre. The end of year performance of 'The Lion King' was just brilliant – great staging, costumes, acting, singing and most of all good humour and fun. This year group have worked hard, they have been enthusiastic learners, good friends and considerate classmates. They have always been excited to learn and take part in all aspects of school life. They have all developed confidence in their own way, and become informed and articulate, and not afraid to share their views and opinions; there are many big personalities as well as a few quiet talented individuals in many fields – writers, actors, singers, musicians, sportsmen and women, footballers, cyclists, politicians, dancers, singers, ambassadors and entrepreneurs! I know we will definitely hear some of your names again in the future, of that I am sure. Remember –continue to make sure your voice is heard and be the best that you can be! Well done – we are going to miss you all!
At our end of term celebration assembly today, we recognised all the hard work of our very dedicated and enthusiastic class champions –Eco, Learning, Road Safety and Language champions. We also thanked our Article 12 Group that has been ably led by our PM Solly and Deputy PM Suki –they have made some changes and differences to many aspects of school life. We also celebrated the 3rd successive Hackney Cycling League trophy, the first Hackney Cross-Country trophy and swimming gold and silver medals as well as Y5 Chess champions. Well done everyone! I am always very proud of your effort and achievements!
Last, but certainly not least, we are again, saying a goodbye and a huge 'thank you' to some members of staff who are moving on to many varied and exciting ventures in the UK and the rest of the world! Farewell to teachers – Teague, Blaithin, Alex, Rachel and Dorothy and Children Centre Manager Trefor, and to support staff – Adam, Victoria and Jane Curtis. A special 'thank you', to Eileen who has steered Portsmouth Class through a difficult time this year. She has done it with great dignity and good humour –much appreciated. I know you will join me in thanking them for all their work at Millfields, and wishing them all the best and good luck for the future! Also good luck to all the children and families who are moving out of London to new houses and new schools –we will miss you all!
Thank you everyone, have a great summer break, and see you on Wednesday 5th September at the new earlier time of 8.50am. Set those alarm clocks now! Best Wishes, Jane
Cycling Is Coming Home!
Tue 17 Jul 2018
Massive congratulations to the cycling team on winning the the Hackney Cycling League for the third successive year! It was a tense finale but despite intense competion from worthy runner ups, Jubilee Primary, we prevailed!  A huge 'thank you'  has to go all the competitors and to Paul and Karen, who do all the hard work organising the team, fixing the bikes and raising money for the team. Thank you also to Sharon and Sumon who have supported the team this year.
Additionally, we are very grateful for amazing photos of the day courtesy of Delphina Hughes. (phinaface@hotmail.com)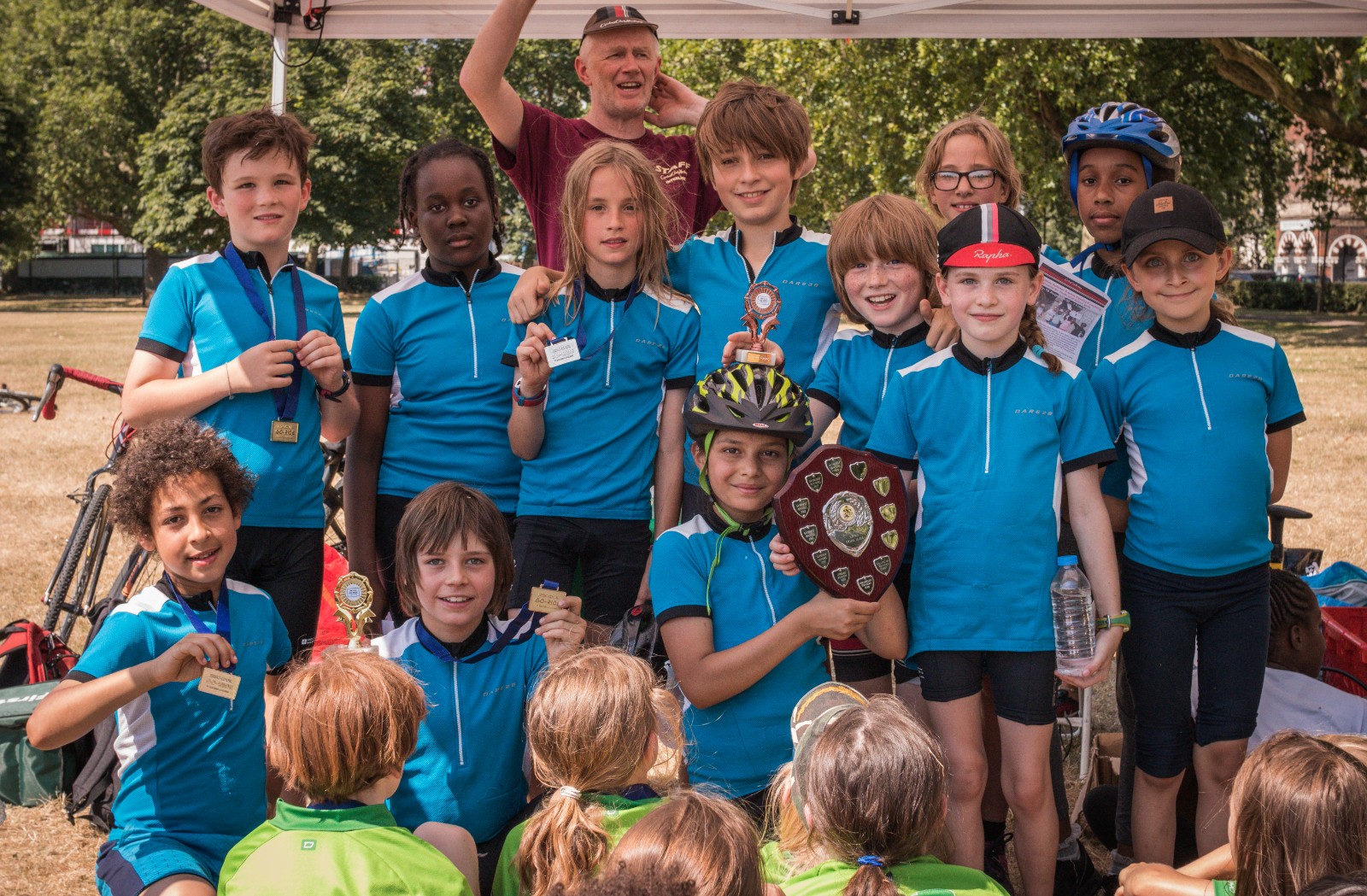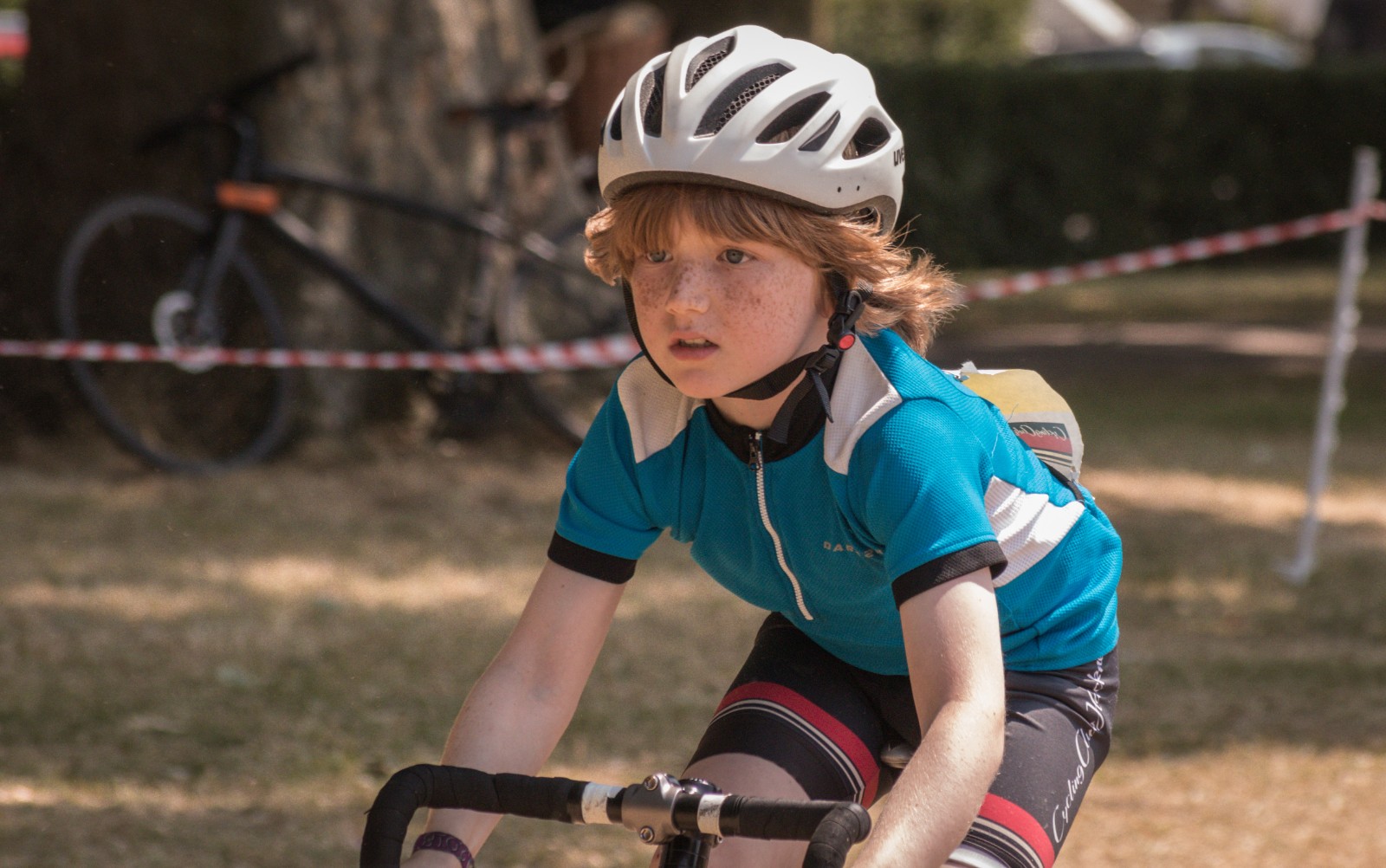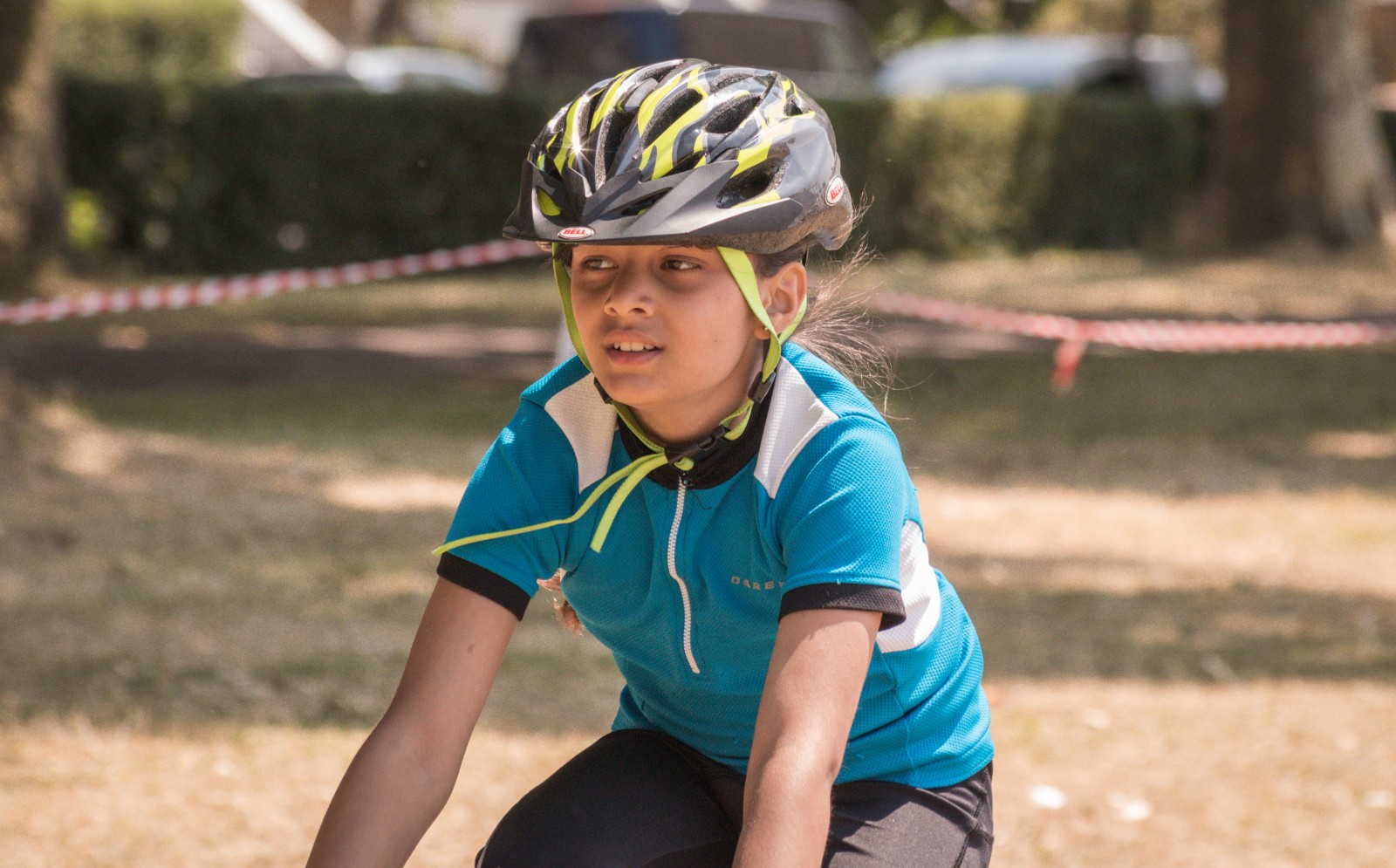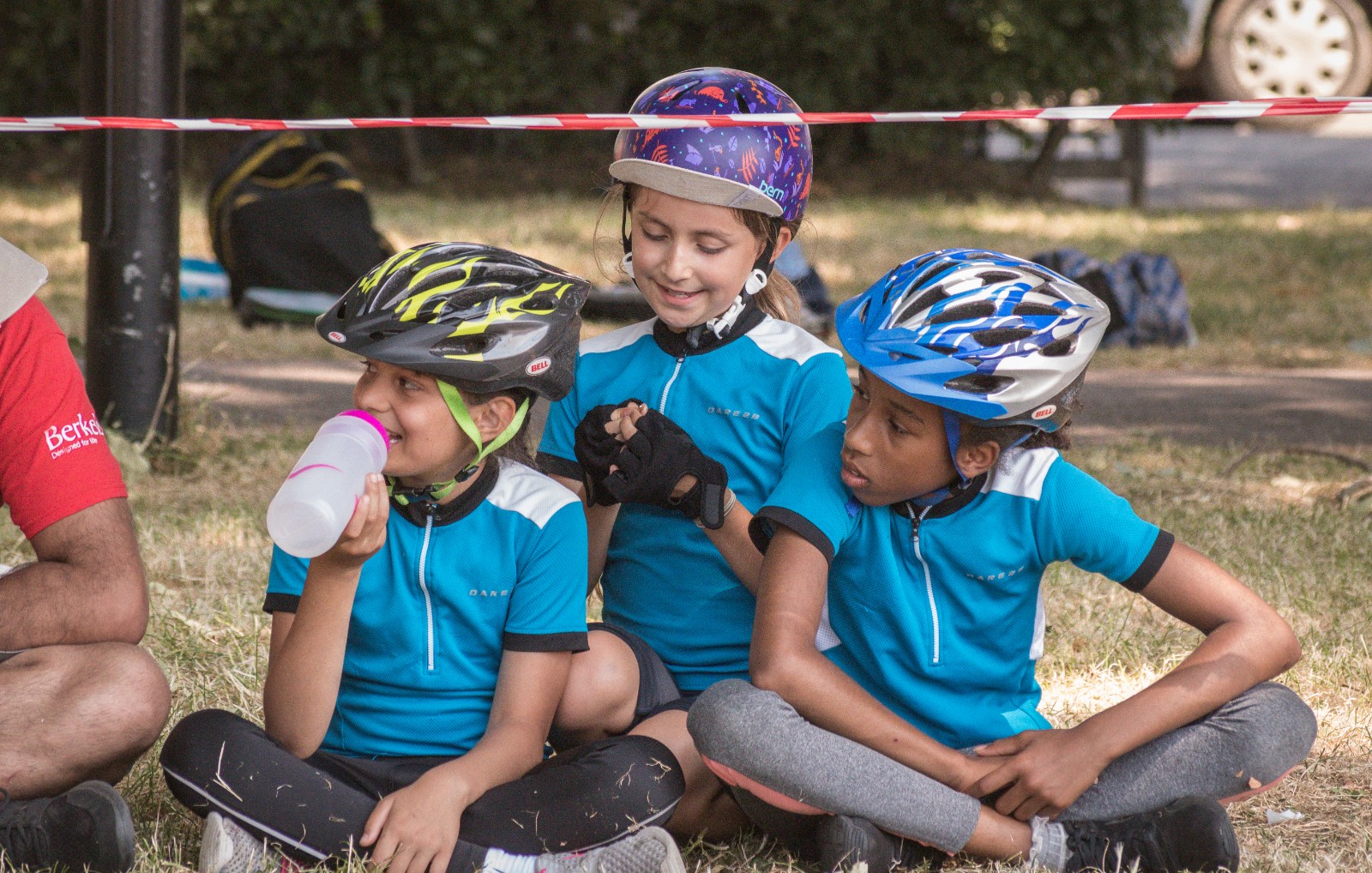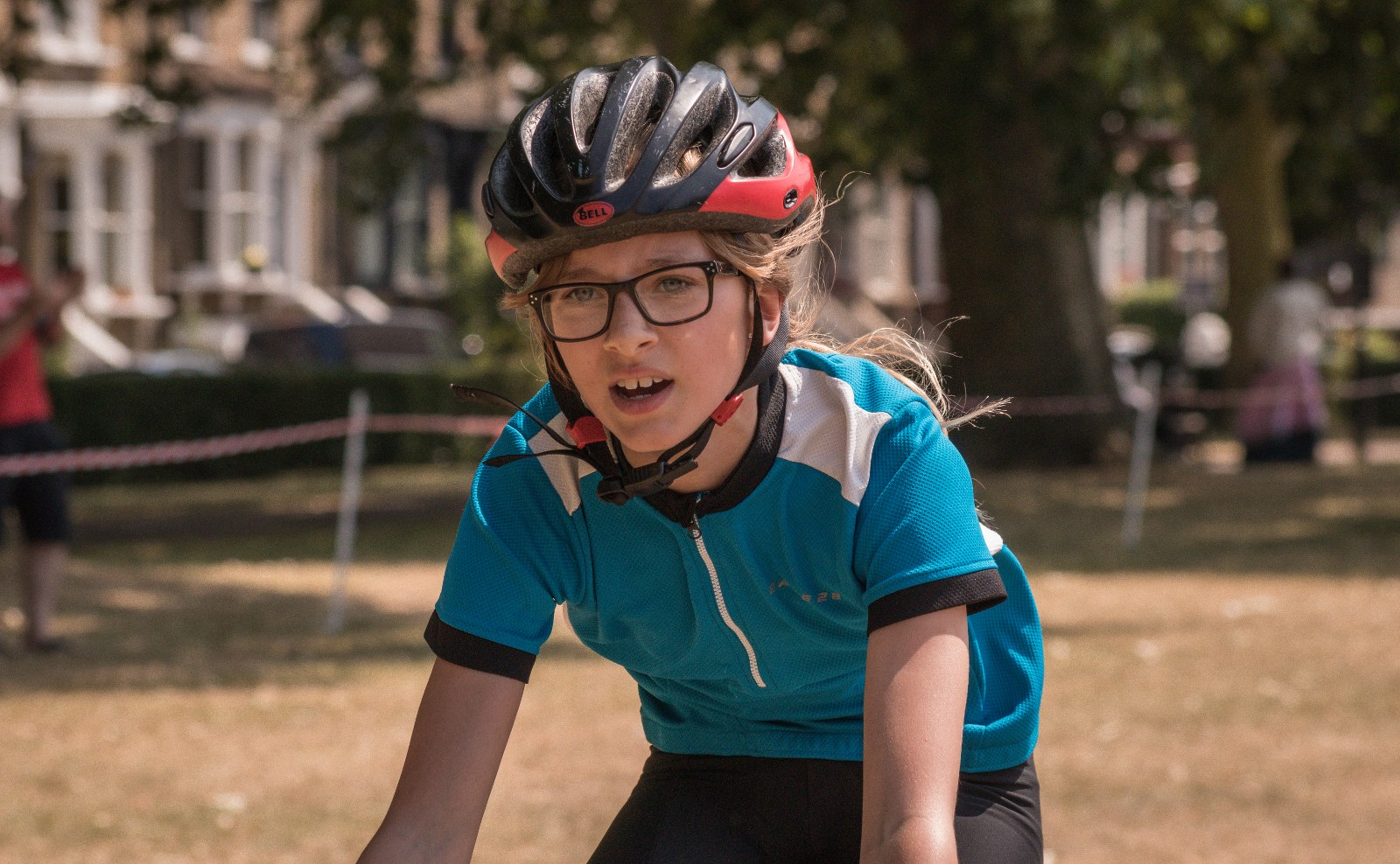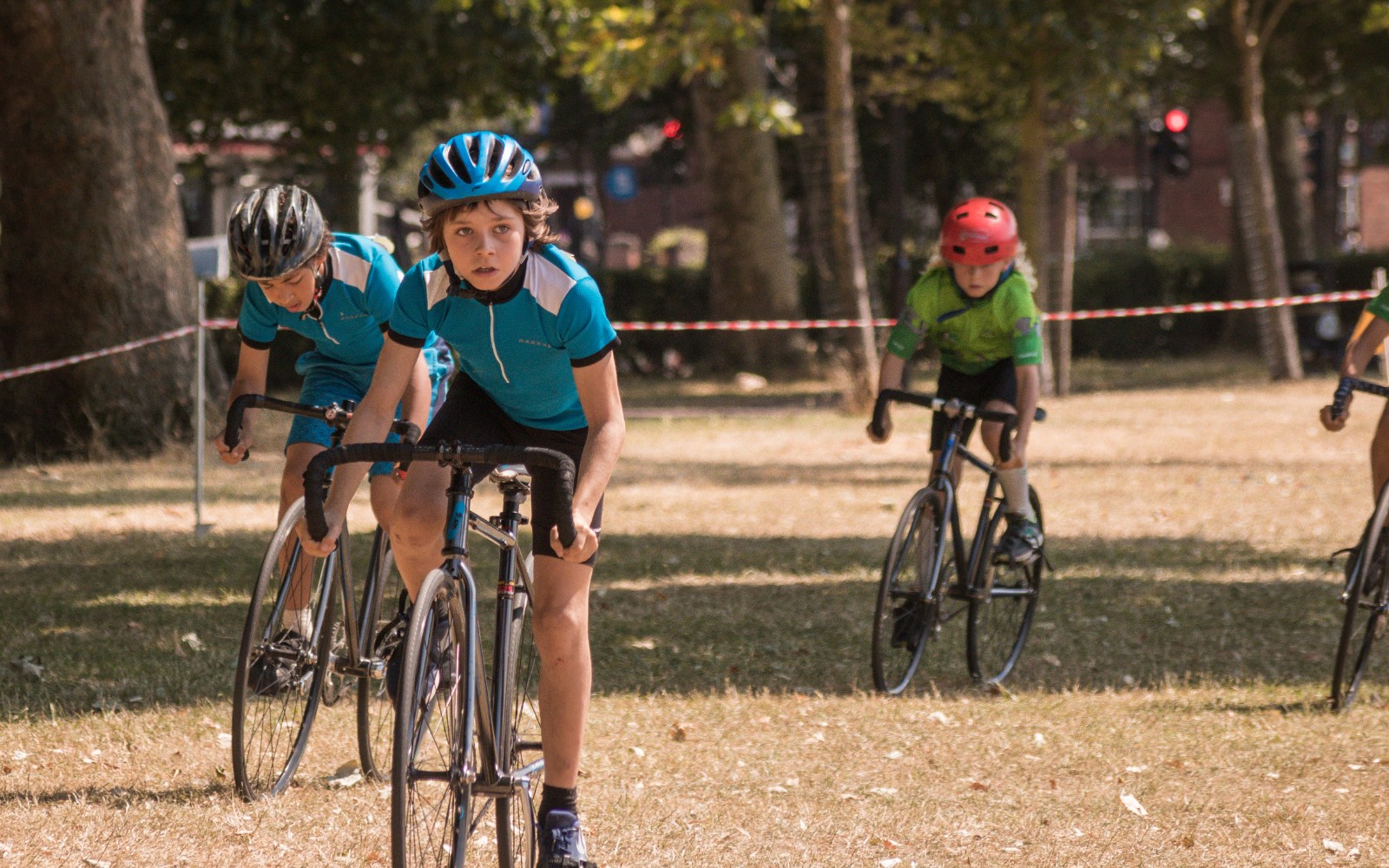 Message from Headteacher
Fri 13 Jul 2018
We are delighted that Millfields has won the Hackney Cycling League for the third successive year! Everyone associated wit the team are so proud of all 31 riders who took part this year to ensure that we led from the start of the season! A huge 'thank you' to Paul and Karen, who do all the hard work organising the team, fixing the bikes and raising money for the team. Thank you also to Sharon and Sumon who have supported the team this year. Well done everyone!
The music department, Year 6 staff and all of the Y6 children have been busy preparing for the end of year show, which is 'The Lion King'. All of the children will have an opportunity to watch this next week, and Year 6 families are invited to the evening performance on Tuesday 17th July at 7pm. Well done also to the music team and the rock bands who were fantastic ambassadors for music at Millfields -the youngest children to take part in the Clapton Academy Rock Show yesterday evening. Everyone was amazed at the talent and the confidence of the rock groups! Thanks Roz as ever for making it happen!
Thank you to the parents and carers who dropped in to speak to their child's class teacher about their reports on Wednesday and to those who have completed the feedback sheet. Please had in to the main office if you would like to give us your views.
Yesterday was Transition morning for all of the children and staff. We welcomed new teachers –Fiona, Jade, Sheyenne, Jess and Clara to the Millfields staff team. We have also changed the names of our classes this year. All EYFS classes are named after British authors, KS1 classes are named after British artists, LKS2 classes are named after British inventors, and UKS2 classes are named after British Scientists. It is going to take all the staff and children some time to learn all the new names, but I hope that your child will have spoken to you about their class name and that you will help them research and find out more about their class namesakes over the holidays. I hope that your child enjoyed their morning with their new class teacher/s.
It is always a difficult task to allocate teachers to classes each year and there are always many factors that my team and I have to consider when making this decision, factors that you may not be aware of as parents, but please be assured that the decisions are not taken lightly and much thought always goes in to the process to ensure the best outcomes both academically and socially, for all of the children in the class as a whole. The class allocations, with the new names can be found on the website under the parents information section. Support staff allocations have not yet been finalised, but we are confident that we can maintain the high ratio of pupil-staff next year despite the budget cuts. A list of all the school staff will be available on the school website for the beginning of the school year.
Finally, please note that London Day is on Wednesday 18th July, and all classes will be visiting a London park as their end of year trip. Also, please note that the last day of term in Thursday 19th July at 2pm.
Have a good weekend and enjoy the sunshine. Best Wishes, Jane
Eco School Silver Award!
Thu 12 Jul 2018
Congratulations to our Eco Champs who have helped the school obtain the much coveted Eco-Schools Silver Awardl! To celebrate this, we have created a brand new section on the website that highlights the tremendous work throughout the school, coordinated by our 21 Eco Champs representing every class at Millfields. It can be accessed from the left hand side menu bar.
Changes to the school day from September 2018
Tue 10 Jul 2018
Dear parents and carers,
As you will know, we asked for your opinions and thoughts on changing the school day from September 2018, to allow for an earlier finish every Friday. After analysing the comments and suggestions on the paper questionnaire and from the replies to the subsequent email asking for your opinions, we have made a decision based on the overwhelmingly positive response from those who gave their feedback, and have considered and addressed some of the questions that were raised.
The DfE guidance is below:
Government Document – School Attendance Nov 2016
School Day
Every school day must have two sessions divided by a break. The length of each session, break and the school day is determined by the school's governing body. The governing body has the power to revise the length of the school day as it sees fit. There is no requirement to consult parents on revisions to the school day but it can assist parents to do so.
School Year
Schools must meet for at least 380 sessions or 190 days during any school year to educate their pupils. If a school is prevented from meeting for one or more sessions because of an unavoidable event, it should find a practical way of holding extra sessions. If it cannot find a practical way of doing this then it is not required to make up the lost sessions.
Do schools need to consult parents if making changes to the school day?
No. Although parents must be informed of the changes, there is no legal requirement to consult parents or to give an explanation as to why the decision has been made. Of course, schools can consult parents if they wish to, and where they have raised the expectation that they will consult, they should honour that commitment
Questions raised:
Will any of the curriculum be missed? The answer is no, the learning time remains the same, but the arrangement of the school day will be altered to allow more effective use of learning time. The arrangements will mean more time for core learning in the morning, and a staggered lunchtime that means that Y1, Y2 and Y3 share the playground during the earlier lunch (11.45-12.45) and Y4, Y5 and Y6 share the playground at the later lunchtime (12.45-1.45).
Spanish, PE, Music and Art, as well as all the current enrichment activities will continue to be part of the provision at Millfields
What about Friday cake sales? The Friday Cake Sales can still take place at the end of the school day on Friday, it will just be earlier.
Will there be after-school clubs available for working parents? Yes, there will be after-school clubs starting at 2.30pm until 3.30pm. These clubs will include PE, art, craft and others to be confirmed. The usual clubs will start at 3.30pm – 5.00pm with a snack as usual. There will be a nominal charge for these clubs.
What do teachers think about this? It has now been agreed after consultation with teachers, that the hour on a Friday would be additional time, not PPA time, as again this is not the most productive part of the week.  It would be an opportunity for them to meet as a team to discuss and plan the week ahead, to meet with other agencies and support staff who work in their class; all things that are not usually feasible during the current working week.
If you would like to see a copy of the parent responses, please ask for a copy at the main reception or see here.
So, the changes to Millfields' school day from September 2018 will be that we start earlier each morning and finish earlier only on a Friday afternoon.
The soft start for the day has increased learning time when children are most awake and has had a positive impact on behaviour for learning for the day ahead. The last hour on a Friday has been the least productive in terms of learning and the most unsettled in terms of behaviour. The children and staff are tired at the end of the week so learning and teaching is rarely productive. In addition, we have increasing number of requests from parents to pick their children up early on Fridays.
The new school day:
Monday 8.50-3.30 (5 hours 25 minutes learning time)
Tuesday 8.50-3.30 (5 hours 25 minutes learning time)
Wednesday 8.50-3.30 (5 hours 25 minutes learning time)
Thursday 8.50-3.30 (5 hours 25 minutes learning time)
Friday 8.50-2.15 (4 hours 10 minutes learning time)
Total hours = 25 hours 50 minutes per week
The school day finishes at 2.15pm on a Friday, so parents are to pick up their children at 2.15pm from the playground as usual, unless they require further childcare in the form of an after-school clubs or personally arranged child minders.  There will be a range of clubs on offer from 2.30pm -3.30pm in addition to the current club offer that runs from 3.30pm -5.00pm on Fridays.
Please note the earlier school start time (8.50am) and ensure that your child arrives on time for the beginning of the school day. Punctuality will be monitored.
The doors will open and the children will be able to access their classroom from 8.45am each day.
Please also note the new finish time on Fridays -2.15pm, collection from the playground as usual.
Thank you for your continued support and cooperation.
Kind Regards,
Jane
Outdoor Day - Part 2!
Mon 09 Jul 2018
This half term's outdoor day took place last Wednesday. Each class participated in a range of different sports and craft based activities including creating some stick and stone based sculptures which will be used for Alice's memorial garden. Staying topical, our annual staff vs year 5/6 football match took place on the field with our very own Jane 'Karius' Betsworth in goal for the teachers! The game ended in a  hard fought draw which lead to the dreaded penalty shootout! I'm pleased to say that the match was won on penalties by the Yr5 and Yr6 team; the less said about a certain teacher's penalty that balooned over, the better!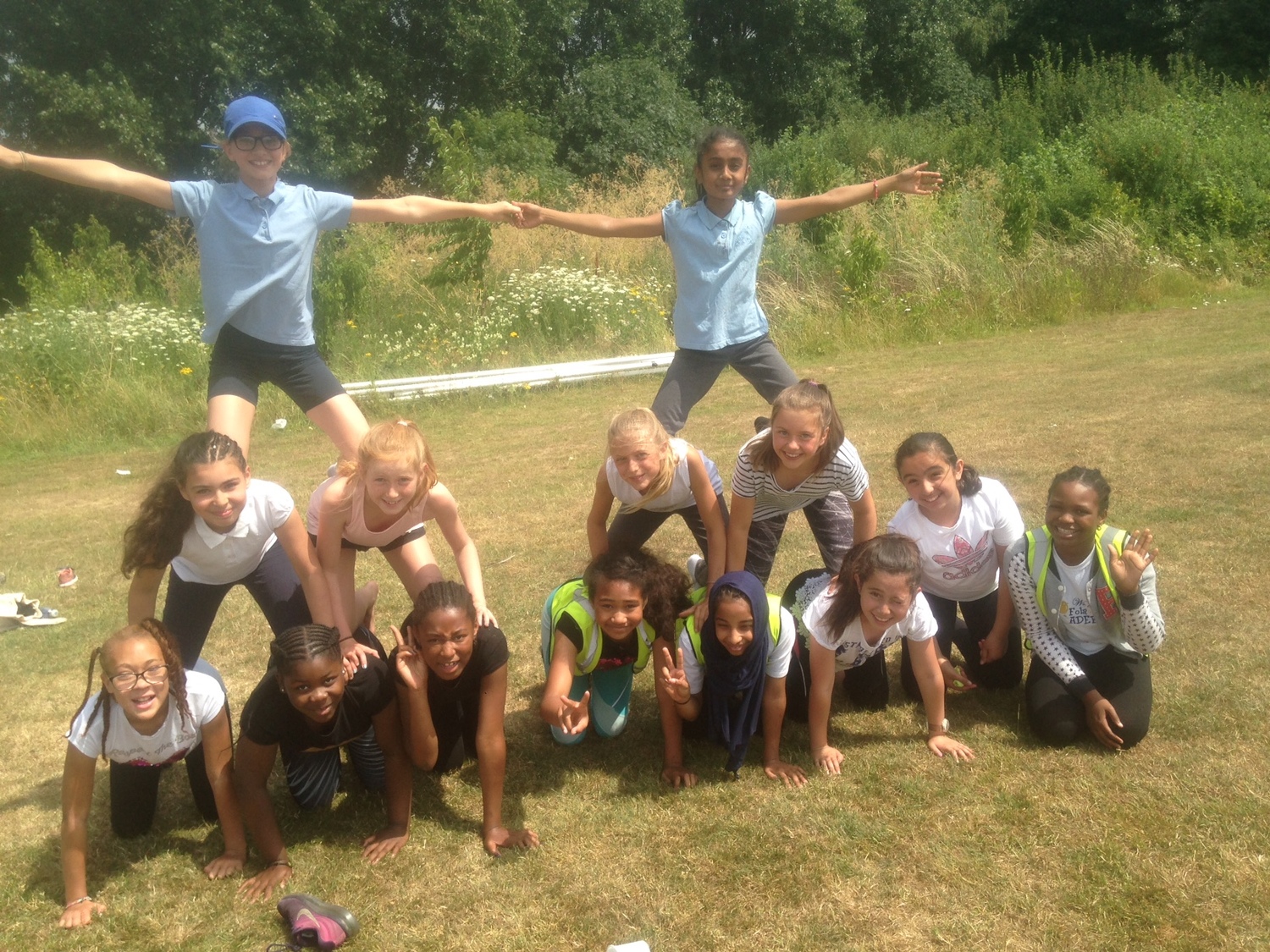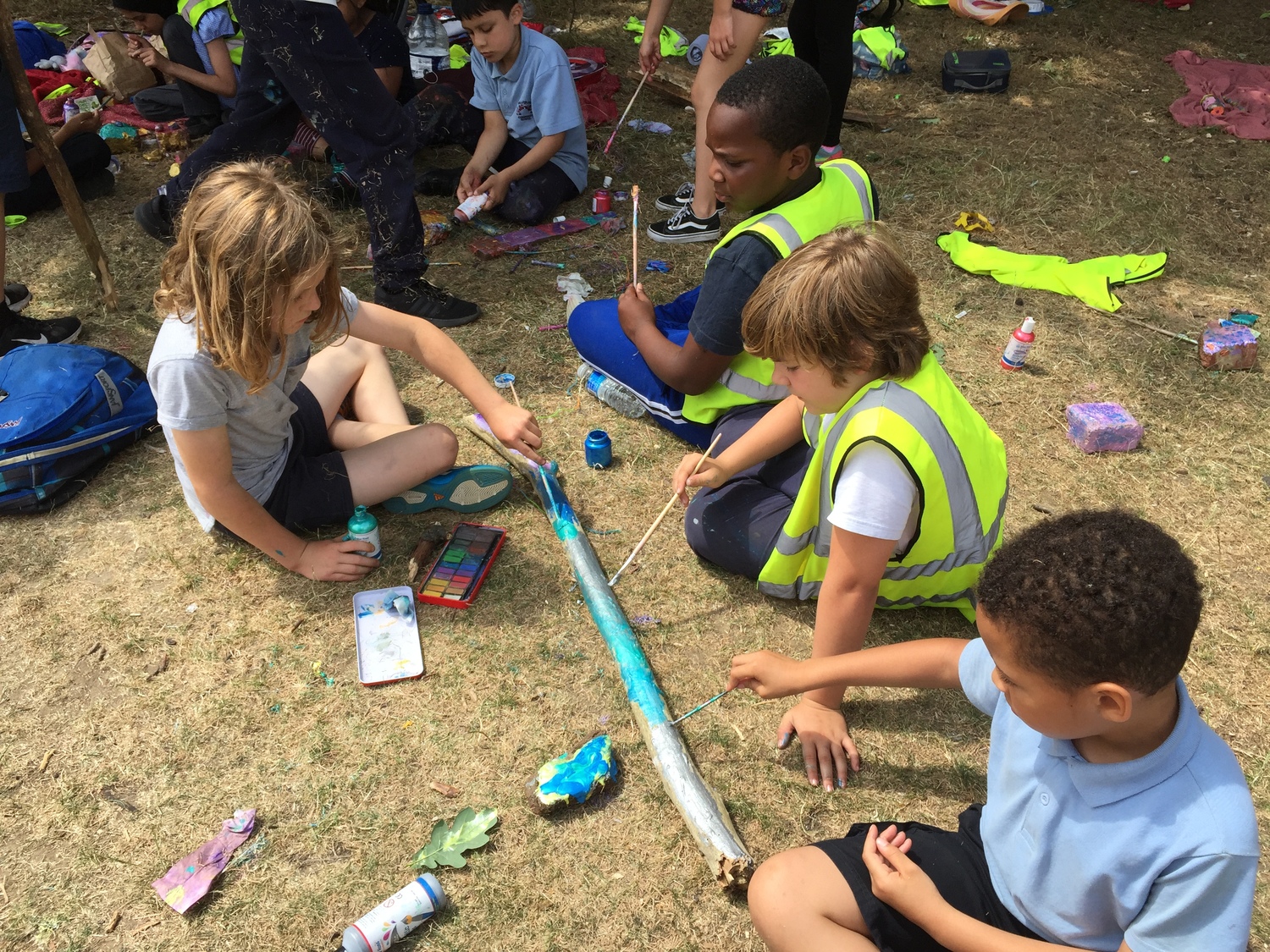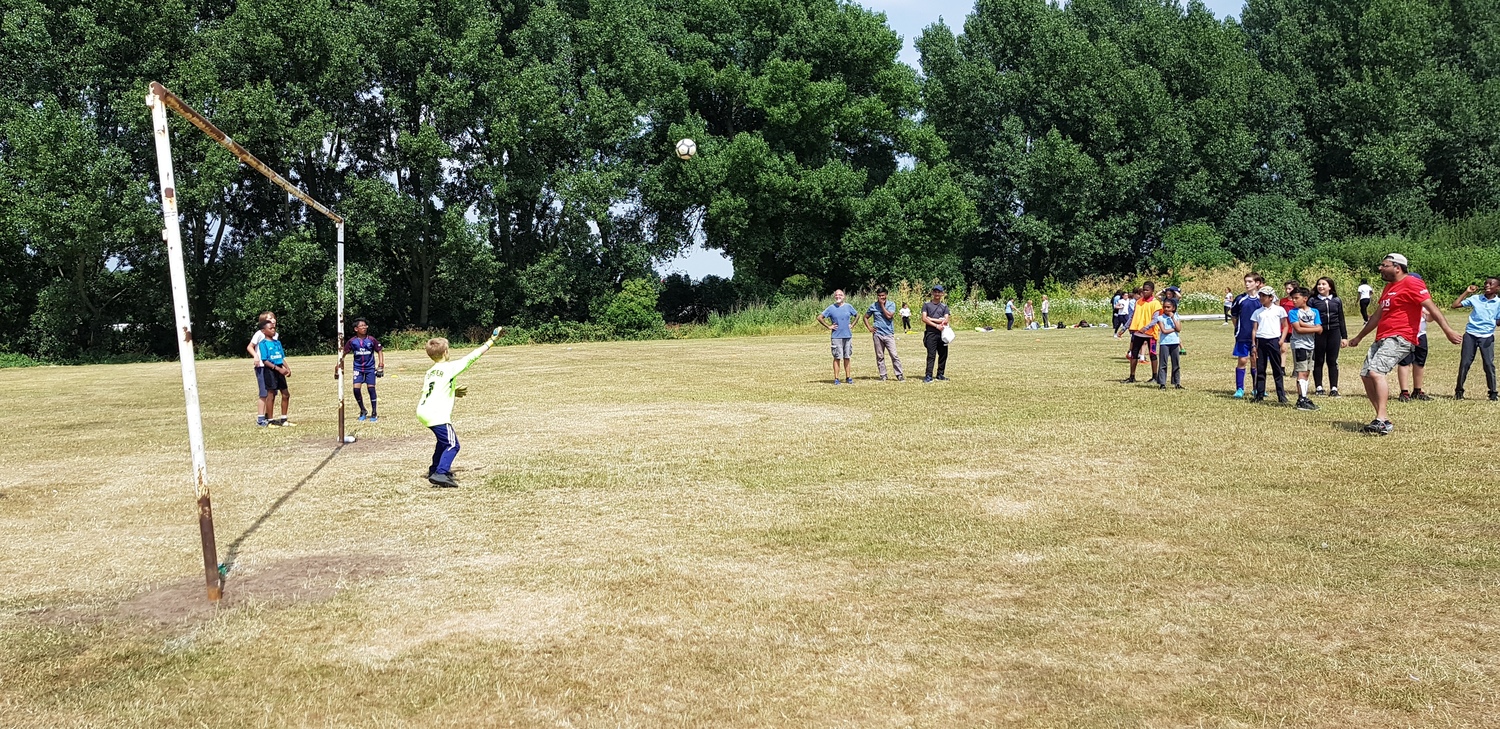 Message from Headteacher
Fri 06 Jul 2018
We have had a fantastic time learning outside in the sun this week! Outdoor Day on Wednesday was a huge success –all of the children from across the school had a great time on Hackney Marshes taking part in a wide range of outdoor activities. There were football and cricket matches going on, rock painting, nature walks, tree-climbing, team games, shelter building, canal walks, making nature collages, making bows and arrows, making dream catchers, drawing, painting, board games and much more. The highlight of the afternoon was the staff versus Year 6 football match! It was 1-1 at full time, and eventually after extra time and penalties, the Y6 Team won! The staff and children really enjoyed a picnic lunch and having fun with the children. Thank you to the parents who lent us their tents and shelters for the day!
The Reception classes have also been to the Diana Memorial Gardens for their end of term trip. As the weather has been so brilliant, all of the trips out have been a welcome break from the classrooms.
Year 6 classes have been busy getting ready for their end of year show which this year is' The Lion King'. It is looking and sounding great, but as every year, I try to stay away until the final performance as it is always an emotional event.
Also this week, Year 5 and Year 6 classes had a workshop around the Prevent agenda, as part of our safeguarding work. Please talk to your child to see if they have any questions.
Last night, the Year 5 children involved in the 'Forever Curious' project had their art exhibition at Wieden and Kennedy near Brick Lane. The work was fantastic and the evening event was well-attended by Millfields staff. Thank you to Blaithin who has been the lead on this.
Our talented singers, musicians and dancers have also been very busy at the Hackney Festivals this week. The Y2 children, the youngest in the show, took part in the Dance Festival doing the hand jive! Everyone commented on how great they were! Well done to Kimberlie and Alex for all their support in organising the dancing! The musicians also wowed the audience last night, and again some of our youngest performers were the stars of the show! Well done to all the children involved and to Roz, Tom and all our music teachers for their time and effort!
Today, Year 1 children went to the barbican to see a production of 'Carnival of Animals' which was apparently a hit with the children who have been learning the songs in class for the last few weeks. And Y2 went on their end of term trip to the seaside –what a fantastic day for the outing as all of the children enjoyed playing on the sand and in the water!
Finally, I hope you enjoy the weekend, and if you are an England football fan, let's hope that 'football comes home' tomorrow!
Best Wishes, Jane
---