Welcome to Millfields Community School
Latest News
Latest Playground News
Fri 27 Feb 2015
We are always working hard -pupils, staff and parents on trying to improve the school playground. Last half term, pupils in Year 1 and members of the Article 12 Group visited a range of playgrounds in other schools and community parks in the area to get some more ideas. The children then worked with 'Made from Scratch' to develop their own designs and build models. The ideas were then used to make a plan of what we would like one area of our playground to look like. Please watch the video on one of the following links to find out more.
https://vimeo.com/119147653
https://www.youtube.com/watch?v=HBt1TLa-Psk
We have also had six trees, originally from the Olympic Park, planted over half term. They are going to look amazing in the Spring when they are in full bloom.
Keep checking our website for more developments.
Message from the Headteacher
Fri 27 Feb 2015
It is good to see all the children back after the half term break, looking refreshed and ready to learn! I hope you have seen the amazing new trees that we have in the playground. The school and PSA have funded this together, but mainly a huge thanks to Pippa Gueterbock and Judith Loesing for making it happen in the first place.
As ever, it has been very busy in class and around school this week. On Tuesday, the children in Nursery and Reception classes were treated to a fantastic drama workshop –the children had great fun and were visibly excited and enthused by the opportunity. Also this week, as part of their topic about animals, the Dog's Trust visited the children in Nursery. The children learnt about how to respond to dogs they might meet, and how to look after them as pets. Also, the 'Living Eggs' arrived in the Nursery on Monday –the children are all very excited and keep looking in the incubator to see if anything has happened.  The children are learning about how the eggs need to be treated and looked after, and are comparing this to how a mother hen would keep her eggs warm. We will keep you updated and let you know when the chicks are born!
Good news –as a school, we entered the borough-wide 'Road Safety' competition and we were the winners! As a borough, Hackney Council plans to roll out a 20mph speed limit on all locally-controlled roads, subject to approval from Transport for London, some time in the first half of 2015. The reason for the scheme is to reduce general car speed across the borough in order to reduce accidents, casualties and make the borough safer for everyone, as well as make the borough a more pleasant place to live and work, and increase sustainable transport use. Lots of our children came up with a slogan and a poster that could be used to represent the new 20 mph zones scheme and this will be used around the borough –more news when we get it. We also won a free road safety workshop that took place this afternoon, for our individual winners and the children in Year3 and 4. Well done everyone.
Next week is also very busy –on Tuesday, you have an opportunity to come in to your child's class to learn with them for an hour, please give your name to the main office. It is also World Book Day next week –so get looking out a costume for your child to dress up as their favourite book character. It is always a fun day, so I am looking forward to seeing who everyone is!
And finally, this evening, it is the 'Dis-glo' for Year4-6, so I hope to see many of you there. Have a good weekend. Best Wishes, Jane
Message from the Headteacher
Fri 13 Feb 2015
Firstly 'well done' to the Year 4 and 5 Cycling Team –the 12 children together won the whole event yesterday, and a special congratulations to Robin, Conrad and Anoushka who all came first in their races. We are now fourth in the overall league table and are hoping that the next events will take us higher before the end of the season. Thank you again to all the parents who also helped with the event.
This week, we have had a fantastic celebration of  all things Spanish! The children have enjoyed learning from parents and members of the wider community about life in many Spanish-speaking countries, they had delicious Spanish Chicken and Rice school dinner yesterday, and we were also were amazed by the brilliant Spanish guitar and flamenco performances. Lots of classes have also been cooking Spanish food –paella and tortilla were the most popular, and smelt and tasted delicious. Today, the whole school are looking and feeling Spanish!  Some of the costumes are brilliant –we had lots of footballers and Flamenco dancers, but also had a paella pan, Rafael Nadal, Zorro, Puss in Boots, Pablo Picasso and lots more. An amazing effort everyone –and we raised, (counted so far) around £250 for the playground fund. Thank you to all the parents, children and staff. There will also be a prize for the most effort and enthusiasm during Spanish Week –a Spanish dictionary, for one boy and one girl from each class. And look out for the winner of the raffle in the Mag after half term. Thank you to Belen who has organised the week.
Also this week, we treated the 'Always Good' children to a pancake at Creperie Du Monde on Chatsworth Road. We had a lovely time and the pancakes were very tasty. As you would expect, the children were brilliantly behaved and had impeccable manners. Well done to all the children involved.
This week, the children from the ARP took part in the annual residential trip to Kench Hill, Tenterden, Kent. The have had an amazing time –visiting Bodiam Castle, Camber Sands, The Rare Breeds Farm, local swimming pool and adventure playground, as well as having the freedom of the wonderful gardens within the ground of Kench Hill. Thank you to all the staff that went along to support the children and give them this very memorable and amazing experience.
The Governors also met this week –the Curriculum committee and Resources committee met to talk about areas of the school, share all the good practice that happens at Millfields, and to look at next steps and priorities.
Finally, I hope you all have a good half term break, and I look forward to seeing you all on Monday 23rd February.
Best Wishes, Jane
Millfields pupils visit Kench Hill
Thu 12 Feb 2015
This week, a small group of pupils visited Kench Hill, in Tenterden, Kent. This is a trip that is offered every year to pupils with additional needs.  It is a fantastic opportunity for the children to expereince a range of outdoor activities and have some time away from home in a safe and nurturing, yet exciting new environemnt. The children are having a fantastic time. They have been to the beach, helped feed the farm animals, visited Bodiam Castle, swimming at the local pool and had fun on the adventure playground. A huge thanks to all the staff that have given up their time this week.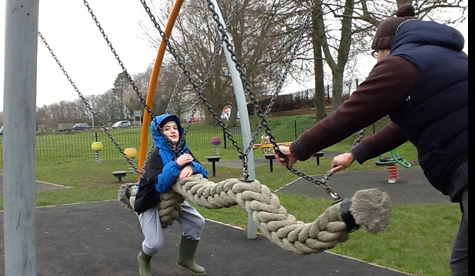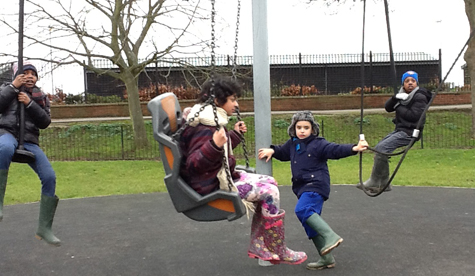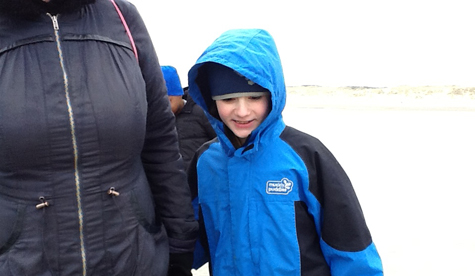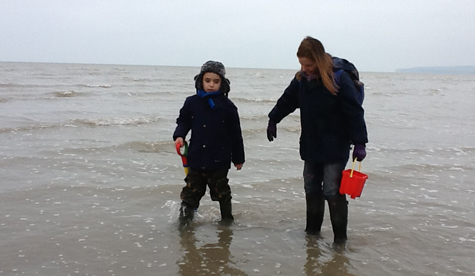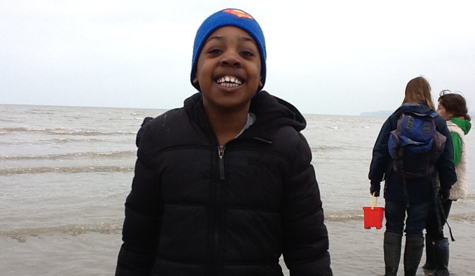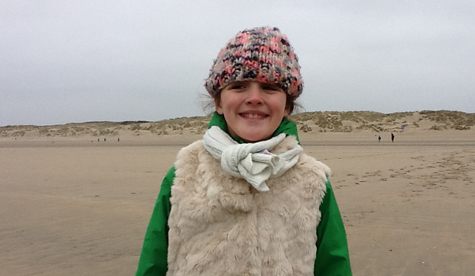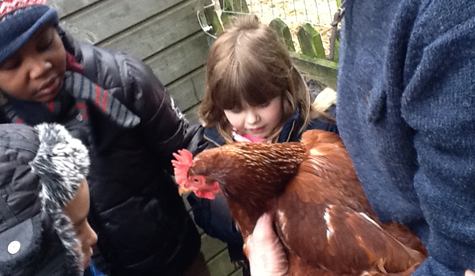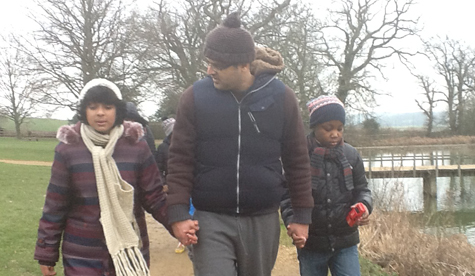 Message from the Headteacher
Fri 06 Feb 2015
Another busy week with visitors, activities and meetings at Millfields! Firstly, the Hackney Gazette visited on Tuesday morning to ask for our pupils' help to launch the Hackney School's Challenge as part of the Hackney Half Marathon. Last year we had the largest group of school children taking part and this year, we have over 80 pupils signed up! If you have not yet returned your form, and you still want to get involved, then please see Heidi at the main office for more information. The actual run takes place on Sunday 10th May, and morning practice runs will start after half term, so hurry if you want to be a part of this.
Also on Tuesday we had a visit from Neil Harvey, our School Improvement Partner from the Hackney Learning Trust. We have a termly monitoring visit to look at different areas of the school, and this visit focussed on teaching and learning. Neil visited all the classes, and there was lots of positive feedback about the quality of marking, feedback and presentation in the children's books, and he also commented on the high expectations there is for writing from Reception to Y6. Neil also commended the children on their behaviour around the school, and especially their learning behaviours in class. He also loved the Nursery and Reception 'Sky Wall' that was produced during Creative Week.
Today, we have a had visitors from the Netherlands –trainee teachers and their tutors visited to look at inclusion. They also looked at the curriculum offer and provision. They were, as ever, impressed with what they saw and  loved talking to the children in class about their learning.
Sports News –Year5  and 6 pupils took part in a Hackney-wide cross-country event on Wednesday. We did really well, with almost all the children finishing in the top 10 in each race. Well done everyone!
Next week is Spanish Week, and as part of the work, children will have Spanish-speaking visitors –many of them parents,  as well as experience a flamenco dance workshop and eat traditional Spanish food. As always there will also be a home learning competition and there will be a prize for the child who has contributed the most and worked the hardest in each class during the week. And Friday 13th February is non-uniform day –dress up as someone from a Spanish speaking country or a famous Spanish person. Start thinking about your outfit this weekend. I am looking forward to seeing the costumes already!
Finally, don't forget that the school bank is open every Wednesday from 8.30am, and you can still open an account if you have not done so already.
The PSA also met today, and have lots of exciting events coming up including the Years 4,5 & 6 disco on Friday 27th February. More details after the break.
Have a  good weekend. Best wishes, Jane
Message from the Headteacher
Fri 30 Jan 2015
Firstly a huge than you to all the parents, carers and members of the wider school community who visited the Art Exhibition: 'Shadows and Light' in St James Church on Tuesday. The display of the children's artwork was breath-taking, and the ambiance created in the church was of a calm and peaceful space to that enabled the work to be viewed like a real art gallery. Well done to everyone involved, but a special mention to Rebecca who coordinated the whole exhibition. A comment from one of our governors sums it up, 'The conceptual strength, the level of collaboration, of community and parent involvement, the contemporary sense of installation, recreated space... I could go on. It was stunning.' And from one of the parents, 'Congratulations to all the children involved in the Shadows and Light show, what a triumph! All contributions spectacular, both my children were deeply proud to show me around the church and the middle hall to see the exhibits. The London skyline should be retained for show.' And indeed, we are hoping that it can be on show again and have a provisional date for the work to be displayed in the Saatchi Gallery and possibly the Whitechapel Gallery too. It is very exciting! Also, if you have not yet been to see the Nursery and Reception work in the middle hall, please come in after school and have a look at the 'Sky Wall'. –it too, looks amazing.
We have also had a very busy sporting week. Twenty children from KS1 took part in the HTSA Sports day at Clapton Academy yesterday. They had an amazing time –all got a medal and t-short for taking part in a variety of events including trampolining, games and athletic events. We also had some first, second and third place medal winners, as well as the top award that was for outstanding performance throughout the day –well done to Sabrina Muhiddin from Manchester Class who took home a lovely trophy. Also, this week, the Year 5 and 6 pupils took part in an inter-schools cross-country competition. Well done to everyone who took part. There is another race next week, and we will know the overall results after this. And tomorrow, the boys football team will be taking part in a inter-borough cup tournament, so I look forward to letting you know how they get on next week. Thank you to Sharon Williams for her continued enthusiasm and support as these events would not happen without her!
Finally, I hope you have received the form to sign up for this year's Hackney Schools' Challenge Run as part of the half marathon. It was a great success last year, and Millfields had the largest number of participants –let's do the same again this year! Please return the forms and the £5 entrance fee to Heidi as soon as you can. Morning runs will start after half term to get you all in shape for the final event. The actual race takes place on Sunday 10th May.
Have a good weekend, and maybe there will be snow! I hope so as the children are talking about it and hoping for a white playground next week!
Best Wishes, Jane
Message from the Headteacher
Fri 23 Jan 2015
This week's creative workshops around 'Shadows and Lights have been amazing. The children have had a fantastic time creating lots of amazing art pieces, including junk models that form the London skyline, mirror collages with dots, shadow puppets and Fairytale shadow boxes. A huge 'thank you', to Rebecca and Debi for organising the week and for putting the timetable of events together. Thank you also to Rebecca, for leading the workshops in Years 3 and 4. Also a huge thank you to the local community, parents, and grandparents who have been in supporting the children this week –Pinny Grylls, Laura Quick, Rachael Field, Su Blackwell, Gina Taylor and Gillian Daniell.
All of the different art pieces will be on display in school and/or, at the Art Installation in St James Church on Tuesday 27th January. The main feature will be the Year 1 and 2 skyline. The exhibition will be open from 4pm until 7pm, so please do come along to see your child's work if you can. The Subject Leaders for all other areas of the curriculum will also be there between 4pm-6pm, to answer any questions you may have about the work your child is doing in the wider curriculum including arts and humanities. Thank you also to all the children (and their parents) who did the Creative Week homework –some of them look amazing. I hope your child has enjoyed all the art workshops this week.
Yesterday, we had two visitors to the school, one who is a district advisor in New York City, the other an academic who has written lots on school leadership. This was a reciprocal visit as I visited NYC in the Autumn term to look at schools and the US education system. Deidre and Alan really enjoyed their visit and commented on the children's attitude to learning, their engagement in learning and  their knowledge and enthusiasm about all the events and opportunities they have in school, as well as commenting on the good behaviour seen in all classes and around school. They visited all the classes, the ARP and the Children's Centre and had an audience with the Article 12 Group (School Council). Thank you especially to Y6 pupils, Cem Owens, Chair of the Article 12 Group, who spoke so articulately and knowledgeably to the visitors. Cem and the council were true ambassadors for the school.
There was an information meeting for all Y5 parents/carers yesterday about the planned Residential Trip. Thank you to those who attended. There will be another meeting soon of you were unable to make it, but information is available from Heidi at the main office.
I hope you have a  good weekend. Best wishes, Jane
---