Welcome to Millfields Community School
| | |
| --- | --- |
| | |
Latest News
Message from Headteacher
Thu 22 Jun 2017
This week has been very hot and very busy as ever! As the sun was so strong on a couple of days, we made a decision to keep the children inside for part of the lunchtime and encouraged the children to drink lots of water and to stay in the shade and do quieter activities when they were outside. If the weather continues to be hot, please make sure that you put sunscreen on your child in the morning, and bring a bottle of water to school, as well as a hat or cap.
Next week is 'Sports and Healthy Living Week', and we have a packed timetable of sporting activities, and a healthy cooking session organised for each class.  All children will be encouraged to take part in all activities next week so please make sure that they are wearing sports clothing and trainers every day to ensure that they take part safely. There will be wholes school aerobic sessions in the playground starting at 8.50am every morning so please fell free to join your child for those sessions. There are also lots of other taster sporting activities arranged and each year group has as sports day organised which you should have received information about. If you need a Sports Day information later for your child's class, please collect a copy from the main office.
As part of their topic on the seaside, Year 2 had a fantastic day on Tuesday at the beach in Walton-on-the-Naze. The weather could not have been better –the children told me how they had a lovely time playing together on the beach and swimming in the sea to cool down! Thank you to all the parent/carer volunteers who helped out on the day.
Also this week, Derby Class, Nottingham Class and Leeds Class visited St Paul's Cathedral as part of this term's work on the Great Fire of London. The children had a brilliant time reinforcing their learning about historical events in London.
Reception classes visited the London Aquarium on Monday as part of their topic on water. The children had a great time and saw some amazing fish and water creatures. Again, thanks to our parent volunteers.
Also this week we had a visit from our School Improvement Partner from Hackney Learning Trust. She was looking at all aspects of the school but this term's visit focussed specifically on support for pupils with SEN and additional support. The SIP was very impressed with the provision and interventions she observed by teachers and suppport staff, and with the work of the Senior Leadership Team, the Middle Leadership Team and the Governing Body. Thank you to all the staff and children for their support and hard work yesterday and always.
There are lots of school events and trips happening over the next few weeks, so please make sure that you read all the texts and letters. If your mobile phone number has changed, please inform the office staff asap via info@millfields.hackney.sch.uk.
Finally, no school for children tomorrow as it is an INSET day. Have a good weekend.
Best Wishes, Jane
Message from Headteacher
Fri 16 Jun 2017
What a week, as always at Millfields! This week was de- mocracy week, and as you will have seen and heard, the school has been buzzing with talk of political parties, policies, pledges, mani- festos and spin! It has been a truly fantastic learning experience for every single child in so many ways. Every child has been involved and has learnt something about democracy – teamwork and collaboration, values, rights, passion, drive, and they have all also had great fun!
The week started with all of the classes learning about the origins of democracy and chil- dren being divided in to parties. Each class elected a MC (member of Class) and from these members, a leader and deputy was elected and a party name was agreed. The par- ty names and party leaders are as follows: Suki Fitzwilliam – Rapping Reds, Aranjit Isufi - Orange Energy party, Ashleigh Hunt — Peaceful Power, Ahlaam Sayid — Sky High Blues and Solomon Rigg — Green is Greater party. The manifestos looked great and presented lots of very good ideas and initiatives and the atmosphere yesterday as the children and staff all marched down Lower Clapton Road, chanting and singing in support of their par- ties, was brilliant. At the hustings that took place at the Round Chapel, speeches were very professional and inspiring.
Then yesterday afternoon everyone voted for their new Prime Minister! The turn out was very good and the result was very close! This year we have also elected a Deputy PM who will work very closely with the Prime Minister and oth- er members of the school Cabinet. So: the big announcement, the Deputy prime Minster for the academic year 2017-18 Suki Fitzwilliams, and the new Millfields' Prime Minister is Solomon Rigg of the Green is Greater party! Huge congratulations to them both! They both gave very emotional acceptance speeches and thanked everyone who voted and their team, as well as all the other candidates. I am really looking forward to working with them both next year. The out-going PM, Aasma Hajat thanked the school community for working with her during her year as PM, and wished the new team all the very best for the year ahead.
The whole week has taken a lot of planning and organisation which has been done with great precision. A huge 'thank you' to Emma (Y3 Birmingham Class teacher) and parent governor, Joe Walker! Thank you also to Sumon who has managed and guided the press team all week –they were fantastic and produced a quality newspaper every day to keep us all informed! Well done to Megan, Macy, Karmelle, Samantha, Oasis, Aamina, Nancy, Fahima, Fatima, Rose and Ivy. We also had our very own spin doctors – a big thanks to Peter, Ahmed, Yasin and Elvizo. Copies of the newspapers are on the Millfields website.
And finally, as I mentioned last week, the Year 4 tennis team took part in a Hackney tournament last Friday. They all tried so hard and played so well that we earned 2nd and 3rd place overall! A fantastic result as the team have only really been playing together this year! Well done and thank you to Elena for managing and training them to be champs!
Finally, thank you for all the birthday wishes this week. Have a good weekend. Best, Jane
Message from Headteacher
Fri 09 Jun 2017
I can hardly believe that we have only been back for a week as it has been busy and in- dustrious as ever! The Year 6 Residential trip took place this week –more than 65 children have been camping at a site in Hertfordshire. The children have taken part in a carousel of activities during the day that included archery, tunnelling, climbing, orienteering and bush craft. The children erected their own tents and have been braving all kinds of weather! The children make their own sandwich lunches and have been eating a hearty meal every night. The evening activities included a campfire, a night walk, a talent show and quizzes. The children have had a great time but are all looking forward to coming home today to see their families. Thank you to the staff at H5 who ran the activities and a massive 'thank you' to the Millfields' staff –Roz, Alex, Sumon, Kingsley, Isabelle, Izacc and June!
Also this week, four Year 5 children took part in the Hackney Chess tournament. Millfields children –Yusuf, Lyna, Sofia and Jemelle. They all performed really well and Yusuf was awarded the individual medal for his excellent efforts! Well done everyone! All children in Year 5 have been learning chess over the year and we now have some very good players ready to play in more tournaments.
Also this week, four Year 5 children took part in the Hackney Chess tournament. Millfields children –Yusuf, Lyna, Sofia and Jemelle. They all performed really well and Yusuf was awarded the individual medal for his excellent efforts! Well done everyone! All children in Year 5 have been learning chess over the year and we now have some very good players ready to play in more tournaments.
Today, our Year 4 tennis players are taking part in a Hackney tournament. Good luck!
A belated 'thank you' and 'well done' to all our musicians who took part in the Spring Music Concert before half term. There were more than 100 musicians and singers who enter- tained us at St James Church. What an amazing feat to have so many talented and gifted musical pupils at Millfields. Thanks to all the teachers and tutors –Roz, Tom, Jon, Maria, Faith and Simeon and as always, thank you to the staff at the church for allowing us to use their building.
Next week, is 'Democracy Week' at Millfields, so following on from the excitement of the general election, please talk to your child about elections and the origins of democracy ahead of our week. We will be busy reporting on the policies and candidates all next week.
Finally, have a good weekend. Best Wishes, Jane
Y6 Residential Update
Wed 07 Jun 2017
The children had a good night's sleep and awoke to lovely blue skies today! Today, they are taking part in a carousel of activities including tunneling, orienteering, climbing, bushcraft and archery. They are looking forward to a campfire tonight with singing as well as a hot chocolate and toasted marshmallows.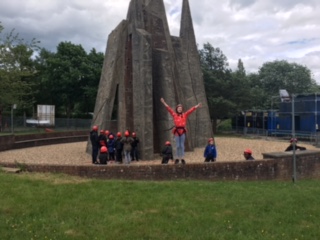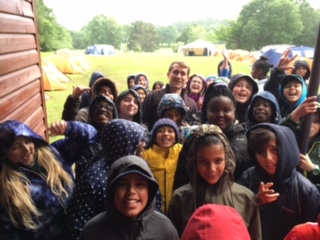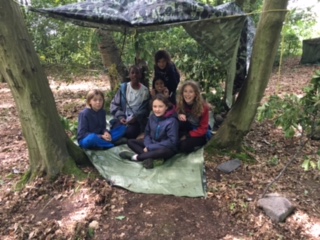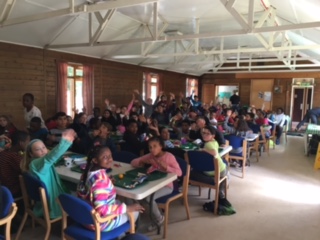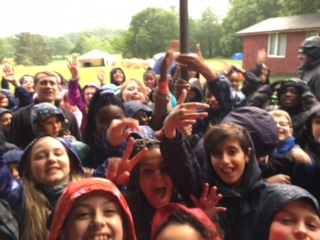 Year 6 Residential Trip Update
Mon 05 Jun 2017
All arrived safely at the campsite around 12.15pm. After the intial excitement, the children were given a tour around the site and then ate their lunch. This afternoon they are pitching their tents, and organising their activity groups.
Below are some photos of the groups putting up tents and taking part in the first team-buidling activity in the woods.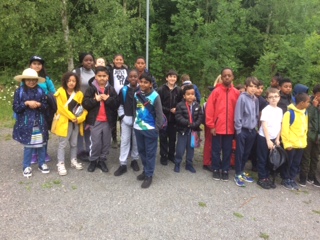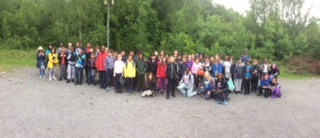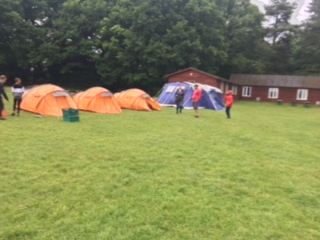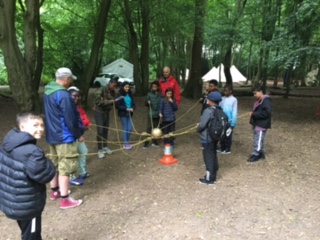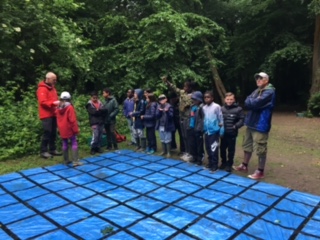 Message from Headteacher
Fri 26 May 2017
What a brilliant finale for Hispanic week today –it was great to see the amazing effort that so many children (and parents), and staff have made to dress up to celebrate Spanish diversity! Well done to the best in each class and to the staff winners –Bruno (York Class) and Matthew (Dundee Class). Thank you also to all the parents and some of our pupils who gave up their time to talk to classes about different Spanish-speaking countries around the world! As part of our celebration, all the classes have tried some Spanish cooking and have been singing Spanish songs. Yesterday, all the classes were treated to a Flamenco Dancing Performance. The pupils in Year 6 also visited a Mexican restaurant in Stratford and learnt how to make quesadilla. Also, there is still time to buy your Raffle ticket –see the main office! Gracias Belen for organising everything this week!
Well done to Millfields Year 4 tennis team who took part in the Hackney tournament last Friday and who are visiting the National Tennis Centre at Roehampton today with hopefully the chance to see some top stars practising and have a hit on the famous clay courts! Thank you to Elene (India's mum) for organising and to Guy (Bertie's dad) and Monique (Joel's mum) for their support and help!
Thank you to all the Year 6 parents who attended the residential trip meetings this week. Here's hoping that the weather stays fine and that the children have a great time during the week beginning 5th June. There will be daily updates on the school website.
On Tuesday evening, we were treated to a Millfields musical extravanganza! More than 120 children took part in the music ensembles including brass group, guitar group, rock bands and jazz band, as well as 2 choirs, and they all performed brillaintly in front of a packed audience. Thank you again to St James Church for lending us their space, and thank you to all Music Team -Tom, Jon, Maria, Faith and Simoen, and of course Roz for pulling it all together! Well done everyone!
Also coming up in the next half term is 'Democracy Week' and 'Sports Week' -please look at the website and newsletter for more details in the coming weeks. Dates for Sports Days are already on the website and inside this week's Mag.
On a more sombre note, the children at Millfields proudly shared their thoughts and prayers with the victims of the terrible events in Manchester earlier this week. We marked the national minute's silence yesterday at 11am. In assemblies and in class, staff have sensitively and appropriately spoken with the children and have advised the children to speak to you as parents, if they have worries or concerns. The PSHE Association have produced some guidance that we have shared with all staff, that is designed to help teachers and parents answer questions, structure discussion and, if appropriate, extend children's learning and understanding. See link here: https://www.pshe-association.org.uk/curriculum-and-resources/resources/discussing-terrorist-attack-children-primary
Finally, I hope that you will be able to join us for the 'Stop the Cuts' picnic in Millfields Park after school today. There will be lots of food and drink, face-painting, games and activities, as well as speakers, banner-making, dancing, singing  and a pupil and parents' rally.
Thank you to all the families for your support as usual this term. I hope you have a good rest and break with family and friends.
Happy Half term! Best Wishes, Jane
Message from Headteacher
Fri 19 May 2017
We have had a very busy week as usual and in particular, we have been joining the na-tional campaign against proposed education cuts. Children, parents and staff have been making some brilliant banners during their lunch hour and we have also been recording our very own campaign song; thanks to the senior choir members, Roz and Tom. On Monday, as part of a joint awareness campaign across Hackney, we put up our Cuts Ban-ner and were joined on the school gate, by MP Diane Abbot and Councillor Ian Rathbone of Lea Bridge Ward. The children, parents and staff really got behind the impromptu event and showed our community action against the cuts. We also held a meeting on Monday to plan other events and action over he next few weeks.
Yesterday was Outdoor Education day and, as well as the whole school having a brilliant time running around and playing on Hackney Marshes and enjoying a big picnic, we had a whole school photo taken via a drone, of the children spelling out S.O.S. (Save Our Schools). There will be photos on the school boards and other opportunities to see the photo on social media and publications in the next few weeks. Thank you to parents who came to help out with the logistics on the day, and to Fiona McAllister for the idea in the first place and to Jorn Tomter who owns the drone and took the photos. The staff and chil-dren really enjoyed the day, playing lots of team games, hide and seek, skipping, sketch-ing and drawing wildlife, buildings and more to really take advantage of learning in the open air! We will be including one outdoor learning lesson every week on our timetables after half term, and then we will review the sessions to agree if this is something that we can continue all year round.
There is a meeting about the school cuts next Wednesday at 5.30pm at Millfields, and there is also a national parents, staff and children picnic to show opposition to the pro-posed cuts, at Millfields Park on Friday 26th May after school. It would be good to see lots of you there!
Also yesterday, both Year 3 and Reception classes visited the Tate Modern as part of their art curriculum work. The children enjoyed the day out and also learn lots about different artists. They also had a chance to take a photo of the cuts banner on tour!Earlier this week, Year 3 parents also joined their children for lunch and enjoyed the BBQ chicken that was on offer! Date for Year 4 'Come Dine With Us' is July 4th.Finally have a good weekend.
Best Wishes, Jane
---