Welcome to Millfields Community School
| | |
| --- | --- |
| | |
Latest News
Message from Headteacher
Fri 16 Nov 2018
We have had a fantastic time this week as we have all been immersed in the world of work! The Nursery classes have been finding out about different jobs in the local community –vet, chef, builder, gardener and farmer. The visited Hackney City Farm and saw a giant pig by all accounts! Reception children were learning about jobs in the emergency services –police, fire fighters, paramedics and the workers in A&E. They will be visiting Homerton Fire Station next week as this week's trip had to be postponed due to a real live emergency! Year 1 have been thinking about the skills needed in the workplace and each class visited a different supermarket and had visitors in class talking about their jobs. The Year 2 children visited the Postal Museum and thought about jobs in the community.
One of the favourite trips of the week is Year 3's trip to Kidzania as part of their work on money matters and why people have jobs. Year 4 also enjoyed trips to local restaurants and were allowed to make their own food and mocktails which, by all accounts were delicious. The children loved finding out about how we use maths and literacy skills in the workplace. Year 5 have been takin g part in an ethical fashion project –groups in each class have been creating, designing, purchasing, planning and making fashion items that culminated ina fantastic catwalk presentation this morning! And finally Year 6 have been involved in an enterprise project that involved creating all sorts of new inventions, writing a business plan and then presenting to a Dragon's Den that took place this morning at UBS offices. A huge 'thank you' to all the staff for making the week a success, and to Sheyenne who has been busy organising and liaising with Inspire for weeks to ensure it all ran smoothly!
Today, as you may have noticed, we have all been wearing spotty clothing and pyjamas as the school community took part in 'Children in Need'. Thank you for all the donations, we will be counting up and banking early next week so will let you know how much we have raised.
You will also have noticed that the Book Fair is at school for the next few days. Thanks to the volunteers on the PSA, it is open before and after school each day and will be open for extended hours on Parents' Evening –Wednesday 21st November. The school makes 100% commission on the money raised by the book sales, so help stock up the school library and classrooms! If you have not yet signed up for Parents' Evening, please see the main office for a slot.
We also welcomed lots of parents in to school this week for Maths workshops today in Years 1,2,3 and 4, as well as LKS2 Reading workshop on Wednesday. Thank you to all the parents who came to our sharing assemblies for Tarrant and Hawking Class today. Thank you as well to the parents who came in as part of Work Week to talk to the children about their jobs with different classes across the school.
Please remember to complete and return your consent forms that wre emailed ou tlast week! Finally, I hope you received an email on behalf of the PSA this week inviting you to become a class rep –if you can help, please email alisoncquinn@yahoo.fr. Plans are also well underway for the Christmas Fair –save the date: Friday 7th December.
I hope you have a good weekend. Best Wishes, Jane
Message from Headteacher
Fri 09 Nov 2018
Firstly, 'Happy Diwali' to all our families who celebrated the festival of light earlier this week. I hope you all enjoyed celebrating with your families.
We had a fantastic time on Hackney Downs today as all the classes across the school took part in the term's 'Outdoor Day'. (Thank goodness the rain stayed away!). There were so many different activities that kept us all busy all morning; rounders, cricket, baseball, skipping, football, card games, log scrambling, climbing, catch games, as well as mini-beast hunts, leaf counting, leaf rubbings, leaf sketches, making skipping ropes out of recycled plastic bags, nature collages… the list goes on! Some of the classes also enjoyed a hot chocolate! Thank you to all the staff that made the day so enjoyable and memorable for the children. Looking forward to next term's outdoor day already!
The Year 5 and 6 Cycling Team stayed at Hackney Downs for this afternoons inter-school race, so good luck to them all, and I hope to bring you news of Millfields success in next week's Mag.
Also this week, children in Year 3 classes were all photographed as part of the Tate Year 3 project which is an ambitious visual portrait of London, featuring tens of thousands of Year 3 school children. The Tate Year 3 Project with Turner Prize and Oscar-winning artist, Steve McQueen, is a major new artwork which will culminate in one of the most ambitious schools projects that London has ever seen. The finished piece will give a flavour of London's richly diverse community and highlight their hopes for the future, focusing on identity, belonging, inclusion and citizenship. We will keep you posted about when and where you can see it!
We also reinforced our on-going anti-bullying work as all classes watched a puppet show focused on pupils feeling safe in school and not being afraid to speak out if they feel that they are being bullied. The children have all talked animatedly about the show and we are continuing working on the anti-bullying theme next week, with another session, as part of national Anti-bullying Week.
Well done to all the 'Always Good' children from last half term who were treated to a hot chocolate and pastry in our local Millfields café. The children were of course fantastically behaved and polite while they enjoyed a drink outside in the sun yesterday!
Thank you to all the Y2 parents who joined their children for lunch yesterday, and to all the Y1 and Y2 parents who took part in the phonics workshop on Wednesday morning. We hope you enjoyed  tasting the food, and finding out how your child learns in school. Thank you to Debi for the workshop.
Finally, it is Work Week' next week, so please talk to your child about what they are learning and if you can, pop in to talk about your job to your child's class.  Please contact the class teacher. Don't forget to sign up for Parents' Evening on Wednesday 21st November.
Have a good weekend. Best wishes, Jane
Message from Headteacher
Fri 02 Nov 2018
The children all seem to have had a good rest and they are keen to get on with their new learning. This week all classes completed a 3 day Design and Technology project, the ovens have been on, the glue guns have been fired up and there has been much excitement.  Year 2 have been making moon buggies, Year 6 sewing bags and this afternoon Y1 enjoyed a Teddy Bear's picnic with their homemade pizza and flapjack made during their cooking project.  I have been very hungry walking around the school with such nice smells coming out of the classrooms.  Thank you to the teachers and to Kingsley for planning and organising such interesting projects. Don't forget to ask your child about their project this weekend.
Next Friday is outdoor day and we will all be walking down the Forest School site to get involved in outdoor learning activities.  Pease remember to ensure your children come dressed appropriately in warm, waterproof coats and sensible shoes or boots.  Please can I remind you that swimming and tennis sessions are part of the PE curriculum and all children MUST bring appropriate kit to school.  There is no scientific evidence that children catch colds from wet hair so please ensure even through the winter excuses are not made for missing swimming sessions we have a statutory duty to ensure all children leave primary school can swim.
It has been my absolute pleasure to introduce a new award this year, 'The Headteacher's Award'.  Each half term I will be awarding 2 children with a cup that they can take home (for a while). I am awarding children who are spotted using their outstanding manners, for helping others, holding doors, making particular contributions to school life or the community etc. This half term the awards have gone to Max Clark and Maariyah Mulla who have both been seen on so many occasions using fantastic manners.  Well done to you both.
We're looking forward to seeing you at Parent's evening on Wednesday 21st November.  The sign up sheets will be out next week so please keep and eye out for those. Can I also remind parents of the time changes to the day.  There are still many children arriving late to school in the morning which means they will miss crucial bits of learning.  Please ensure that they are in school for 8.45 and therefore ready to start learning at 8.50.  Remember also to book in for the enrichment clubs for the term please or to pick your children up at 2.15 on Fridays.
Finally, tonight is the R-Y2 disco, so hope to see lots of you there! I hope you have a lovely weekend with your family. Best Wishes, Jane
Language Nut Winners!
Wed 31 Oct 2018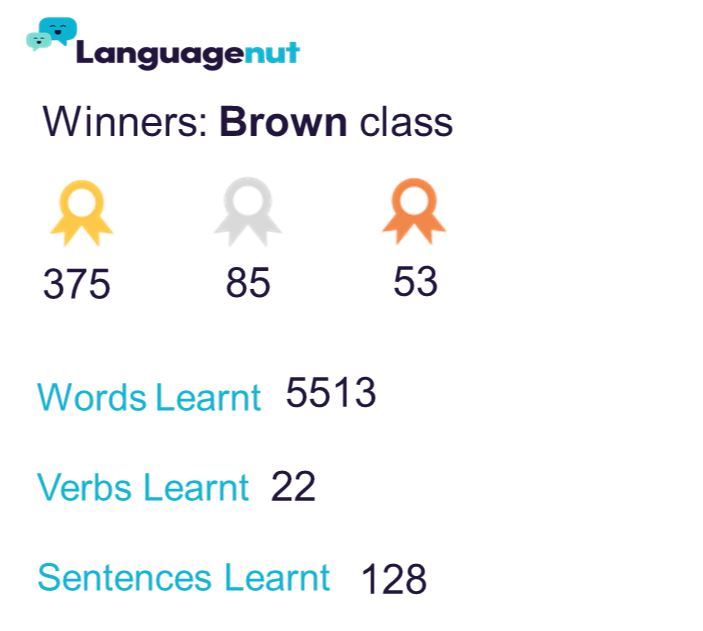 Congratulations to Brown!
You are the languagenutters for October.
You, as a class, have worked incredibly hard.
Keep it up!
Message from Headteacher
Fri 19 Oct 2018
Diversity Week has been a great experience for all the children and staff! Classes have been reading books from different cultures and writing brilliant re-counts of these stories in class. I have read some amazing pieces of writing this week from all classes from Y1 to Y6. Well done everyone! As part of Black History month celebrations across Hackney, all of the classes visited Sutton House to find out more about the Windrush communities settling in Hackney.
In addition, some of our classes also visited Hackney Museum to look at the exhibitions on display there. brilliant and the children have all talked excitedly about all the things they saw and the information they have learnt. In class, we have all been learning about carnival and the children took part in a dance workshop, learning the moves, getting ready for our carnival celebration. The whole school has been awash with feathers and glitter as every child made a carnival mask or head-dress to wear at our 'Millfields Carnival' that took place yesterday. It was great fun –singing, listening to steel pans and dancing through the surrounding streets in the Autumn sunshine. A true celebration of Millfields' inclusivity and diversity. The Millfields Jazz Band, with only a few days practice, sounded great. Thank you to Roz, Tom and the rest of the Music Team for bringing all the music and entertainment together. Thank you also to all the parents who turned out to watch the school parade around the local area. After school, parents and children then enjoyed some delicious Caribbean food cooked and served by our school chef, Leea, and her team. A big 'thank you' to them. And a huge 'thank you' to Emma who planned, organised and inspired us all week.
Our Year 5 Orienteering Team have been taking part in various events for the last 5 week's as part of the Hackney schools' Winter orienteering league. The children taking part have all tried really hard and we are delighted that the final scores see us in the top 3 schools!. Thank you to Izaac who has been coaching and organising the team.
Also, the first cycling league event took place last Friday and Millfields started the season in fine form. We ended up with 2 gold, 3 silver & 2 bronze medals and are the early overall leaders of the league! Well done to all the riders, some who are new to the team this year!
Lovelace Class and Dunlop Class have been involved in a special sculpture art project based at Broadgate, and today all the children visited Broadgate to see their installations. If you have a spare moment at half term, do go and have a look. The creations designed and made by our talented children are brilliant!
Finally today, we welcomed parents to Hepworth Class and Faraday Class sharing assembly –we hope you enjoyed them. Have a restful and enjoyable time with your families and friends over half term. Remember, children are not back at school until Wednesday 31st October.
Best Wishes, Jane
School Of Tech Opportunity!
Mon 15 Oct 2018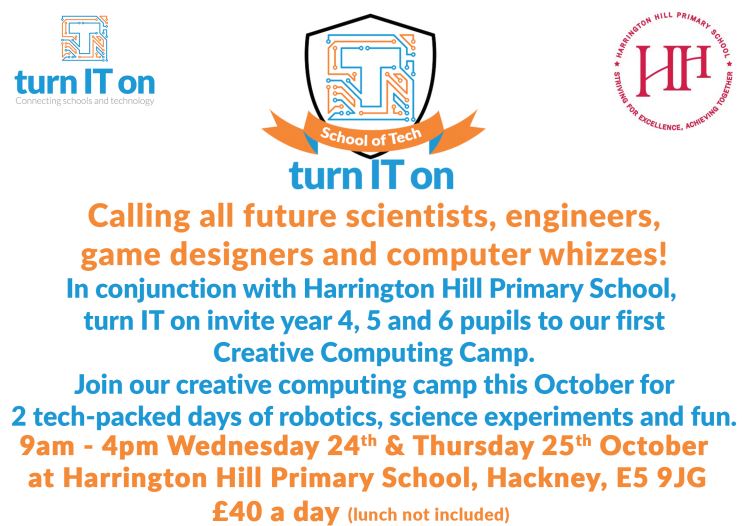 Click
here
for more information
Message from Headteacher
Fri 12 Oct 2018
Thank you to parents and families for attending the Y1 reading workshop and to our Reception parents who came to Come Dine with us this week. Apologies to those who couldn't book in this time — there will be another opportunity to try our delicious school dinners next term.
Wednesday was world Mental Health day and all of our children watched this fantastic Talking Mental Health animation https://youtu.be/nCrjevx3-Js from the Anna Freud National Centre for Children and families. The video gave us child friendly language to talk about mental health and wellbeing and we talked about who the trusted adults are in our lives and how to ask them for help and support. We learnt about small and big feelings, how important it is to talk about our feelings as well as the skills we need to be good listeners.
We were given a limited number of tickets for the Primary Proms this year so our Instrumental and choir members attended the inspiring event. Children form across the country performed including the UK's number 1 Steelpan band from Lambeth. Thank you to all the staff who went on the trip and continue to ensure that we always give the children an enriching experience to remember, beyond the school curriculum!
Our Bikers Breakfast event yesterday saw a lot of people getting their bikes serviced by Dr Fix It and many enjoyed a free bagel. All of this was done to thank the many people who already cycle or scoot to school and encourage those that don't to join the cycling fun. Children who walk to school are all part of the walk to school campaign where they can win monthly badges just by walking once a week for a month.
Also this week, many of our Year 5 pupils have been taking part in a 'Bikeability' training course. This is open to all year 5 pupils across the year and makes sure that we are making our pupils aware of road safety and how to ride safely on the roads. It also teaches them about sustainable travel. Thanks to Matthew for organising this with London Borough of Hackney. Today our winning cycling team will once again begin the defence of their Cycling League title. Riders from years 4-6 will take part in the first event –Springfield Hill climb. Good luck everyone!
Today we welcomed lots of parents to the school for Jones class Sharing Assembly. It was a fantastic display of all the work the children have been doing so far this term. We learnt about their class namesake Claudia Jones who organised the first ever Notting Hill Carnival. Jones class will have lots of ideas to help us celebrate the end of Black History Month with our Diversity Week next week, as our theme is Carnival!
There will be lost of trips and activities planned for the children as well as a carnival parade around the local area on Thursday the 18th from 2.40pm. Come and watch us show off our masks and headdresses then join us in the playground where Steelpans will be played and Carnival food will be on sale from 3:30. The whole school is dressing up on Friday with the Carnival theme of celebrating your culture or identity, £1 donations are being collected for Educate and Celebrate training http://www.educateandcelebrate.org
Finally, have a good weekend and enjoy the good weather we are forecast tomorrow! Best wishes, Jane
---