Welcome to Millfields Community School
| | |
| --- | --- |
| | |
Latest News
Message from Headteacher
Fri 11 Jan 2019
'Happy New Year', and welcome back to all our children and families. The children have returned well-rested and have had a busy first week back. All classes have been talking about their new topics and doing initial pre-assessment activities to make sure that the learning is matched to the needs and interests of all the children in the class, and so that challenge and support is considered.
Year 6, Year 4 and Reception classes have also been out on their WOW trips that help to launch the excitement and enquiry about their new learning this term. Year 6 visited the rainforest exhibition at Kew Gardens, Y4 visited the Victoria and Albert Museum in South Kensington as part of their work on China, and Reception classes visited the Science Museum to find out more about Space at the Science Museum.
Year 5 have been very excited about a project that they are taking part in through Inspire. It is a STEAM (Science, Technology, Engineering, Art and Maths) project that involved an initial workshop that was led by volunteers from STEAM professions. Then the children were given 5 pieces of paper,5 straws and a roll of tape and each group had to design and create a raft. From this one winning group from each class will be chosen and 18 children will go to UBS on Tuesday 12th February 2019 hoping to win the whole competition against other schools from across London. We have our fingers crossed for a winner! This term, each year group will be visiting an Art gallery as part of the Art curriculum at Millfields.Year 1 and Year 2 classes are really looking forward to their Art trip next week to the Saatchi Gallery.
Also this week, we have been getting ready for Creative Week which starts on Monday 21st January. The theme for this year is 'Future London'. The staff have been preparing resources and looking at ideas for the week activities and for the whole school evening event that will take place on Monday 28th January. If you are a creative or artistic parent, grandparent, aunty or uncle who is an architect or have any connections with sustainability organisations and would like to come in to support us during Creative Week, please contact Judyann Platts: jplatts@millfields.hackney.sch.uk.
Lots of our sporting ventures, as well as parent engagement activities -'Come Dine With Us' and Parent Workshops start next week. Please call the main office to book a place at any of our events.
Finally, please remember to send your children to school with a warm coat, hats and gloves that have their name on them! The yellow lost property box is filling up again already!
Have a good weekend. Best Wishes, Jane
Message from Headteacher
Fri 21 Dec 2018
Firstly, a huge 'thank you' to the whole school community who have been collecting food donations in their class and staffroom for 'Reverse Advent' calendars since the beginning of December. We have managed to fill an amazing 120 rucksacks with basic food and toiletries, and put together more than 25 food hampers. The ruck-sacks were distributed to several homeless shelters and some of the Choir and School Council members gave a few out on the streets of London yesterday. We have also collected nearly £400 for the Clapton Community Drop-in Centre and today raised around £200 for 'Save the Children'. We also collected enough money after the concerts in St James Church to make a donation of £150 and buy them a new cooker! Thank you so much for your generosity, especially at this time of year and for your continued support.
The choir have been bringing festive cheer to lots of less fortunate and vulnerable groups this week as they visited St Joseph's Hospice, Acorn Lodge, Notre Dame Refugee Centre and Homerton Hospital. Thank you to Roz and the amazing music team –Tom, Simeon, Lawrence, Jon, James, Maria and Jack, who have been relentless in their musical adventures over the last few weeks!
We have had a great week celebrating at Millfields. On Monday, each class enjoyed the school pantomime to celebrate the end of term; then on Tuesday, all the children were busy making hats to wear to while eating their special Christmas Lunch. As always, the kitchen team managed to feed more than 850 of us! A great effort –thank you Leea and her team for all the hard work.Wednesday saw the start of the "Daily Mile"—each class did exercise to collectively run a mile. This will start in earnest in the New Year.
Yesterday was London Day – a day when all the children go out to visit a museum or gallery in London to find out more about our amazing city! Reception enjoyed a day out at the Olympic Park. Year 1 visited the Museum of Childhood in Bethnal Green. Hepworth and Riley went to explore HMS Belfast and Brown Class went to William Morris gallery. Year 3 had fun at the Victoria and Albert Museum and Year 4 visited the National Maritime Museum in Greenwich. Year 5 went to the Museum of London at Docklands and 2 Year 6 classes visited The Churchill War Rooms, while Hawking class went to the Imperial War museum. They all enjoyed their day out and had lots of stories to tell me on their return.
Finally, this is the last Mag of the calendar year, so if I do not see you, I hope that you have a restful holiday and enjoy Christmas if you celebrate. Just a reminder that school starts back for children on Monday the 7th January 2019. Best Wishes, Jane
Millfields @ Chatsworth Christmas Festival
Mon 17 Dec 2018
Recently, lots of children and parents joined school staff in a Lantern Procession to the Chatsworth Road Christmas Market. The choir sang their Christmas repertoire and the Millfields jazz band thoroughly impressed the local community with their playing. Please enjoy some amazing pictures of a lovely evening taken by Delphina Jones (phinaface@hotmail.com) There are more pictures available in a slideshow at the end of the article.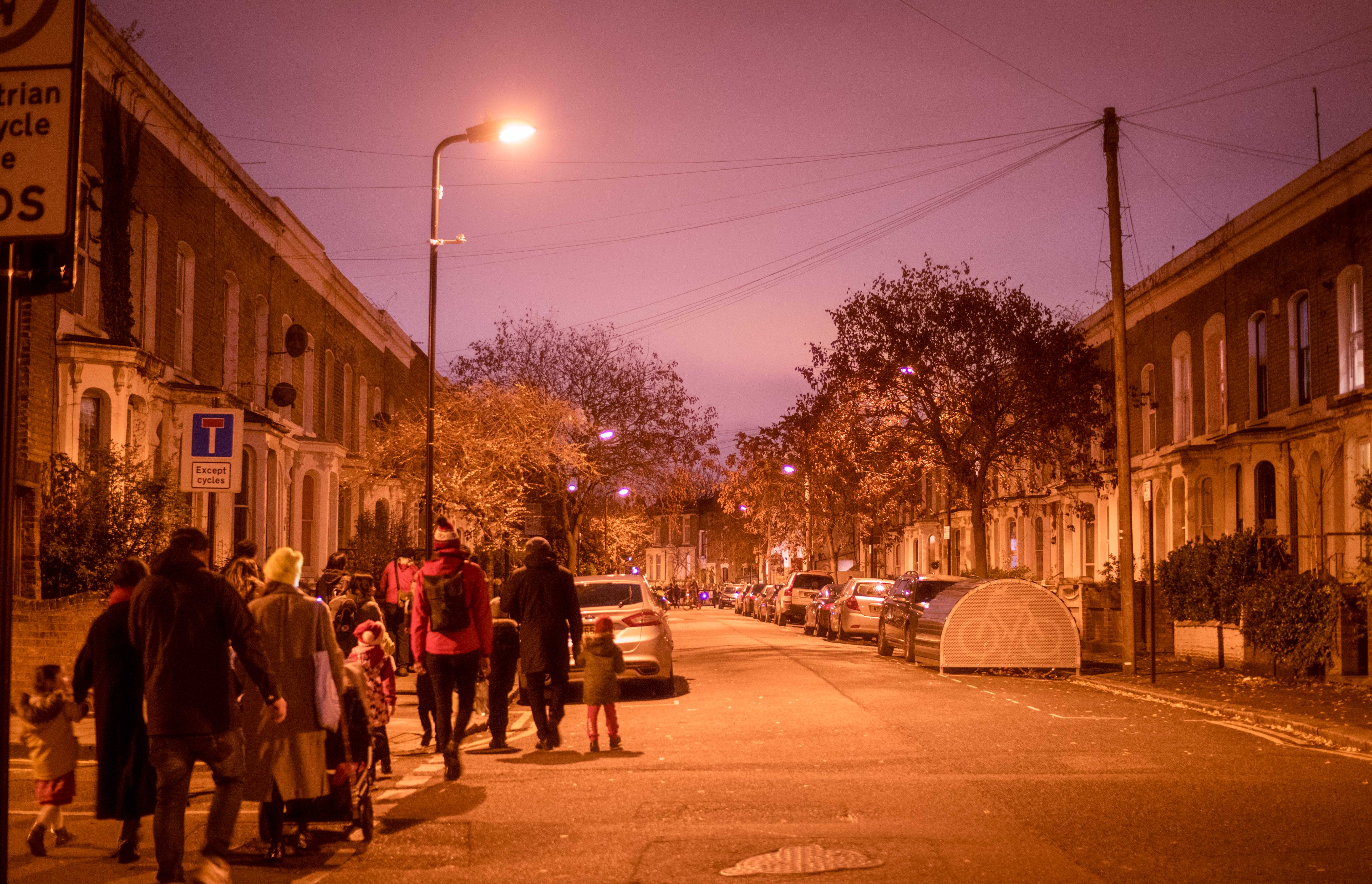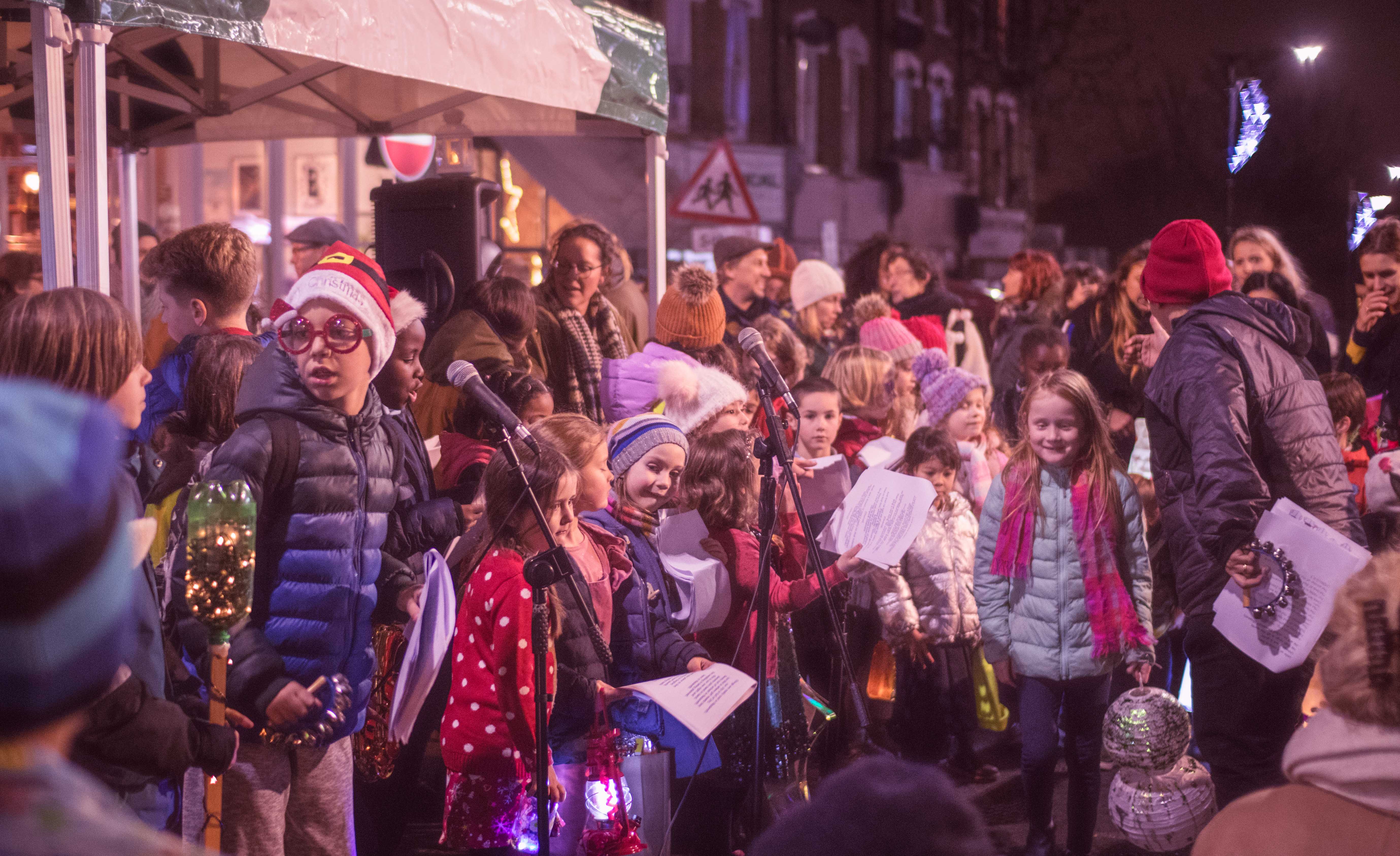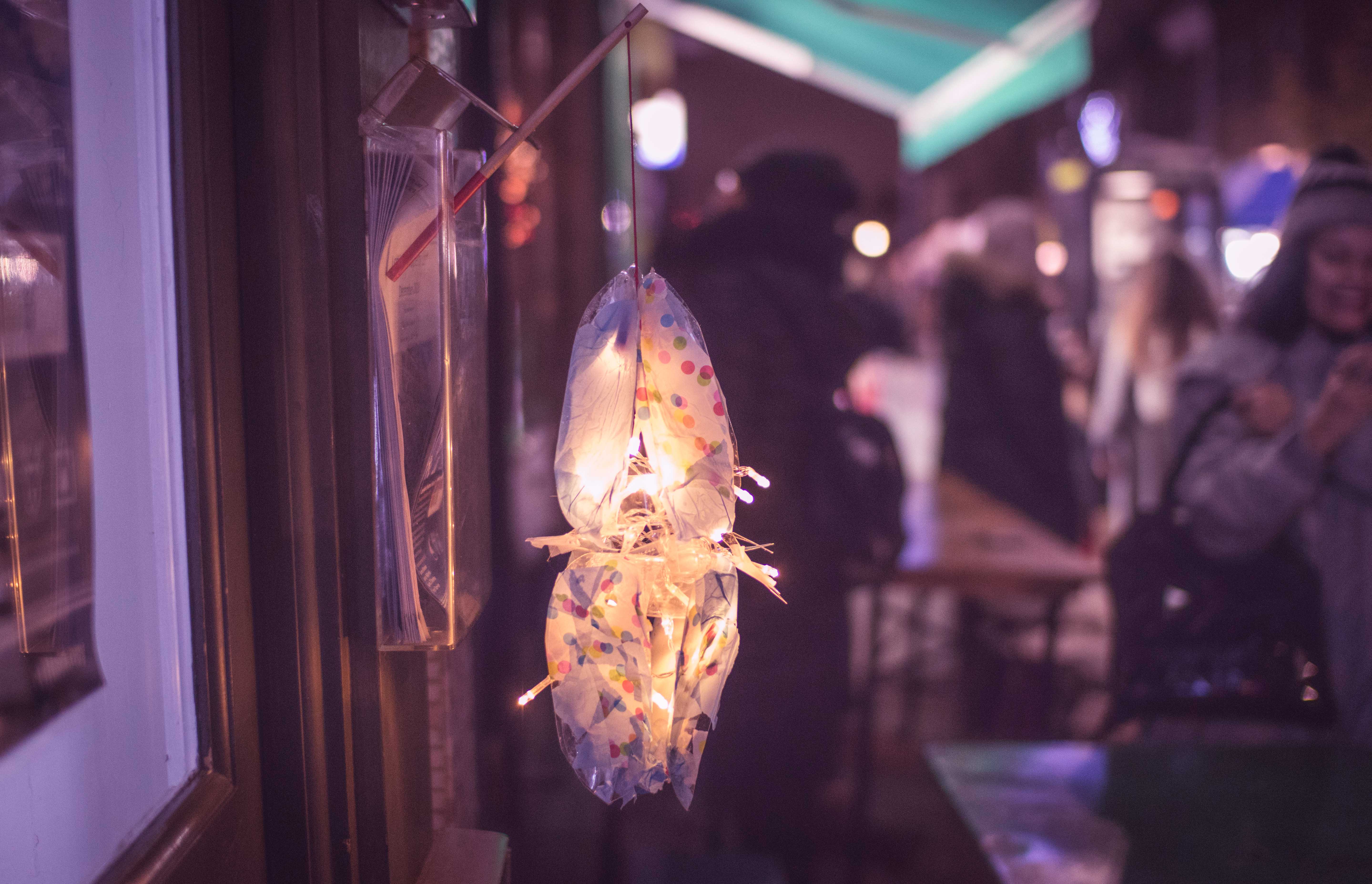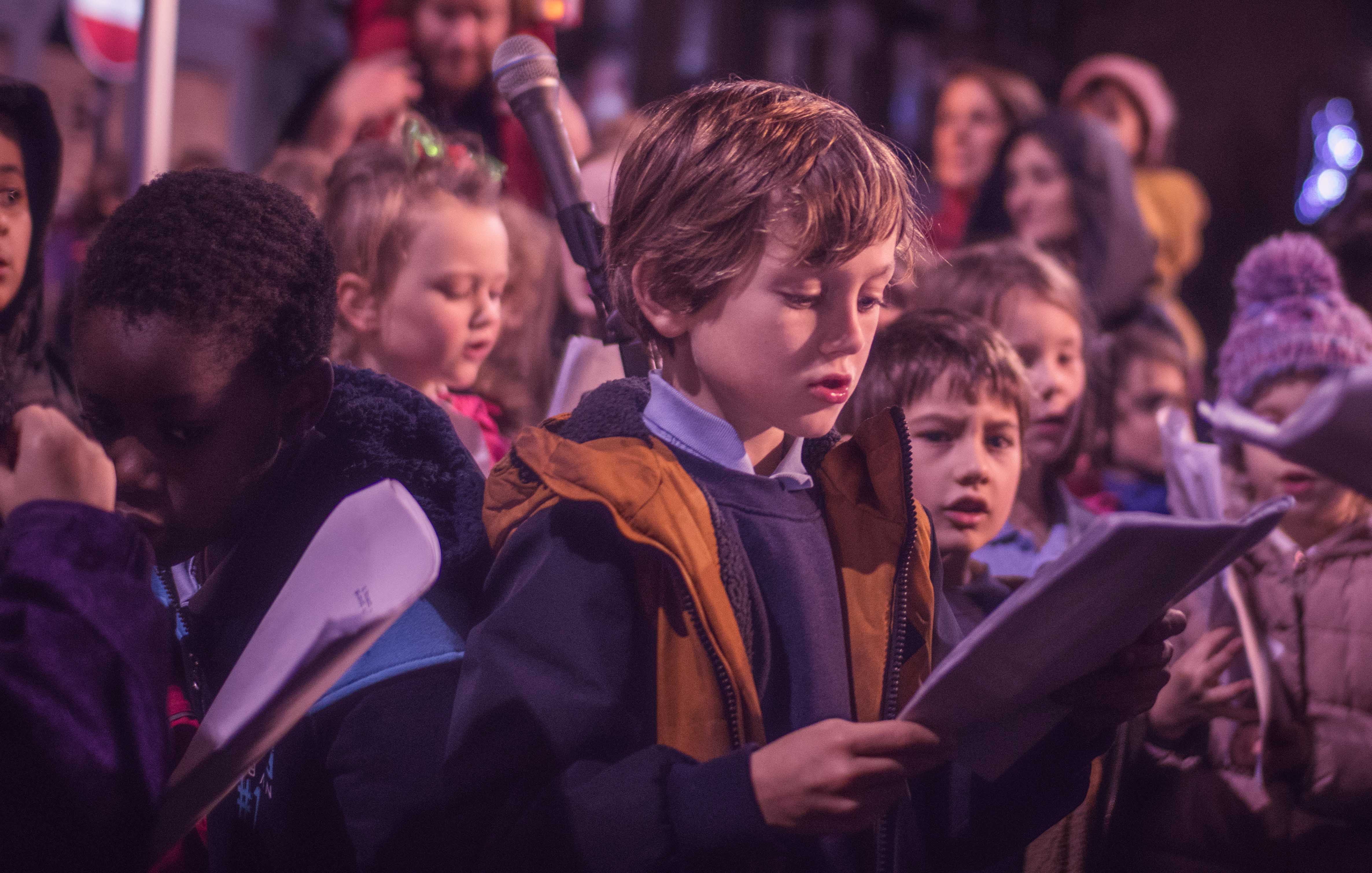 Message from Headteacher
Fri 14 Dec 2018
We have had a very busy week, taking part in and watching Hepworth Class Nativity performance and the Winter Concerts. The singing, actions and costumes were all fantastic, and what was so lovely to see was all of the children joining in and enjoying themselves. A huge 'thank you' to all the staff, but especially Roz and the music team –Tom, Jack, Lawrence, Jon, Marie and James. There is one more concert next week –the evening performance with choir and instrumentalists, as well as bands on Tuesday 18th December at 6.30pm in St James Church. I hope to see lots of you there.
A big 'thank you' to all the parents and carers and the PSA who helped make the Christmas Fair last Friday a huge success! We raised around £2750 which is a fantastic amount! A special 'thank you' to all the committee members but especially Alison, Fionnola, Ciara, Melissa, Carolina and Dawn for making it happen!
I have also thoroughly enjoyed looking at all the homework projects this week, particularly Y3 work on Africa, Y2 work on habitats, Y6  work on the Mayans, and Y4 work on Egyptians. Thank you to all the families who have worked with their children to produce such outstanding work! Well done everyone!
Yesterday, 30 Year 5 pupils and 6 Y6 pupils went along to the London Chess Championships at Olympia. They enjoyed the whole experience and learnt lots, playing games for more than 2 hours against 500 other pupils from schools across London. We are very proud of you all –well done!
Some of our pupils took part in a sporting 'Panathon' on Wednesday –they did really well against 8 other Hackney schools and all received a certificate for a great effort!
Thank you to all the families who have been donating food and other items to our 'Reverse Advent Calendar'. If you have any more tins or packets of food, or other items that we could use to make up the rucksacks and food hampers, then please bring to your child's class before the end of Wednesday next week. The choir and members of the School Council will be singing at various venues over the next week and taking our donations to the Notre dame Refugee Centre in central London as well as the Clapton Community Drop-in at the Round Chapel.
Next week will be equally busy with a whole school pantomime on Monday, Christmas Lunch on Tuesday, the launch of Millfields Daily Mile on Wednesday, London Day on Thursday and Christmas Jumper day (raising money for Save the Children) on Friday. A reminder that there is no Enrichment or After-school Club on Friday 21st December as the whole school closes at 2pm.
Finally, congratulations to our 2 recipients of the 'Head teacher's Award' this half term! Well done to Mya Macarthy in Hepworth Class and Kuba Sienkiewicz in Jones Class!
Have a good weekend. Best wishes, Jane
Government Initiative IQ recognizes Millfields as a Top Performing & Improving School!
Mon 10 Dec 2018
We are delighted to announce that the government initiative IQ has recognised Millfields as a top performing and improving school. Please click here for more details.
Language Nut Winners!
Mon 10 Dec 2018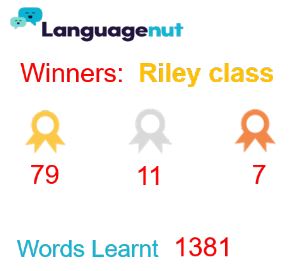 Congratulations to Riley!
You are the languagenutters for November.
You, as a class, have worked incredibly hard.
Keep it up!
Message from Headteacher
Fri 07 Dec 2018
Christmas started at Millfields this week with Riley Class and Brown Class Nativity Shows. They have been practising really hard for weeks, and their performances were brilliant –loud voices, comic timing, beautiful singing and fantastic costumes. They made us laugh and cry and feel extremely proud! Well done to all the children involved and to all the staff who helped make the show run so smoothly. We are looking forward to Hepworth Class performance next week.
Also next week there are Winter Concerts for all classes Y1-Y6, the dates are on the back of this mag and on the school website. We hope that you had the dates in good time so that you will be able to come and join in the singing and celebrations.
Year 6 classes have all enjoyed a trip to the Buddhist Temple as part of their RE enrichment work. All RE trips enhance the curriculum learning and ensure that pupils have a deeper understanding of the major world faiths. Each class has at least one visit to a place of worship each year.
Well done to our Y5 and Y6 cross country runners who took part in the 3rd inter-schools event this week. There are 2 more vents in the new year and we will be seeing if our best 3 overall result swill leave us in a medal position at the end of the season. Thank you to Reegan, Akeba and Theo for organising pre-school training on Tuesday and Thursday mornings. These session will continue until the end of term.
Also this week, the football team took part in the hackney schools preliminary round on Monday. Millfields were unbeaten so this means that we are through to the next round. And this week, the 2017-18 Cycle Team got bac together to officially accept the Hackney Cycling League champions trophy for the 3rd successive year! A huge 'thank you' as always to all the parents who support the team and especially Paul Marsden for all his work with the team before, during and after!
Reception classes visited Chats Palace to watch their Xmas production of 'Your toys'. The children loved the experience and the story, and were extremely well-behaved even thought they were the youngest children there!
Yesterday, lots of children and parents joined school staff in a Lantern Procession to Chats Road Christmas Market. The choir were singing their Christmas repertoire and the Millfields jazz band impressed with their playing. Thank you to everyone who supported this event by making lanterns and joining us on the walk, and to the music team for bringing it all together! The choir also sang in the Westfield Choir Competition on Wednesday and the judges loved the enthusiasm of the singers, as well as the range of different and original songs that Millfields sang compared to other school choirs! Fingers crossed that we hear some good news next week!
Finally, today is the Christmas Fair. Thank you to all the parents and carers who are helping out as I write this. More news on this next week.
Have a good weekend. Best Wishes, Jane
---