Welcome to Millfields Community School
| | |
| --- | --- |
| | |
Latest News
School Of Tech Opportunity!
Mon 15 Oct 2018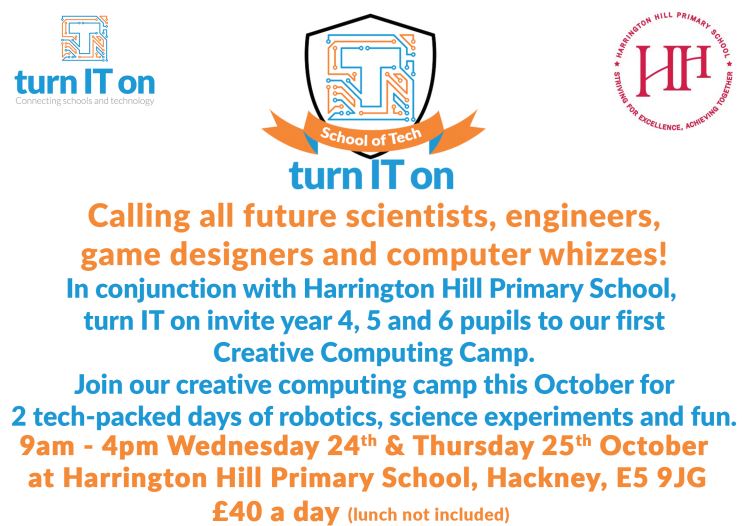 Click
here
for more information
Message from Headteacher
Fri 12 Oct 2018
Thank you to parents and families for attending the Y1 reading workshop and to our Reception parents who came to Come Dine with us this week. Apologies to those who couldn't book in this time — there will be another opportunity to try our delicious school dinners next term.
Wednesday was world Mental Health day and all of our children watched this fantastic Talking Mental Health animation https://youtu.be/nCrjevx3-Js from the Anna Freud National Centre for Children and families. The video gave us child friendly language to talk about mental health and wellbeing and we talked about who the trusted adults are in our lives and how to ask them for help and support. We learnt about small and big feelings, how important it is to talk about our feelings as well as the skills we need to be good listeners.
We were given a limited number of tickets for the Primary Proms this year so our Instrumental and choir members attended the inspiring event. Children form across the country performed including the UK's number 1 Steelpan band from Lambeth. Thank you to all the staff who went on the trip and continue to ensure that we always give the children an enriching experience to remember, beyond the school curriculum!
Our Bikers Breakfast event yesterday saw a lot of people getting their bikes serviced by Dr Fix It and many enjoyed a free bagel. All of this was done to thank the many people who already cycle or scoot to school and encourage those that don't to join the cycling fun. Children who walk to school are all part of the walk to school campaign where they can win monthly badges just by walking once a week for a month.
Also this week, many of our Year 5 pupils have been taking part in a 'Bikeability' training course. This is open to all year 5 pupils across the year and makes sure that we are making our pupils aware of road safety and how to ride safely on the roads. It also teaches them about sustainable travel. Thanks to Matthew for organising this with London Borough of Hackney. Today our winning cycling team will once again begin the defence of their Cycling League title. Riders from years 4-6 will take part in the first event –Springfield Hill climb. Good luck everyone!
Today we welcomed lots of parents to the school for Jones class Sharing Assembly. It was a fantastic display of all the work the children have been doing so far this term. We learnt about their class namesake Claudia Jones who organised the first ever Notting Hill Carnival. Jones class will have lots of ideas to help us celebrate the end of Black History Month with our Diversity Week next week, as our theme is Carnival!
There will be lost of trips and activities planned for the children as well as a carnival parade around the local area on Thursday the 18th from 2.40pm. Come and watch us show off our masks and headdresses then join us in the playground where Steelpans will be played and Carnival food will be on sale from 3:30. The whole school is dressing up on Friday with the Carnival theme of celebrating your culture or identity, £1 donations are being collected for Educate and Celebrate training http://www.educateandcelebrate.org
Finally, have a good weekend and enjoy the good weather we are forecast tomorrow! Best wishes, Jane
Message from Headteacher
Fri 05 Oct 2018
This week we welcomed TV chef Andi Oliver who officially opened the new Nursery playground. Andi cut the red ribbon to officially mark the occasion. Thank you so much Andi!!We also shared the amazing cake baked and donated by our very talented parent, Helen. Thanks to the amazing fundraising efforts of all of you –the school community, and the hard work of the PSA for raising the money to make the project happen. And a special mention to 'Made from Scratch' who designed and built the structures and planted the grounds. The feedback from the nursery children and families has been very positive. The sandpit with running water, the new treehouse with fast slide, as well as the beautiful range of plants and flowers looks great. The Nursery staff have also been very busy making a new Mud Kitchen and have developed all of the digging and planting areas.
Thank you to all the parents and cares who came to sample our healthy school meals on Tuesday. Our Year 1 pupils loved sharing lunchtime with their parents and we hope the parents liked the food too! Next week Wednesday 10th October is an opportunity for reception parents, so please sign up at the main office if you would like to join us.
As part of Black History Month, all our classes Y1-Y6 have visited, or will be visiting Sutton House to see the exhibition and take part in workshops celebrating 70 years since the SS Empire Windrush arrived in Tilbury in Essex on the 22nd June 1948. The classes who visited this week certainly learnt a lot and came back to school full of information that they wanted to share. These workshops will also add to the preparation at Millfields for our annual Diversity Week that this year will be exploring and celebrating Carnival. The children will be taking part in workshops and special sessions throughout the week, which will culminate in a Carnival of song and dance on Thursday afternoon, followed by a food sale in the playground. Look out for more information next week.
Today, each child had their photograph taken, so look out for the proof that will be coming in the next few weeks. Thank you to Shernel for making the whole day run so smoothly.
Finally, I would like to thank all of you for your continued support for the early closures on Friday afternoons. This time has already become extremely valuable for all staff. Teachers are suing this time to meet with support staff and get arrange of planning and resources organised for the following week. And support staff have already benefitted from a range of excellent training sessions including the teaching of phonics, use of interactive whiteboards, teaching early reading and target-setting for children with additional needs. This means that all children will benefit from having well-trained staff who are confident in all aspects of teaching and learning. A reminder that you need to book in to Enrichment Clubs on a half-termly basis. Please pay at the main office.
Finally, have a good weekend with family and friends. Best Wishes, Jane
Message from Headteacher
Fri 28 Sep 2018
There has been much excitement this week as we launched Maths Week with a crime scene and clues to find out who had stolen the silver trophy from the trophy shelf! Each class visited the taped off area to inspect , measure and photograph the handprints and footprints and look for clues that would help solve the mystery. The range of clues left behind, as well as measurements and circumstantial evidence helped the children to narrow the suspects down to the following staff: Sumon, Izaac, Naomi, Judyann, Kingsley and Sharon. The children also heard from real detectives and police officers who visited the school to talk about their work and how they need to use Maths investigative skills in their every day work. All of the children have now worked out who the culprit was…….....it was Kingsley! Thankfully, he has returned the trophy that he says he only borrowed because he was sad that Spurs have not won a trophy for years!
Thank you to all the parents who came to the Maths Workshops this week. They were very well attended and the feedback has been very positive. We understand that it s not always possible for all parents to attend workshops during the day and did try one after school session, so we will think about  different possibilities for future sessions.  We will be putting the powerpoints up on the school website and will also send it out via email for parents to have a look at. Thank you to Keli, our Maths Lead, for organising Maths week and the workshops!
Year 1 also had visit from the Dinosaur Dome this week. The children enjoyed learning facts about various dinosaurs and hearing stories in an exciting covered dome. Year 2 had a similar workshop in the Space Dome that came to school as well. This experience definitely enhanced their learning about space and certainly helped with their writing in class. Also this week, Turing class visited the Kinsella Trust Foundation and took part in a workshop that highlights knife crime and the consequences. This is a very worthwhile and relevant topic that makes the children think and hopefully aware of the dangers of knives, and keeps them safe.
Dunlop and Lovelace Class also visited Broadgate this week, as part of a special art project that they will be involved in over the next few weeks. The project aims to engage primary schools with public art and encourages them to explore, design and make temporary sculptures for the public realm spaces of the Broadgate area surrounding Liverpool Street Station. The children will be involved in designing and making a range of art pieces for the exhibition. Thank you to Judyann for arranging this.
Finally, thank you to all the parents and staff who brought cakes in to support the Macmillan coffee morning today –we have raised more than £120!
Hope the lovely weather lasts for the weekend and you enjoy the sunshine. Best Wishes, Jane
Message from Headteacher
Fri 21 Sep 2018
Today we enjoyed hearing about what Y2 Riley Class and Y5 Newton Class have been learning already this term. Thank you to both classes for all your effort and organisation as it is always hard to be the first sharing assembly of the year!
We have now welcomed all of our new children and families in to Reception and Nursery. Thank you to the staff and parents for making this a smooth transition. If you have visited the nursery this term, you will hopefully have noticed the amazing new playground development. Thanks to you, the school community, and to the PSA who have raised the money that made this possible. The children are really enjoying the new climbing and slide area, and are fascinated by the new water pump and sand pit. The children are also learning how to appreciate the beautiful flowers, shrubs and herbs that have been planted. Please pop in and have a look if you have not seen it. There will be an official opening of the new playground in the coming weeks –look out for more details.
A big 'well done', to the Y5 orienteering team who, on Monday afternoon, took part in the first of five events this half term. The competition was tough and the newly formed team took on the challenge and made a great start to the league. Thanks to Izaac for making this happen.
Also this week, the ARP pupils visited the Lea valley Countryside Live Show. This is always a fantastic day out and the children learn so much about the animals and the countryside. Thanks to Lucy and her staff for organising.
Thanks to our long standing partnership with Inspire, yesterday, we were able to send 3 classes to the New Scientist Live Show at the Excel Centre. The children came back very excited by all the activities and workshops that they had taken part in that included a slime pit, making kites and an electricity activity. We hope that this experience may encourage all our pupils but especially more girls to be interested and confident in STEM subjects.
Assemblies this week have focussed on Harvest Festival and as always, we are collecting food donations for the Hackney Food Bank. Please bring in tinned food including vegetables and fruit, sealed packets and boxes of dry food –pasta, pulses, rice, as well as toiletries, nappies, baby wipes and washing powder to the main reception collecting point all next week. Thanks in advance for your support.
If you have a child in Year 5, you will hopefully have been to one of the 3 organised meetings to inform you of the residential trip in March. The deadline for £20 deposit is today so please pay at the main office.
This weekend is the Clapton Jumble Trail that will be raising money for Millfields. The event is taking place around Clapton from 11am until 4pm on Sunday 23rd September. There will be stalls in the school playground including a uniform sale.
Finally, thank you for supporting us with the introduction of early closing on Fridays. This additional time for staff has meant that teachers can meet with support staff to ensure that there is good communication and handover of information for all pupils but especially SEND pupils who have 1:1 support. It has also been a fantastic opportunity for the support staff to receive a range of training. This term the topics will include strategies to teach reading, phonics, early Maths, using the interactive whiteboard to support learning and developing confidence in writing. All staff have reported that the additional time and training is already having an impact on ensuring progress for all pupils.
Now that the weather is getting colder, please ensure that your child is wearing warm clothing and has an appropriate coat. And please put your child's name on their clothing. There is already lots of lost property, so please do have a look in the big yellow box ousted the main entrance if your child has lost something!
Have a good weekend. Best Wishes, Jane
Message from Headteacher
Fri 14 Sep 2018
Today is National Support Staff Day! So we have been celebrating and thanking all our support staff – teaching assistants, Learning Mentors, PE coaches, LSAs, After-school staff, office and admin staff, premises and cleaning staff and kitchen staff for all their dedication and hard work every day! We had a special breakfast and all staff received a sticker and a chocolate treat to have when they get home!
Thank you to the parents and carers who have attended our 'welcome meetings this week for children in Years 1-4. We hope you found the information useful and enjoyed the addition of a visit to see the classroom and the children at work. The revised guidelines on homework expectations at Millfields will be emailed out and on the school website in the next few days so please have a look and see what you can do to support your child's learning at home.
Most of our classes have now been on a WOW trip or had a WOW workshop to launch their topic learning this term.  On Tuesday, Year 1 classes visited London Zoo as part of their science work on living things. The sun was shining and the children practically had the zoo to themselves! Also on Tuesday, Year 5 classes visited Sutton Hoo in Suffolk, as part of their topic on Vikings. Although it was a long journey to get there, the information and experience was brilliant and really made the topic come alive for the children.  On Wednesday, Year 2 visited the Science Museum to look at the space exhibits as part of their work in class on space and Neil Armstrong. They really enjoyed the interactive experience in the flight Pad. Year 3 and Year 4 both had in-school workshops to start their topics. Year 4 had a morning of Egyptian-based workshops to support their topic on Ancient Egypt, and Year 3 enjoyed activities around Africa, as part of their topic on 'Africa Uncovered'.
Yesterday was 'E-safety Day' at Millfields and all of the classes were asked to talk about the importance of staying safe online, as well as watching one of the NSPCC films that you can access on the following link.  www.nspcc.org.uk/preventing-abuse/keeping-children-safe/online-safety/
Thank you to the few parents who came to the Parent Workshops on keeping children safe online who also made use of the NSPCC resources. There is also a section on the school website with links to parental and pupil support for safer internet use, so please have a look.
Our Prime Minister, Kit, Deputy Prime Minister, Annie and members of the cabinet, Louis and Ronita, represented Millfields, one of only 6 invited schools in the UK, at the House of Lords yesterday. They took part in the UNESCO Voices of Future Generations Children's Initiative, listening to and contributing to discussions on children's rights, sustainable goals and intergenerational equity. Roz said that the children were fantastic ambassadors for the school and of course, all of the panel were very interested in our 'Democracy Week' and want to visit us to hear more about it and see all the amazing things we do at Millfields! Watch this space.
Finally, the choir will be taking part in the Thames Festival celebrations this weekend. If you have never been to the Southbank to take part in this annual event, it really is a great experience for the whole family, and made more special by hearing our amazing choir join lots of other schools from across London to celebrate diversity and community.
I hear that the weather is going to warm again this weekend, so I hope you enjoy it.
Best Wishes, Jane
Message from Headteacher
Fri 07 Sep 2018
Welcome back to everyone at Millfields — pupils, parents/carers and staff. A special welcome to all our new Nursery and Reception class children and parents/carers and other new starters throughout the school. I hope you have had a good summer break, and enjoyed time with friends and family.
Welcome also to all our new staff; Jade, Jessica, Fiona, Sheyenne and Clara and welcome back to Cynthia. The children all seem happy and settled in their new classes with their new teachers and they have quickly learnt new routines.  They all seem to be enjoying working in new classrooms, and enjoying the first week's learning.
Each class has been revisiting behaviour for learning expectations –supporting and actively listening to each other, discussing and explaining ideas and taking responsibility for their own learning. All classes have new names this year—they are a mixture of authors, artists, scientists and inventors. This week the children are learning about the person their class is named after—please discuss this with them to see what they have learnt. As part of a whole school competition, the children have been learning lots of facts and trivia about their famous person which will be transformed in to a decorative classroom door! The children have also taken part in an class activities to launch their new topic and WOW trips to enthuse and encourage learning around new topics will be taking place next week. You will soon receive a letter about trips—the one off payment will 'cover all' trips and outings, please respond ASAP along with £20 contribution. There will be additional copies of all letters available at the main office.
The Year Group welcome meetings are taking place next week –see the next page for or the information on the website.  These sessions are an opportunity for you to meet your child's new teacher and find out what they will be learning in school and what a day in the life of a child in that year group looks like. There will also be some handy tips about how you can support your child at home.
Thank you to all of you - parents and carers for making such a great effort with school uniform. All of the children are looking rested and refreshed and extremely smart in their new uniforms. A reminder that children should be wearing black or navy sensible shoes and please and no tops with hoods. We regularly have parents telling us they don't know abut things so please remember to look for information on the school noticeboards, on the digital screen in the playground, on the school website, via text or email, as well as in the Millfields Mag. If you have not let the office know your email address or you have recently changed your mobile phone number please let them know asap. There will be an information update form coming home with each child in the next week to ensure that we have all the correct information. Next weekend is the Thames Festival and if you have never been before, it is well worth visiting the many activities that take place along the South Bank, and also an opportunity to come to the Scoop outside City Hall where Millfields Choir will join lots of other school choirs from across London to sing as part of the festival.
Finally, it is really important that children get in to class on time and begin their daily routine. From Monday 10th, all classes Rec–Y6 will be able to come in to school from 8:45am for a prompt 8:50 start. Please note that if you arrive after 8:50am, you will be marked late.  Please also note that on a Friday school now finishes at 2:15pm.  Please sign up and pay for enrichment activities should you need them until 3:30pm.
I hope you have a good weekend. Best Wishes, Jane
---