Welcome to Millfields Community School
| | |
| --- | --- |
| | |
Latest News
Message from Headteacher
Fri 15 Jan 2021
I hope you are all still feeling well and managing work, home learning and coping with the restrictions in place due to lockdown.
I want to thank you again for all your support and for the positive feedback and comments, as well as the constructive suggestions. Thank you for engaging with Google Classroom, and with the Zoom sessions so conscientiously. I have loved looking into all the Google Classrooms to see some of the amazing learning that has been happening and have seen photos of models, art and other activities. Well done to all the children (and their parents/carers)!
As a staff, both teachers and support staff, in school and online, we are continually reviewing and revising the learning provision and available support. With that in mind, we will be sending out a questionnaire to get you and your child's views of the online home learning and in school provision, and will be asking for feedback on your experiences so far and other suggestions about the format of  home learning going forward for the rest of this half term.
It seems that some of you would like more live lessons, some fewer live lessons; some would like more recorded lessons that can be accessed at any time; some would like more paper/pencil copies of work; some would like work set in advance that can be accessed at your convenience either daily or weekly and so on.
We are trying hard to accommodate everyone, while being aware that some parents are working, some families have lots of children learning at the same time, and that we cannot please all of you all of the time. The staff are meeting regularly to discuss feedback from the children and parents/carers, as well as share their own experiences with their class and indeed their experiences with their own children earning from home. It seems that there are so many different models of online and blended learning but we would like to get it right for the majority of you. So please have a think about what works best for you and your child, and look out for the Google Form link to the questionnaire that should only take 5 minutes.
Thank you again to the amazing parent/carer helpers who delivered another round of maths workbooks this week -we couldn't' do it without your meticulous organisation!
Next week, we will also be sharing a 'Live lessons Learner Agreement' with the children and families. Please do have a look at this -it is a simple picture format, but essentially it is asking that you be on time for sessions, be respectful and behave appropriately at all times as you would in class, dress appropriately, be prepared, contribute to lessons. There are also some Zoom protocols that will be reinforced. Thanks in advance for your support with this.
Free School Meals Update -we are currently registering for the FSM voucher scheme that has just been announced. An email went out earlier today to explain that we will continue to supply Food Boxes this week as we are not sure when the vouchers will actually be available. Unlike the photos that are circulating on social media, I can assure you that the weekly boxes from Millfields have enough food in them for at least 5 meals and contain over and above the government recommendations. Some of the things included are a bag of pasta/rice, a box of eggs, loaf of bread, one boxed meal from our kitchen, tinned tomatoes, tin of tuna, a selection of fruit, veg and salad, milk, cereals. The contents change slightly each week.
Mental Health and Well-being: please make sure with all the restrictions that lockdown brings that you all look after yourselves and your family. Please let us know at school if you need any support for an individual or as a family, and/or see the links below if you need any support.
https://www.centreformentalhealth.org.uk/sites/default/files/2020-07/CentreforMentalHealth_Covid_MH_resource.pdf
https://www.nhs.uk/using-the-nhs/nhs-services/mental-health-services/cypmhs-information-for-children-and-young-people/
Take care, keep well and continue to stay safe by following the guidance.
Jane
School Closure January 2021 Update
Tue 05 Jan 2021
As you will know, the government announced another National Lockdown from just after midnight on Wednesday 6th January until at least February half term.
https://www.gov.uk/guidance/national-lockdown-stay-at-home
This means that we have now moved to online learning for all pupils except those of Critical Workers and pupils who are identifed as being vulnerable.
We are doing our very best to make sure that your child continues their learning during this difficult time for us all, and are aware that this is alos challenging for many of you at home working. Let's work together to make this work best for us all.
REMINDERS:
Please make sure that the school has 3 or more contact numbers -call the office or email info@millfields.hackney.sch.uk to let us have any additional information.
Please ensure that your child has logged in to their Google Classroom and has a school email address. Please email info@millfields.hackney.sch.uk if you need any support/help
Please let us know if your child needs a device to use at home.
Please let us know if your child is struggling and needs any form of additional support.
Please check your texts and emails regularly.
Please continue to contact the school in the usual way during this period if your child is unwell.
Please make sure that you let the school know if anyone in your household tests positive with Covid 19 or is showing any of the Covid symptoms below:
*a high temperature – this means you feel hot to touch on your chest or back (you do not need to measure your temperature)
*a new, continuous cough – this means coughing a lot for more than an hour, or 3 or more coughing episodes in 24 hours (if you usually have a cough, it may be worse than usual)
*a loss or change to your sense of smell or taste – this means you've noticed you cannot smell or taste anything, or things smell or taste different to normal
Finally, if you, your family or your child needs any support with anything during the lockdown, as always, please let us know and we will do our very best to help
Take care, stay well and keep safe.
Jane
Message from Headteacher
Tue 22 Dec 2020
Firstly, a huge 'thank you' to the whole school community who have been bringing in food and toiletries donations for the Christmas Hampers over the last few weeks. We have been overwhelmed by your individual and collective generosity - thank you so much! Thank you also to Natoora and to CarryMe Bikes CIC who are based at the Round Chapel, for their help and support too. Staff will be in school tomorrow to finish making up the hampers and delivering them to families. Please click the link: https://youtu.be/KuZCjuzrVRo The donations have helped make up some lovely hampers for our families, as well as a box of cakes and sweets for Acorn Lodge Care Home who were delighted that we had thought of them. You are all truly amazing!
Christmas at Millfields usually means music, singing, busking and choirs out on the streets, as well as all the other busyness! However, even though this was not possible in the usual guise this year, due to the Covid guidelines, we did manage to put together a Music Concert for each age-phase, as well as online Zoom concerts for instrumentalists and choir members. We kept the Millfields musical Christmas magic alive! Thanks to the Music Team - Roz, Tom, Jack, Celia, Simeon and Lawrence for making it happen! I hope you have had a chance to watch them via the links sent on email or here on the school website.
In addition, due to Covid, we have lost the normal income that we generate by collecting donations for concerts and selling refreshments, so if you would like to make a donation towards music at Millfields, please do go on SCOPAY and donate by choosing "Donations" in the next week. The Y2 Nativity performances were also done in a different form this year – the Y2 teachers all staged their own shows in class – the children and staff worked hard, as did you, helping them learn their lines! The links for each class should have reached you by now if you are a Y2 parent/carer, so enjoy. We also shared the nativity and Y1 & Y2 Concert with the residents of Mary Seacole Nursing Home who were delighted to see and hear the children!
We also had a different Christmas Lunch this year, not quite the busy and mad day that it usually is, but we had a lovely festive time in the hall with music, party hats, glitter, sparkle and Christmas Lunch with all the trimmings. Thank you to all the kitchen staff – the dinner was delicious!
Today, we said goodbye and good luck to Clara who is going on maternity leave – we will keep you updated with any news! With that, we have welcomed Ben Pahari, who will be covering Curie Class during her leave. Also today, we said a sad farewell to Chris M – Y6 TA who is returning to Brazil. I know you will all join me in wishing her the best of luck in her new adventure!
Finally, thank you for all your support during this challenging term for us all. The children, staff and families have all worked together, through tough times – in school and online, to help us get through this term with good humour and some degree of normality! Thank you everyone. Your kind words, gifts, thumbs ups and daily friendly waves, nods and hellos, all mean so much to us all! Just a reminder that school starts back for children on Monday 4 th January 2021. Take care, keep well and stay safe.
Best Wishes for a restful holiday and have a good break.
Jane
Message from Headteacher
Fri 11 Dec 2020
Firstly, thank you so much to all the parents who attended the first of our termly 'Millfields= Equality' session on Zoom earlier this week. For those who might have missed this session, it was an interesting and lively session -an opportunity to ensure that all parents and carers feel heard. Parents were able to express their views and feelings, and also hear about what Millfields is doing to combat racism and unconscious bias in the curriculum and school, and of course wider society. We reported on staff and governors who have embraced 'Unconscious Bias' training sessions and we are currently developing the curriculum that ensures equal representation including review of diversification within texts and authors. We hope that many more parents will join the next session and continue to support and challenge us to ensure fairness, belonging and equality for all in our school.
There is not the usual Christmas madness around Millfields, but we are trying our very best to keep some of the usual routines and traditions, and the Christmas buzz! The EYFS Concert video has been released today and I have to say it is brilliant -I have had it on in the background all morning and been singing along! Thanks to the music team and Bruno for making this happen, even though one of the classes is at home isolating! The Y2 children have been recording their Nativity performances, and all of the KS1 and KS2 classes have been recording their Christmas songs. The link to each age-phase video will be released next week. All of our talented instrumentalists have also been practicing hard and have recorded pieces for the evening concerts that are taking place next week. Thanks to all of the Music team -Roz, Tom, Celia, Simeon, Lawrence, and especially Jack who put all the class video clips together so brilliantly.
Next week, we will also be having our Christmas lunch with party hats, followed by party games and fun. We have had to rearrange some of the events due to the early closure, but we will fit everything in! Watch your emails and texts for more information and dates, times etc Also next week, it is Design & Technology Week, so the children will all be designing and making lots of things. Thank you for your support in supplying some of the materials needed for this!
I would like to reiterate my heartfelt thanks to the whole school community again for your continued support in so many different ways during this very challenging and unpredictable time. The staff have worked exceptionally hard to ensure that all children continue to have an excellent and enriching learning experience over the last term. We have managed to have relatively little disruption to children's learning and have managed to keep things as normal as possible for the pupils in school, and those at home, taking part in online learning. We know that you have also had to adjust to a different way of interacting with the school as well as providing support to your child's learning if at home. We appreciate, as always, all the effort and support.
Finally, we are now preparing the Christmas Food Hampers on Friday 18th December. If you have any more non-perishable food -mince pies, fruit pies, tinned fish, fruit or other vegetables, bags of pasta and rice, custard and shampoo. In addition, any fresh food can be delivered on Thursday 17th at the beginning and end of the day, or Friday 18th December from 8am-10am. Many thanks to all the parents who have contributed -very much appreciated.
For those who celebrate, Hanukkah, I know that you lit the first candle last night, so "Hanukkah Sameach!" -I hope you are enjoying spending time with your family.
You should by now have noted that the school will be closing for the Christmas break on Thursday 17th December. at 3.10pm/3.30pm. Please note that there is no After-school Club that day.
Have a good weekend -remember to wear a mask when out and about, and keep to social distancing rules.
Take care and stay safe.
Jane
Message from Headteacher
Fri 04 Dec 2020
I cannot believe that we are already in December! And Christmas has already started at Millfields with choir carol singing -socially distanced and outside, and class Winter Concert songs are being recorded, and Y2 nativity lines are being learned! Thank you to all the parents for responding to our requests for dressing up on the recording days.
It is certainly not the traditional Christmas celebrations that we all look forward to every year at Millfields, but under the circumstances and keeping to guidelines on singing, social distancing and staying in our class and year group bubbles, we are still singing and making music to celebrate. This week, members of the choir have recorded Christmas carols to share at the Civic Service -the traditional Speaker's Carol Service on Monday 7th December at 5pm. This is a service that takes place every year.  If you would like, you can join the service via this link https://youtu.be/1qGqEAGxU80 .
In school, the class singing has taken place in small groups, up to 10 at a time, mainly outside in the playground, and on the roof terrace when it rained! Each class song will be mixed to produce a finished song with all the class taking part, and then put together with the other songs from all the classes across the age-phase. Next week, Jones, Potter and Riley classes, along with Y4, Y5 and y6 will record their class songs -please check emails to see what they need to wear on their recording day. The video link for each concert will be emailed to you on the following days:
EYFS (Nursery & Reception) -Friday 11th December
KS1 (Years 1 &2 ) -Thursday 17th December
LKS2 (Years 3 &4 ) -Tuesday 15th December
UKS2 (Years 5 & 6 ) -Monday 14th December
Also, singers and instrumentalists, individually or with the family, have also been invited to take part in the evening concerts -Tuesday, Wednesday and Thursday, in the last week of term. If you would like to take part, please contact Roz Willson on rwilson@millfields.hackney.sch.uk.
Information about Christmas Lunch will be coming out soon -look out for this via email.
Children in Nursery -Y3 all enjoyed a brilliant story-telling workshop by Perform. the children loved the excitement and enthusiasm of the sessions, and had a great time, but I also hope they got some ideas for their own creative writing.
Finally, I want to thank all the children and adults from Potter, Riley, the ARP and Jones class for engaging so well with home learning. I hope that you feel the children continued to learn and that although not ideal, you were able to continue work and other commitments. It is a tough job teaching at the best of times, but I know it is quite a challenge to keep all the children engaged all the time online! Thank you to some of the parents who contacted me with suggestions and further questions about the home learning expectations and experience.
As we come near the end of this very different term at Millfields, and indeed across the country and the world, please can I ask that you follow the local restrictions in place regarding coronavirus. Most importantly if you or a member of your household has symptoms or has a confirmed positive test result, please do not send your child to school. Aslo, please call the school office to let us know immediately. We have been relatively lucky in that only a handful of classes have had to close, isolate and learn from home. We have strict guidelines for our class and year group bubbles in place for staff and children in school. Let's please keep following guidelines,  support each other, and keep the Millfields community safe and well.
I hope you have a good weekend.
Take care, keep well, and stay safe.
Jane
Message from the Headteacher
Fri 27 Nov 2020
Please click on the picture to see our amazing new virtual tour!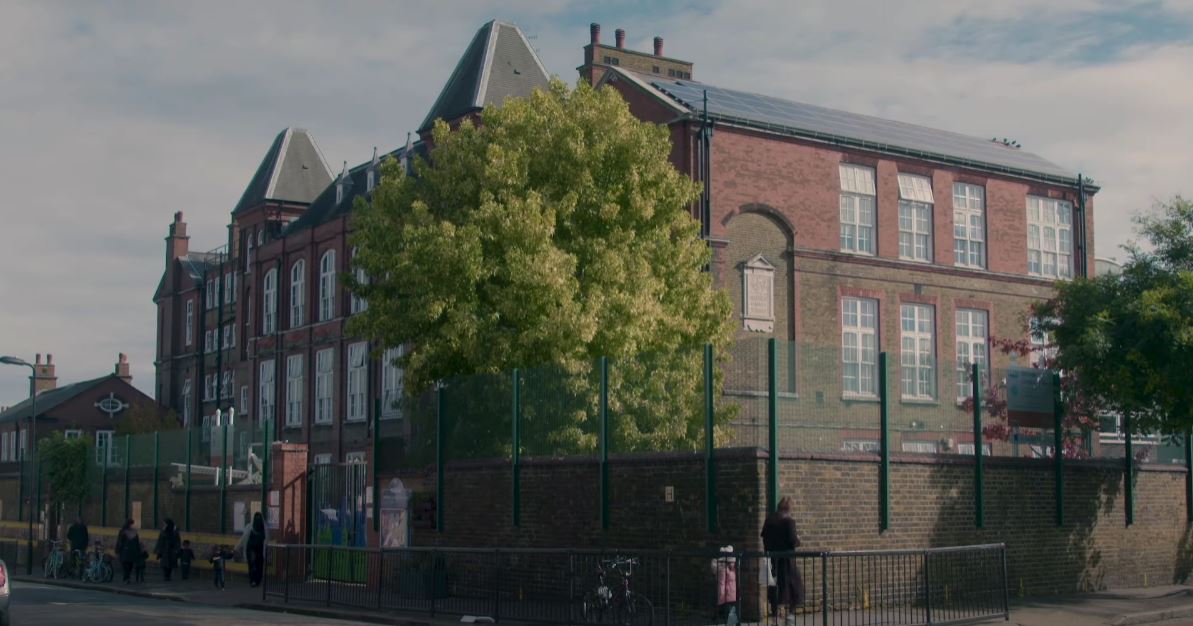 What a busy week it has been! There has been lots happening as usual, including the beginning of all those Christmas song favourites, and 'No Pens Day.' We mark 'No Pens Day' every year as it is a significant reminder about the importance of speech and language in our everyday lives. 'No Pens Day' Wednesday is an annual day of spoken language activities that takes place in lots of schools. During the day, all learning activities are planned to encourage spoken language skills that are fundamental for learning to read and write, managing emotions and developing friendships. By putting down your pens (and pencils) for the day, we helped to develop pupils' spoken language skills, and had lots of fun doing creative and outdoor activities that also helped our mental health! The pen police were checking in each class to make sure that we were all keeping to the rules!
As part of 'No Pens Day' we asked you, the parents and carers, to read on zoom to our classes! We had lots of you volunteering and the children really enjoyed seeing and hearing you on the big screen. A huge 'thank you' to you all! We may do this again as it proved very popular - watch this space!
Thank you again, to all the parents/carers who signed up and met with your child's teacher this week. I know it has been great for you and the teachers to meet virtually to talk about your child's learning and progress in these challenging times. We would of course have loved to see you in person, but these are different times! We will be sending out a Google Doc Questionnaire to get some of your views and thoughts on the school as a whole and our response to Covid, as well as some of your ideas and suggestions. Look out for the link next week.
It has been a tricky week for some of our staff and children as they have been asked to isolate after a couple of positive cases across the school. Thank you to all our staff who quickly re-planned and organised learning for the self-isolation period and thank you to the families who are supporting their children and embracing home learning via Google Classroom and Zoom. There do seem to be a rising number of Covid cases across Hackney, so please remember the local restrictions until the middle of next week, and check and familiarise yourself with the Tier 2 restrictions from 2nd December. Please remember that your child must stay at home, but the rest of your family is able to continue attending workplaces and schools/colleges. Also a reminder that children should not be mixing in other households after school. If you are playing outside, this is permitted but not in a house. We have seen an increasing number of children being picked up by adults other than their parents, so please consider this before making arrangements. Thanks for your support with this.
Finally, you will all be aware that your child is learning their class Christmas song for our virtual concerts. Please encourage your child to learn the words and actions so that they are ready for the filming. Each class will have a recording time over the next few weeks, and the finished video, that will include the songs from each age-phase, will be sent out in the final week of term. I hope you have a good weekend. Wrap up warm and enjoy the outdoors.
Take care, stay well and keep safe.
Jane
Message from Headteacher
Fri 20 Nov 2020
What a fantastic week we have had as the Millfields children and staff, embraced Democracy Week in a bid to elect our new Prime Minister. Although it has been different this year, not the usual hype with our march to the Round Chapel and noisy hustings, but nonetheless, the children and staff have made me so proud with their enthusiasm and excitement generated around the school, community and global issues raised by our 5 PM candidates and their parties. The manifestos outlining what each party would do to make a change and improve Millfields, themselves, the community and the world, were so considered, mature and in most cases, very achievable.
The preparation, the manifestos, the class discussions and debates, the issues raised and the leaders' speeches — honestly, they were fantastic and the real politicians in parliament could definitely learn a few things from them!  A huge 'well done' to all the leaders and their deputies who all spoke confidently and passionately in front of the whole school at the virtual hustings via Zoom yesterday morning. I loved all the ideas presented including starting a school vegetable garden, having a whole school 'Well-being' Day, banning the use of the Interactive Whiteboard once a week, having more creative theme days, introducing Zoom meetings with the elderly in care homes, tackling bullying, improving the playground experience and ensuring more DT and computing in the curriculum. These are just a few of the ideas that you can read about in their manifestos that are on the school website, and were expanded on in the speeches yesterday.
We  had a very high turn out at the Ballot Boxes yesterday afternoon,  and only a handful of spoilt ballot papers, and it was a very close count — no calls yet for a recount though!  So............ well done to all the candidates, leaders and deputies, and BIG CONGRATULATIONS  to the new Millfields Prime Minister, Zuhair Essak, and his Deputies, Vivien Dawe and Remi Dring from the 'Stars of Change'! The advisors — Adele, Kingsley, Izaac, Dudley and Sheyenne who have been excellent in guiding our candidates with their campaigns. Thank you to them for their enthusiasm and commitment.  However, the success of the whole week was down to the meticulous preparation and organisation from Emma! Thank you for ensuring such fantastic engagement from the whole school community in unusual and sometimes tricky virtual circumstances! Thank you everyone for getting involved!
Also this week, we have again, in a different style to usual, been learning about the World of Work. Traditionally during Work Week we would be having lots of visitors in school and going on lots of trips to places of work. This year, we have been doing it all online -lots of places of work have recorded tours of their workplaces and interviews that posed lots of questions for the children to think about their future careers. The main areas that the children have been learning about are the science space industry, healthcare careers, the food industry, the construction and engineering industry and the emergency services. There has been lots of chatter in classes and the playground about what the children would like to be when they grow up!  They have been joining live sessions every day and sharing their aspirations. Thank you to Sheyenne who kept us all on track and organised the whole week.
Finally, thank you for all the generous donations that are coming in for the Christmas Food Hampers -please keep them coming in or wait until the final week to bring fresh produce as requested.
Thank you also to all the parents of Y1 and Y2 children who attended our reading workshop this morning -we hope you found it useful. If you missed the session, the slides will be sent out to you in the next few days via Google Classroom.
I hope you have a good weekend and enjoy some fresh air as currently there is no rain forecast!
Take care, stay well and keep safe.
Jane
---