Welcome to Millfields Community School
Latest News
Message from the Headteacher
Fri 26 Jun 2015
We have had an amazing Sports and Healthy Living Week, and for once the weather has been very kind too! Firstly, thank you to all the children who have arrived at school, dressed in PE clothes ready for a day of activities, and to all the teachers who have done the same! We have had great fun taking part in and learning new sports as well as learning about how to eat healthily and keep ourselves fit.
Every morning, we have started with the now traditional, whole school aerobic sessions that have been led by various staff at Millfields but also by the fantastic PE Ambassadors from Clapton Academy. A huge 'thank you' to them  and their teachers, for their enthusiasm, energy and commitment.  The children and staff really enjoy this start to the morning, and it is something to look at for the future on a more regular basis.
Thank you to all the children and parents who have taken part in the 'Health Challenge' that was set for this week. If you have not yet had an opportunity to complete all 12 challenges, there is still time…...please try to complete the challenges and bring in your £1 donation by
the end of next week. The money raised will go towards more sport and PE at Millfields. Please hand in to the main office or to your child's class teacher.
The children and staff have certainly had a variety of sporting and fitness opportunities this week, including basketball, 'Skip to be Fit', Futsal, Hula hoops, multi-skills sessions, badminton, ballet, yoga, volley ball, taekwondo and zumba! As ever, the children's enthusiasm has been unwavering, and their enjoyment of the activities has been very evident.
And thankfully, the weather has been perfect, if not a bit too hot, for Sports Days this year. The children have had a fantastic time, and thank you to the many parents and carers who cam along to watch and support their children, have lunch with the classes, and take part in the hotly contested Parents Race, and the teachers versus staff tug-of-war! A special mention to Joel and Brooklyn's mum –Monique, and Lila and Ruby's dad, Paul who are always great sports and usually the winners of the parent's sprint!
Finally thank you to all the staff who have worked even harder than usual this week, and to Vicki Wood for coordinating the whole thing.
Also this week, we have had staff visitors from Stormont House here for the whole day today, who are here as part of their professional development. They have been shadowing staff members and working with children across the school and in the Autism base. We also had a theatre company visiting Year 5  to explore ideas about conflict resolution and working collaboratively. It was excellent and certainly gave all the children something to think about and take forward to next year. And Year 6 visited the Gurdwara in Mile End on Monday –they found the visit informative and were treated to food and music. Some of the Y5 children also took aprt in a cross London Chess tournament on Wednesday –well done to everyone who took part!
A reminder that next Saturday 4th July is the Summer Fair. We will be collecting donations for the books stall, toy stall, tombola, and others every morning next week. The theme is 'Carnival' so get those costumes and dancing shoes out and ready –it promises to be a great day out!
Have a good weekend. Best Wishes, Jane
Message from the headteacher
Fri 19 Jun 2015
We have been busy preparing for Sports and Healthy Living Week which takes place from Monday 22nd to Friday 26th June. Details of Sports Days have already been circulated but if you need more details of timings, please see the main office for the letter that went out to you child's class. As part of sports week, there is a nationwide health initiative called home Sports Challenge based on healthy living and healthy choices. The Sports Challenge will be introduced at school, but will need to be completed at home. There are 12 challenges altogether and includes activities like, turning off your phone, computer and games stations for 2 hours, eating 5 different fruit and vegetables each day, and read a bedtime story with a family member. Please talk to your children about the challenges and support them in trying to meet them all! There is a £1 donation towards the promotion of sports and healthy living at Millfields and the opportunity to progress to the next stage of the national challenge. See the main office if you have lost or misplaced the form. As part of Sports week, all children and staff are encouraged to wear sports clothes and shoes all next week. We will be starting each morning with the now, traditional whole school aerobics in the playground, and we are hoping to see some of you at the parents and carers before school exercise too!Please make sure that you put sunblock on your child in the morning, especially if they are out at sports activities, and make sure you encourage them, as we do at school, to drink lots of water . Please do not allow your child to come to school in flip-flops or open toe sandals as this can be dangerous –trainers should be worn all week. Sunhats should be worn too. We have Millfields hats on sale for £5 each from the main office.
Also this week, our Year 5 children have been busy taking part in lots of extra-curricular activities. 16 of our pupils took part in the Hackney, 'Bike around the borough' yesterday. There were lots of Hackney schools taking part and the children cycled from park to park around the borough. Thanks to Celeste for organising, and for parents who helped on the day.
Year 5 children –Raphael, Taylor, Abigail, Freya, Martha and have been representing the school in the Mayor of London's 'London Knowledge Quiz 2015'. this involved the children making sure they knew lots of weird and wonderful facts about London –mainly as part of the History and Geography curriculum, and completing timed online tests with lots of other schools from across London. Some of the questions were very difficult, and I am not sure how some of them knew the answers, but the fantastic news is that we are through to the final! The final will be a live event that takes place at the Museum of London. The organisers sent a message to say 'your team have done phenomenally well and should be incredibly proud of themselves.' I couldn't agree more and am looking forward to the final! Well done!
Also, the Arsenal Double Club children visited the Emirates Stadium yesterday as their end of year treat. The school and children were congratulated on the children's behaviour and their teamwork when playing. Well done everyone! Thank you Sharon and Dwayne for organising.
Finally, 'Happy Father's Day' to all our dads out there. I hope you have a good weekend. 
Best Wishes, Jane
Message from the Headteacher
Fri 12 Jun 2015
As far as Millfields is concerned this has been a fairly quiet week as we get ready for lots of end of term trips, sports activities and sports days, the Summer Fair and other events being planned for the next few weeks before the summer break.
Year 6 visited a local mosque on Monday as part of their work on all the main faiths. Last week they visited a Buddhist Temple in South London, and  they will also be visiting Sikh Gurdwara, a Synagogue and Temple Church before the end of term. The children have done a lot of work on the main faiths this year and this is a culmination of  all their project work. Thank you to Musa for organising these trips and making and maintaining links year on year with the different faith communities.
We have been busy on the sporting front this week, with girls and boys football –in Year5/6 and Year3/4, as well as  the penultimate cycling event of the year and Y5 tennis tournament  today. We had mixed fortunes in the football, some wins, a draw and a couple of hard fought defeats. Sharon and Dwayne reported that the children were really well-behaved and good sporting ambassadors for the school. In the cycling, our 10 strong team from Year5 and 6 did well to maintain their good run, and keep a close second place to Jubilee,. The last event –on the grass track will take place at the beginning of July, so fingers crossed that we can finish in the top spot!  Thank you to the parents who always support the cycling events, we couldn't make it happen without you, and we really appreciate it!
Also this week, on Tuesday evening, we welcomed the parents  and carers of the September 2015 Nursery and Reception children. Thank you to the Early Years staff who talked the parents through all the paperwork and admin required before their children start at the school. There is always a lot of information, so if you are not sure about anything, please look on the website oe contact the main office to be signposted to the person with the answer!
L:ast week, some of our Year 5 pupils visited Queen Elizabeth Olympic Park to take part in a  nature trail as part for World Environment Day. The nature hunt took in the park's biodiverse green spaces, and each child was rewarded with a packet of wild flower plant seeds designed to attract butterflies and bees. The school were also awarded a certificate and 2 bird house that will be put up in school very soon. You can see a photo of Adam and Atiyyah from Y5 in action in the Newham Recorder this week.
Finally, as the weather is getting warmer and hopefully staying that way, pleas e be aware of the school's 'Sun Safety' Policy that can be found ojn the website or at the school main office. Please make sure that you put sunblock on your child in the morning, especially if they are out on a trip or at sports activities, and make sure you encourage them as we do ast school to drink lots of water . Please do not allow your child to come to school in flip-flops or open toe sandals as this can be dangerous. Sunhats should be worn too. We have Millfields hats on sale for £5 each from the main office.
I hope you have a good weekend.
Best Wishes, Jane
Message from the Headteacher
Sat 06 Jun 2015
Welcome back to everyone after the half term break. I can hardly believe that this is the last half term of this academic year –time seems to go so quickly……….probably because we are always so busy here at Millfields!
This week, the Year 5 children have been away camping at Phasels Wood  in Hertfordshire. They have had a fantastic time, taking part in a range of activities including  climbing, navigating tunnels, pioneering, orienteering, building shelters, archery and playing lots of team games. The children have enjoyed making their own sandwich lunches, as well as helojg toi tidy up and wash up at the end of other meals. The sun has been shining for most of the week, and I expect the children will definitely sleep well this weekend. Thank you to all the staff –Roz, Alex, Rebecca, Esme, Celeste, Izaac and Emily who have supported the children this week. I hope they have a good rest over the weekend too!
Also this week, we had our 3rd School Improvement visit of the year from our SIP  (School Improvement Partner) –Neil Harvey. Neil enjoyed his walk around the school –observing teaching, looking at children's books, speaking with staff and talking to pupils about their learning. Neil was very impressed with the quantity and quality of the work in children's books, and the marking and feedback that the teacher and child engage in at the end of each piece of learning. He also enjoyed visiting the Autism provision and seeing the children there engage in a communication session while having their morning snack. Neil 's visit is part of our self-evaluation quality assurance, so we are pleased that he agreed with our judgements.
Yesterday, we had a visit from the new Hackney Director of Education, Anne Canning, who came in to post in April this year. Anne also enjoyed her walk around the school, meeting staff and children and was impressed by all the different activities and events that happen at Millfields, and apparently saw us all marching to the Round Chapel during Democracy Week, but didn't know which school it was, and she thought it was a great idea!
Yesterday, we also had a visit from Nite Owls. Children in Years 2,3 and 4 enjoyed a demonstration from around 6 different owls, and then had their photograph taken with an owl on their shoulder! It was a truly amazing experience for the children….and staff as lots of us love owls! The photos will be available to buy in the next few weeks. In the meantime, you can talk to your child about the event and look on the website www.niteowls.co.uk
And today, some of our Year3 and 4 children took part in a creative workshop with 'Creative Sparks' –the final work will be on display in a Hackney art gallery on the 2nd July. Speaking of art, good news regarding our Saatchi award winning 'Skywall' -it will be on display in the Saatchi throughout August in the Education Gallery –try to get there if you can!
I hope you have a good weekend. Best Wishes, Jane
Y5 Residential Trip Update -Friday
Fri 05 Jun 2015
The children had a wonderful day yesterday in the sunshine. The activities continued so everyone has now had an opportunity to complete the following: pioneering, buidling shelters, climbing, navigating tunnels, orineteering, making campfire and cooking outdoors and archery. The children also enjoyed their free time -playing cricket, football, rounders, reading, playing in the woods and making daisy chains.
Last night, they really enjoyed the campfire with hot chocoplate and toasted marshmallows. Lots of the children shared their talents -telling jokes, playing the guitar, singing, dancing and magic tricks. Later, the whole group went on a night walk with torches and glowsticks.
The children all slept well, but it is raining this morning, making the packing up a bit harder, but they are all happy after having breakfast and getting on with the chores!
The coach should be returning to school by 3pm but we will keep you updated.
Y5 Residential Trip Update - Thursday Evening
Thu 04 Jun 2015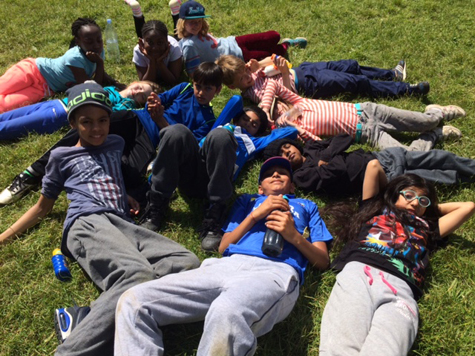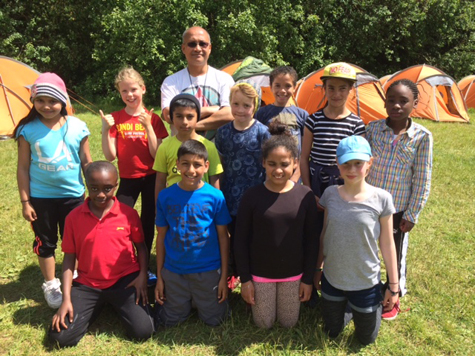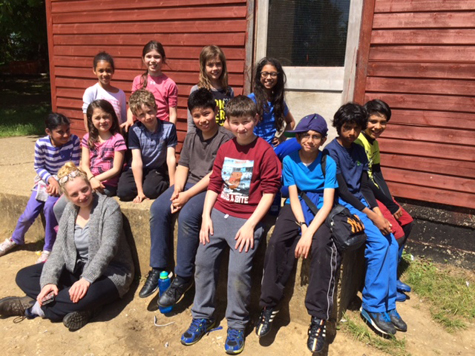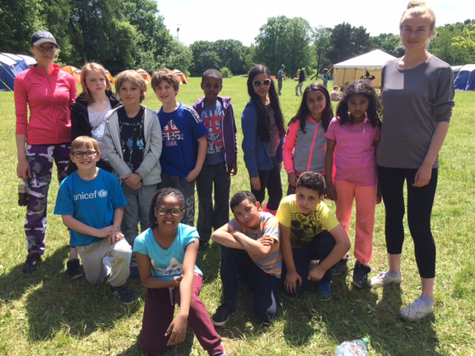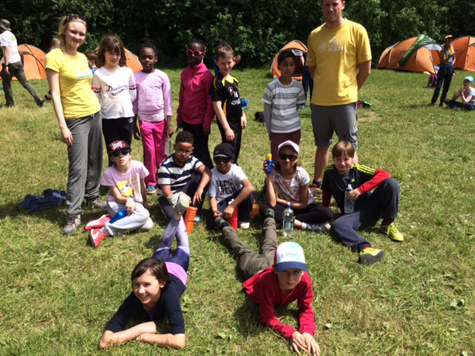 Y5 Residential Trip Update - Thursday
Thu 04 Jun 2015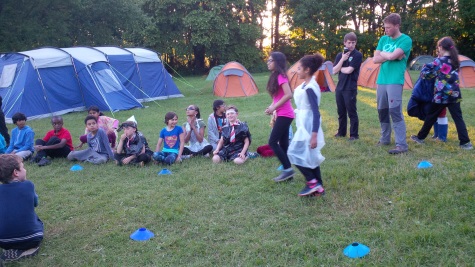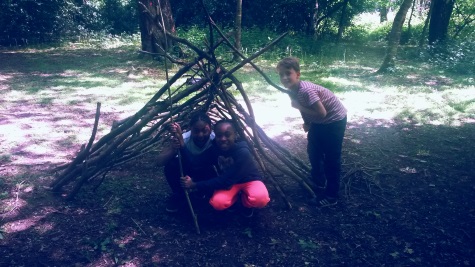 ---