Welcome to Millfields Community School
| | |
| --- | --- |
| | |
Latest News
Message from Headteacher
Fri 14 Jul 2017
Nearly the end of another academic year already and this is the final Mag! It seems to have gone more quickly than usual but maybe that is because I an getting so much older, having celebrated a big birthday this year with the help of all the staff and children –it was lovely! And what an amazing year it has been again – and all over. We have had so many amazing events, successes and celebrations this year! Thanks to all the children, staff, parents and the wider community for all of your support, enthusiasm and energy – none of the amazing things that happen at Millfields could happen without all of you. As I reinforce every year, the Millfields School community is very special and I hope the amazing team and community spirit will continue in September, as we welcome new children and families, and do it all again!
Thank you to everyone who came to support the Summer Fair last Saturday –with all the donations and takings on the day we made £6,792, so thank you to all the parents involved, but especially to Alison Quinn for all her hard work that made the day happen!
Today the children all met their new class teachers as part of Transition Day. This is always an exciting time to meet our new teachers –welcome Kamilah, Kimberlie, Alex, Rosie and Fintan. It also a sad time as we also say goodbye……...we will miss you, but wish you all the best in your new adventures to Cynthia, Kelly and Carlie, and congratulations and good luck to Lucia, Carlie and Kate who are going on maternity leave!
As always we are very sad to see all the children in Year 6 get ready to move on to the next stage in their educational journey. This group of Year 6 children have been a great group from the beginning of their time at Millfields. Some of them were the first children to come to Millfields Children's Centre. The end of year performance of 'Charlie and the Chocolate Factory' that took place last night was brilliant – fantastic scenery, costumes, acting, singing and most of all good humour and fun. This year group has been an interesting one, but the children have always been enthusiastic and excited to learn and take part in so many other aspects of school life –they have exceeded all our expectations. During their time at Millfields, they have all become confident, articulate and well-rounded individuals who will go on to great things I am sure! Remember –make sure your voice is heard and be the best that you can be! Well done – we are going to miss you all!
We have had a great week of celebrations. We were again the winners of the Hackney Cycling League – a fantastic achievement, so well done to the whole team who were presented with a special medal at the Hackney Sports Awards on Wednesday at Millfields. Yesterday, the 'Always Good' children went on a trip for lunch to Tacos Del 74 on Mare Street –it was brilliant and the food was delicious!
Next week we are off to the World Para Athletics on Monday and it is London Day on Tuesday –so have fun! If I don't see you –have a great summer break! And see you all on the first day back -Wednesday 6th september.
Best Wishes, Jane
Message from Headteacher
Fri 07 Jul 2017
We have had another week of lots of trips, visits and enrichment activities at Millfields. Firstly, 'thank you' to all the parents and carers who attended Parents Evening on Wednesday. The feedback on the annual reports was very positive and if you still have the feedback sheet to complete and return, please hand it in to the main office. Thank you to all the parents who completed the annual questionnaire. Your feedback and comments are important. I will be addressing some of the points raised in the survey and talking to parents especially those in the current Year 3 and Year 5 in the new academic year.
On Monday, 5 very excited children who had designed posters and created work around what it is like to live in Hackney in 2017, as part of their work on the local area, were special guests at the Hackney Town Hall. The children were invited to bury their work in a time capsule! They met the mayor and deputy mayor and were treated to a tour around the town hall. Well done – it would be great to know what the people of Hackney make of it in 100 years time!
Year 5 also visited New West End Synagogue as part of their RE work for this year. The staff there were very accommodating and the children learnt lots about the religious building and the Jewish faith to reinforce their learning in class. Thank you to Naomi for organising the trips to religious places of worship this year, as this has really enhanced the children's' RE learning experiences. Year 6 visited Kidzania on Wednesday as part of their 'thank you and good-bye' treat!
Thank you to all the parents who came to the re-organised UKS2 Sports Day on Tuesday morning. The weather held and the children were able to take part in all the events and had good fun while being a little bit competitive! Thank you again to Sharon and Dwayne for all their support during all the Sports Days.
Also this week, the school football team won the Hackney tournament—well done to all the boys and girls involved! The winning football team and winning cyclists will all be going out for pizza as a treat before the end of term!
Thank you also to Roz and the music team again as they took the Instrumentalists and 2 choirs to the Hackney Music Festival events this week. As always, we stole the show!!
Also this week, the NSPCC visited Millfields to promote their 'Speak out. Stay Safe' campaign. The children in Years 1 –6 all took part in an assembly and Year 5 children all had workshop sessions to learn a little bit more about how to let someone know if they are worried or concerned about something in their life or someone else they know. Finally, it is the Summer Fair tomorrow so I hope to see lots of you at this very popular community event. We think the weather will be fine and are looking forward to fun and games, followed by the now traditional Solly Cup football game at Millfields Park.
Have a good weekend. Best Wishes, Jane
Message from Headteacher
Fri 30 Jun 2017
Firstly, I would like to wish all our Muslim families a belated 'Eid Mubarak' for last weekend. I hope you all enjoyed the celebrations and time with family and friends.
This week, children, staff and parents have all enjoyed being active and healthy as part of our annual Sports and Healthy Living Week! All of the children have enjoyed learning new sports including goal-ball, dodge-ball, karate, gymnastics, tennis, volleyball, badminton and tennis. They have also had the opportunity to take part in Jumpathon, morning aerobics and multi-sports sessions. Each class has also been making a healthy snack like a smoothie, fruit kebab and houmous and vegetables. Thank you to Vicki Wood for organising us all and also a special mention to Alex, Donna and Marcella who have been out before school getting the children, parents and staff warned up with their aerobics routines! Sports Days for EYFS, KS1 and LKS2 all managed to take place despite the rain on Tuesday, and the children really enjoyed taking part in the range of activities. Certificates will be awarded next week for effort, for achievement and for 3 pupils in each class who displayed good sporting behaviour and values throughout the week. UKS2 teachers are looking at their diaries to try to re-arrange the UKS2 Sports Day in the next 2 weeks, but with so much happening towards the end of term, it is proving quite difficult! We will keep you posted!
Yesterday was the Hackney 'Bike Around the Borough' event which saw hundreds of school children, staff and parents take to the streets on their bikes. Thank you to Matthew for organising the Year 5 children at Millfields to take part –it was a brilliant event and was enjoyed by all! Also, today is the final Cycling League event, and I am very pleased to say that Millfields have retained the League trophy, being announced winners even before anyone raced today! A fantastic achievement for all the children involved! A huge thank you to all the parents who have helped through the year but especially Karen and Paul who have been amazing — so enthusiastic and encouraging of all the children, and who have given up so much time to support the school cyclists! Thank you!
On Monday evening, lots of parents and staff enjoyed a fantastic celebration of music across Hackney by taking part in the 20 year Hackney Music Service anniversary event at the Barbican. The children in the Jazz Band and the primary schools choir were amazing. Thank you to Roz and the music team for making it happen!
Last night, children, staff and parents enjoyed a special art event at Hanbury Hall which was a celebration of a this term's work with 'My Creative Spark' -an arts-based project in conjunction with Wieden and Kenendy. Thank you to Alice for organising!
Finally, it is Parents' Evening next week –Wednesday 5th July, so hope to see you there.
Have a good weekend. Best Wishes, Jane
Message from Headteacher
Thu 22 Jun 2017
This week has been very hot and very busy as ever! As the sun was so strong on a couple of days, we made a decision to keep the children inside for part of the lunchtime and encouraged the children to drink lots of water and to stay in the shade and do quieter activities when they were outside. If the weather continues to be hot, please make sure that you put sunscreen on your child in the morning, and bring a bottle of water to school, as well as a hat or cap.
Next week is 'Sports and Healthy Living Week', and we have a packed timetable of sporting activities, and a healthy cooking session organised for each class.  All children will be encouraged to take part in all activities next week so please make sure that they are wearing sports clothing and trainers every day to ensure that they take part safely. There will be wholes school aerobic sessions in the playground starting at 8.50am every morning so please fell free to join your child for those sessions. There are also lots of other taster sporting activities arranged and each year group has as sports day organised which you should have received information about. If you need a Sports Day information later for your child's class, please collect a copy from the main office.
As part of their topic on the seaside, Year 2 had a fantastic day on Tuesday at the beach in Walton-on-the-Naze. The weather could not have been better –the children told me how they had a lovely time playing together on the beach and swimming in the sea to cool down! Thank you to all the parent/carer volunteers who helped out on the day.
Also this week, Derby Class, Nottingham Class and Leeds Class visited St Paul's Cathedral as part of this term's work on the Great Fire of London. The children had a brilliant time reinforcing their learning about historical events in London.
Reception classes visited the London Aquarium on Monday as part of their topic on water. The children had a great time and saw some amazing fish and water creatures. Again, thanks to our parent volunteers.
Also this week we had a visit from our School Improvement Partner from Hackney Learning Trust. She was looking at all aspects of the school but this term's visit focussed specifically on support for pupils with SEN and additional support. The SIP was very impressed with the provision and interventions she observed by teachers and suppport staff, and with the work of the Senior Leadership Team, the Middle Leadership Team and the Governing Body. Thank you to all the staff and children for their support and hard work yesterday and always.
There are lots of school events and trips happening over the next few weeks, so please make sure that you read all the texts and letters. If your mobile phone number has changed, please inform the office staff asap via info@millfields.hackney.sch.uk.
Finally, no school for children tomorrow as it is an INSET day. Have a good weekend.
Best Wishes, Jane
Message from Headteacher
Fri 16 Jun 2017
What a week, as always at Millfields! This week was de- mocracy week, and as you will have seen and heard, the school has been buzzing with talk of political parties, policies, pledges, mani- festos and spin! It has been a truly fantastic learning experience for every single child in so many ways. Every child has been involved and has learnt something about democracy – teamwork and collaboration, values, rights, passion, drive, and they have all also had great fun!
The week started with all of the classes learning about the origins of democracy and chil- dren being divided in to parties. Each class elected a MC (member of Class) and from these members, a leader and deputy was elected and a party name was agreed. The par- ty names and party leaders are as follows: Suki Fitzwilliam – Rapping Reds, Aranjit Isufi - Orange Energy party, Ashleigh Hunt — Peaceful Power, Ahlaam Sayid — Sky High Blues and Solomon Rigg — Green is Greater party. The manifestos looked great and presented lots of very good ideas and initiatives and the atmosphere yesterday as the children and staff all marched down Lower Clapton Road, chanting and singing in support of their par- ties, was brilliant. At the hustings that took place at the Round Chapel, speeches were very professional and inspiring.
Then yesterday afternoon everyone voted for their new Prime Minister! The turn out was very good and the result was very close! This year we have also elected a Deputy PM who will work very closely with the Prime Minister and oth- er members of the school Cabinet. So: the big announcement, the Deputy prime Minster for the academic year 2017-18 Suki Fitzwilliams, and the new Millfields' Prime Minister is Solomon Rigg of the Green is Greater party! Huge congratulations to them both! They both gave very emotional acceptance speeches and thanked everyone who voted and their team, as well as all the other candidates. I am really looking forward to working with them both next year. The out-going PM, Aasma Hajat thanked the school community for working with her during her year as PM, and wished the new team all the very best for the year ahead.
The whole week has taken a lot of planning and organisation which has been done with great precision. A huge 'thank you' to Emma (Y3 Birmingham Class teacher) and parent governor, Joe Walker! Thank you also to Sumon who has managed and guided the press team all week –they were fantastic and produced a quality newspaper every day to keep us all informed! Well done to Megan, Macy, Karmelle, Samantha, Oasis, Aamina, Nancy, Fahima, Fatima, Rose and Ivy. We also had our very own spin doctors – a big thanks to Peter, Ahmed, Yasin and Elvizo. Copies of the newspapers are on the Millfields website.
And finally, as I mentioned last week, the Year 4 tennis team took part in a Hackney tournament last Friday. They all tried so hard and played so well that we earned 2nd and 3rd place overall! A fantastic result as the team have only really been playing together this year! Well done and thank you to Elena for managing and training them to be champs!
Finally, thank you for all the birthday wishes this week. Have a good weekend. Best, Jane
Message from Headteacher
Fri 09 Jun 2017
I can hardly believe that we have only been back for a week as it has been busy and in- dustrious as ever! The Year 6 Residential trip took place this week –more than 65 children have been camping at a site in Hertfordshire. The children have taken part in a carousel of activities during the day that included archery, tunnelling, climbing, orienteering and bush craft. The children erected their own tents and have been braving all kinds of weather! The children make their own sandwich lunches and have been eating a hearty meal every night. The evening activities included a campfire, a night walk, a talent show and quizzes. The children have had a great time but are all looking forward to coming home today to see their families. Thank you to the staff at H5 who ran the activities and a massive 'thank you' to the Millfields' staff –Roz, Alex, Sumon, Kingsley, Isabelle, Izacc and June!
Also this week, four Year 5 children took part in the Hackney Chess tournament. Millfields children –Yusuf, Lyna, Sofia and Jemelle. They all performed really well and Yusuf was awarded the individual medal for his excellent efforts! Well done everyone! All children in Year 5 have been learning chess over the year and we now have some very good players ready to play in more tournaments.
Also this week, four Year 5 children took part in the Hackney Chess tournament. Millfields children –Yusuf, Lyna, Sofia and Jemelle. They all performed really well and Yusuf was awarded the individual medal for his excellent efforts! Well done everyone! All children in Year 5 have been learning chess over the year and we now have some very good players ready to play in more tournaments.
Today, our Year 4 tennis players are taking part in a Hackney tournament. Good luck!
A belated 'thank you' and 'well done' to all our musicians who took part in the Spring Music Concert before half term. There were more than 100 musicians and singers who enter- tained us at St James Church. What an amazing feat to have so many talented and gifted musical pupils at Millfields. Thanks to all the teachers and tutors –Roz, Tom, Jon, Maria, Faith and Simeon and as always, thank you to the staff at the church for allowing us to use their building.
Next week, is 'Democracy Week' at Millfields, so following on from the excitement of the general election, please talk to your child about elections and the origins of democracy ahead of our week. We will be busy reporting on the policies and candidates all next week.
Finally, have a good weekend. Best Wishes, Jane
Y6 Residential Update
Wed 07 Jun 2017
The children had a good night's sleep and awoke to lovely blue skies today! Today, they are taking part in a carousel of activities including tunneling, orienteering, climbing, bushcraft and archery. They are looking forward to a campfire tonight with singing as well as a hot chocolate and toasted marshmallows.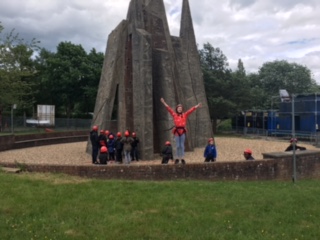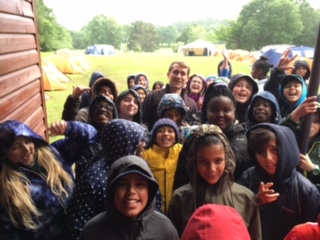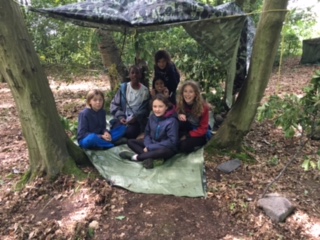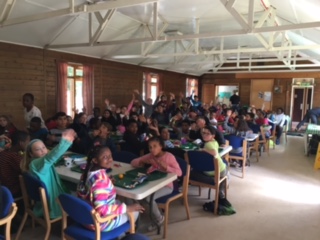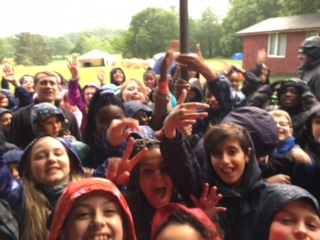 ---