Welcome to Millfields Community School
| | |
| --- | --- |
| | |
Latest News
Message from Headteacher
Fri 14 Dec 2018
We have had a very busy week, taking part in and watching Hepworth Class Nativity performance and the Winter Concerts. The singing, actions and costumes were all fantastic, and what was so lovely to see was all of the children joining in and enjoying themselves. A huge 'thank you' to all the staff, but especially Roz and the music team –Tom, Jack, Lawrence, Jon, Marie and James. There is one more concert next week –the evening performance with choir and instrumentalists, as well as bands on Tuesday 18th December at 6.30pm in St James Church. I hope to see lots of you there.
A big 'thank you' to all the parents and carers and the PSA who helped make the Christmas Fair last Friday a huge success! We raised around £2750 which is a fantastic amount! A special 'thank you' to all the committee members but especially Alison, Fionnola, Ciara, Melissa, Carolina and Dawn for making it happen!
I have also thoroughly enjoyed looking at all the homework projects this week, particularly Y3 work on Africa, Y2 work on habitats, Y6  work on the Mayans, and Y4 work on Egyptians. Thank you to all the families who have worked with their children to produce such outstanding work! Well done everyone!
Yesterday, 30 Year 5 pupils and 6 Y6 pupils went along to the London Chess Championships at Olympia. They enjoyed the whole experience and learnt lots, playing games for more than 2 hours against 500 other pupils from schools across London. We are very proud of you all –well done!
Some of our pupils took part in a sporting 'Panathon' on Wednesday –they did really well against 8 other Hackney schools and all received a certificate for a great effort!
Thank you to all the families who have been donating food and other items to our 'Reverse Advent Calendar'. If you have any more tins or packets of food, or other items that we could use to make up the rucksacks and food hampers, then please bring to your child's class before the end of Wednesday next week. The choir and members of the School Council will be singing at various venues over the next week and taking our donations to the Notre dame Refugee Centre in central London as well as the Clapton Community Drop-in at the Round Chapel.
Next week will be equally busy with a whole school pantomime on Monday, Christmas Lunch on Tuesday, the launch of Millfields Daily Mile on Wednesday, London Day on Thursday and Christmas Jumper day (raising money for Save the Children) on Friday. A reminder that there is no Enrichment or After-school Club on Friday 21st December as the whole school closes at 2pm.
Finally, congratulations to our 2 recipients of the 'Head teacher's Award' this half term! Well done to Mya Macarthy in Hepworth Class and Kuba Sienkiewicz in Jones Class!
Have a good weekend. Best wishes, Jane
Government Initiative IQ recognizes Millfields as a Top Performing & Improving School!
Mon 10 Dec 2018
We are delighted to announce that the government initiative IQ has recognised Millfields as a top performing and improving school. Please click here for more details.
Language Nut Winners!
Mon 10 Dec 2018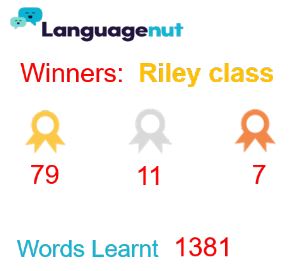 Congratulations to Riley!
You are the languagenutters for November.
You, as a class, have worked incredibly hard.
Keep it up!
Message from Headteacher
Fri 07 Dec 2018
Christmas started at Millfields this week with Riley Class and Brown Class Nativity Shows. They have been practising really hard for weeks, and their performances were brilliant –loud voices, comic timing, beautiful singing and fantastic costumes. They made us laugh and cry and feel extremely proud! Well done to all the children involved and to all the staff who helped make the show run so smoothly. We are looking forward to Hepworth Class performance next week.
Also next week there are Winter Concerts for all classes Y1-Y6, the dates are on the back of this mag and on the school website. We hope that you had the dates in good time so that you will be able to come and join in the singing and celebrations.
Year 6 classes have all enjoyed a trip to the Buddhist Temple as part of their RE enrichment work. All RE trips enhance the curriculum learning and ensure that pupils have a deeper understanding of the major world faiths. Each class has at least one visit to a place of worship each year.
Well done to our Y5 and Y6 cross country runners who took part in the 3rd inter-schools event this week. There are 2 more vents in the new year and we will be seeing if our best 3 overall result swill leave us in a medal position at the end of the season. Thank you to Reegan, Akeba and Theo for organising pre-school training on Tuesday and Thursday mornings. These session will continue until the end of term.
Also this week, the football team took part in the hackney schools preliminary round on Monday. Millfields were unbeaten so this means that we are through to the next round. And this week, the 2017-18 Cycle Team got bac together to officially accept the Hackney Cycling League champions trophy for the 3rd successive year! A huge 'thank you' as always to all the parents who support the team and especially Paul Marsden for all his work with the team before, during and after!
Reception classes visited Chats Palace to watch their Xmas production of 'Your toys'. The children loved the experience and the story, and were extremely well-behaved even thought they were the youngest children there!
Yesterday, lots of children and parents joined school staff in a Lantern Procession to Chats Road Christmas Market. The choir were singing their Christmas repertoire and the Millfields jazz band impressed with their playing. Thank you to everyone who supported this event by making lanterns and joining us on the walk, and to the music team for bringing it all together! The choir also sang in the Westfield Choir Competition on Wednesday and the judges loved the enthusiasm of the singers, as well as the range of different and original songs that Millfields sang compared to other school choirs! Fingers crossed that we hear some good news next week!
Finally, today is the Christmas Fair. Thank you to all the parents and carers who are helping out as I write this. More news on this next week.
Have a good weekend. Best Wishes, Jane
Message from Headteacher
Fri 30 Nov 2018
Millfields staff and children have been getting ready for the end of term Christmas and Winter celebrations that start in earnest next week. You should have seen the dates of the Y2 Nativity performances and the dates and times of the Winter Concerts, so we do hope that you will be joining us at one or two events over the next few weeks.
Also next week, on Thursday 6th December, it is The Chatsworth Road Community Christmas Festival that we have agreed to take part in as a school. The brilliant choir will be singing and our fantastic jazz band will be playing a few pieces.  We are hoping that lots of you will join the Lantern Procession that will start from Millfields at 4:30pm. Please make a lantern this weekend and sign up at the main office to let us know the numbers of children with adults that are taking part. Please refer to the letter that was emailed out earlier this week.
Last Friday, we said farewell and good luck to Rosie, Y3 Baylis teacher who has gone on maternity leave. We will keep you updated with any baby news in the next few weeks. We have also said a huge 'congratulations' to Dwayne who became a father this week. Mum and baby Jeremiah are doing very well.
Teachers have been focussing on Maths lessons this week as we had a visitor from the local Maths Hub on Tuesday who came to have a look at the children's Maths books, watch some Maths lessons and talk to the children about their Maths learning. SLT have also been observing lessons this week. We are focussing on developing our Maths mastery approach this year, so will keep you updated. Still on maths, we welcomed parents in to Jones, Berners-Lee, Hepworth and Tarrant classes today – we hope that the parents and carers enjoyed learning with the children. Please feel free to email any feedback you may have from all the Maths lessons over the last few weeks.
On that note, thank you to the parents who completed the online parent survey this week. We had 150 responses and we are currently going through the results and comments to analyse questions and respond fully to comments –this will be emailed out to parents in due course.
We also held the finals of the Joke competition this week – one child from each class was selected as the class winner and they performed their joke in front of Vicky to be selected for the cross schools' final. The Millfields winner is Elisa from Turing Class who will be representing Millfields in the new year. Well done Elisa!
Finally, we are doing lots of work in the local community around homelessness. We will be collecting money as our choir sings in various locations across Hackney and London, as well as each class collecting food, toys and toiletries as part of the 'Reverse Advent' calendar initiative. The collections will be donated to local homeless shelters and organisations. Look out for more information next week.
Have a good weekend. Best wishes, Jane
Message from Headteacher
Fri 23 Nov 2018
This week we have been thinking about and learning more about how to stay safe when crossing the street, and when scooting or cycling on the roads. As part of Road safety week and the school's ongoing support for the initiatives 'Walk to School' and 'Safer Streets' scheme. Hopefully you will have seen via the email link we sent earlier this week that Millfields was part of the BBC Newsround report on National Road Safety week. Thank you to Vicky and our eco-champions and road safety officers who worked on the film and interviews that were shown. The final piece was cut shorter than our original report so we will put the longer version up on the school website so that all those involved, that did not make the final cut, can be celebrated and congratulated on their roles.
Today the whole school community dressed up as Road Safety Super Heroes, and dazzled in their bright and luminous colours, and brilliant cloaks and masks. Thank you to children, staff and the community for all your support!
It has been a busy week for parents and staff this week as we welcomed parents and carers to the Parent consultation meetings on Wednesday. This year, our termly questionnaire where we ask for feedback and constructive ideas for moving the school forward and supporting the children, was sent via email and there is a link on the school website. Thank you to those who have already completed it, but please be reminded that the survey closes at the end of today, so please make sure you have your voice heard and have look now. We will let you know the headlines in the coming weeks, and will do our best to respond to any comments or issues that you have raised.
Thank you to the parents who came to eat lunch with their children in Year 3 this week. You should have noticed that our menu is changing as we are working with the 'Chefs in schools' programme to diversify choice and introduce new dishes to the children. We will be looking at all classes taking part in cooking lessons with our catering team over the school year.  Thank you also to the parents who came to the Y5 and Y6 Spelling workshop –the feedback suggests that you found it very useful.  And today we have lots of you visiting the maths lessons on Y1, Y2, Y3 and Y4. the final sessions for these year groups for this term are next Friday –please sign up at the main reception s there are limited spaces. Thank you also to Bond and Lovelace classes for their class sharing assemblies that took place this morning. Please note that these assemblies now start at 9am.
Finally a huge thank you to the parents who have been opening the book fair every morning and evening over the last week! Even though it  has been very cold, you have still been there selling books to help the school! Thank you Emily for organising everyone!
Finally, there will be lots of exciting events happening over the next few weeks, so please look out for confirmation of all the dates and times via all of the school communication channels –website, text, marvellous me or email.
Have a good weekend. Best Wishes, Jane
Message from Headteacher
Fri 16 Nov 2018
We have had a fantastic time this week as we have all been immersed in the world of work! The Nursery classes have been finding out about different jobs in the local community –vet, chef, builder, gardener and farmer. The visited Hackney City Farm and saw a giant pig by all accounts! Reception children were learning about jobs in the emergency services –police, fire fighters, paramedics and the workers in A&E. They will be visiting Homerton Fire Station next week as this week's trip had to be postponed due to a real live emergency! Year 1 have been thinking about the skills needed in the workplace and each class visited a different supermarket and had visitors in class talking about their jobs. The Year 2 children visited the Postal Museum and thought about jobs in the community.
One of the favourite trips of the week is Year 3's trip to Kidzania as part of their work on money matters and why people have jobs. Year 4 also enjoyed trips to local restaurants and were allowed to make their own food and mocktails which, by all accounts were delicious. The children loved finding out about how we use maths and literacy skills in the workplace. Year 5 have been takin g part in an ethical fashion project –groups in each class have been creating, designing, purchasing, planning and making fashion items that culminated ina fantastic catwalk presentation this morning! And finally Year 6 have been involved in an enterprise project that involved creating all sorts of new inventions, writing a business plan and then presenting to a Dragon's Den that took place this morning at UBS offices. A huge 'thank you' to all the staff for making the week a success, and to Sheyenne who has been busy organising and liaising with Inspire for weeks to ensure it all ran smoothly!
Today, as you may have noticed, we have all been wearing spotty clothing and pyjamas as the school community took part in 'Children in Need'. Thank you for all the donations, we will be counting up and banking early next week so will let you know how much we have raised.
You will also have noticed that the Book Fair is at school for the next few days. Thanks to the volunteers on the PSA, it is open before and after school each day and will be open for extended hours on Parents' Evening –Wednesday 21st November. The school makes 100% commission on the money raised by the book sales, so help stock up the school library and classrooms! If you have not yet signed up for Parents' Evening, please see the main office for a slot.
We also welcomed lots of parents in to school this week for Maths workshops today in Years 1,2,3 and 4, as well as LKS2 Reading workshop on Wednesday. Thank you to all the parents who came to our sharing assemblies for Tarrant and Hawking Class today. Thank you as well to the parents who came in as part of Work Week to talk to the children about their jobs with different classes across the school.
Please remember to complete and return your consent forms that wre emailed ou tlast week! Finally, I hope you received an email on behalf of the PSA this week inviting you to become a class rep –if you can help, please email alisoncquinn@yahoo.fr. Plans are also well underway for the Christmas Fair –save the date: Friday 7th December.
I hope you have a good weekend. Best Wishes, Jane
---