Creativity@Millfields
Creativity plays a huge part in the teaching and learning that takes place at Millfields. Througout the year, children get the chance to explore and demonstrate their creativity through a creative approach embedded across all subjects. We have also worked with external agencies and organnisation including W + K london and Arthoppers to create inspirational projects such as Forever Curious and the 'Traditional Sunday Roast', a body of work underpinned by the DFE's approach on promoting British values.
Creative Weeks
In particular, both children and staff love to participate in the Creative Week where the whole school comes together to present solutions such as paintings, drawings, sculptures, animations, film clips, writing and designs based around a central theme. At the end of the week, each year groups ideas culminate in a fantastic installation which is celebrated on Creative Evening. please click on the links to find out more!
In 2016, we explored ideas based around the theme of UP! with the interpretations presented in an incredible outdoor film projection on the external walls of the school!
The concept of 2017's Going,Going, Gone was based around endangered animals and habitats.
In 2018 we celebrated our diverse and inclusive Hackney community in the form of animations, models, pottery, sculptures, lit jam jars and lots more amazing creations.
In 2019, the theme was focused on future London and the effects of climate change.  Each year group was given a focus; food, transport, housing, public spaces, education, the Thames and trees.  Every class had to discuss, debate and create sustainable solutions to future problems caused by the effects of climate change.
This year, our creativity week was called "Home is not a place". The idea was to look at the concepts of home and what it means to the children. This was achieved through many different types of media- from sculpture to textiles to stop-motion animation.  Children across the school explored themes such as identity, heritage, safety, familiarity and hope, as the school was transformed into a collective imagining of a Millfields Home.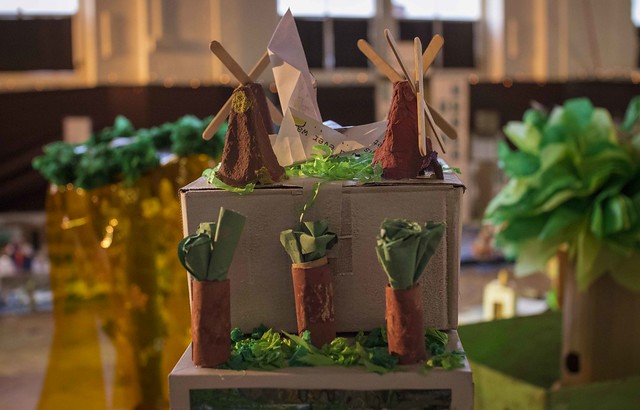 ---