English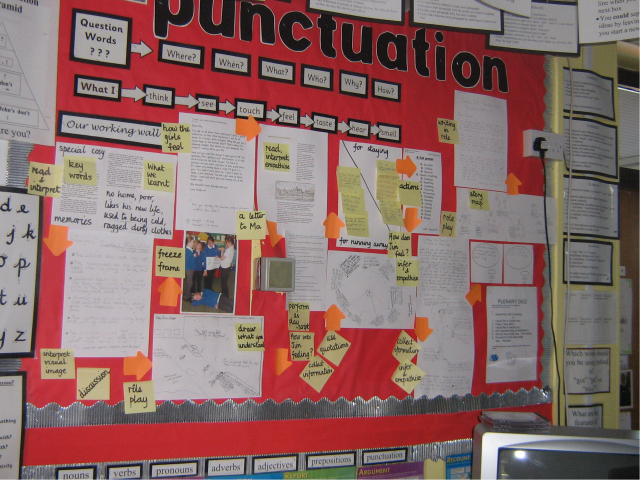 At Millfields, we teach the English curriculum through a range of speaking & listening, reading and writing experiences.  There are regular opportunities for thinking and questioning and children are encouraged to talk through their thoughts and ideas with a partner before expressing their views in front of the whole class.  Paired talk encourages all children to be active learners and gives the less confident children an opportunity to have their voice heard.
Speaking & listening opportunities are weaved throughout the whole curriculum.  Role-play, drama, paired and group discussions support the children with their vocabulary development and understanding or oral English. Opportunities to talk first ensure that children are supported with all elements of their reading and writing.
A wide variety of reading material is used in English lessons, guided reading and home reading.  We use a structured programme of phonic teaching from Nursery to Year 2 and the Supported Reading Programme in Reception and Year 1, which enables the children to have a good start in their reading. In years 2-6 daily reading sessions also ensure that the children are supported and challenged with their reading and that the teacher can tailor a careful programme of small steps to develop each individual in their decoding and comprehension skills using a wide range of texts. English lessons are often based around 'real' books, poetry, plays or film extracts and children are encouraged to take books, words and sounds home to practise.
Children are encouraged to write as soon as they start school, using emergent writing and they are given lots of opportunities to write. They are taught correct letter formation as they learn the phonic sound for each letter.  During their time at school they are taught a joined, cursive script that enables them to write fluently.  They are given many opportunities to write for a variety of different purposes and audience.  They learn to write creative fiction, poetry, letters, reports and science investigations.  They are encouraged to share their work with others and self-assess to identify their own strengths and areas for development.
During the academic year we also ensure there are lots of opportunities to see reading and writing in a wider context through workshops and storytellers and by participating in competitions e.g. debating and writing challenges.
Click here for our English Curriculum
How we teach Early Reading
Teaching children to read and write independently starts in Nursery and the Children Centre. Phonics is taught thoroughly and rigorously to children from Reception, they learn the sounds to match each grapheme and use this knowledge to decode effortlessly. As decoding gets easier and more effortless the children start to enjoy what they are reading and tend to understand what they are reading.

There are 44 different sounds to learn but many of these sounds are spelt in different ways in different words. Furthermore, we only have 26 letters to write these sounds down. This can be very confusing. E.g. the letter 'a' sometimes makes the sound /a/ (c-a-t), or, with other letters, the sound /ay/ (d-ay) or the sound 'air' (f-air).  To help children organise their understanding we use the phonic system in the Read Write Inc programme.

We start by teaching children to read the first thirty sounds (Set 1 Sounds) and to be able to blend these sounds to read words (i.e. to know that the sounds c/a/t can blend together to read the word cat). At the same time, we teach them how to write the sounds and use this knowledge to spell words, leading to writing short sentences.
As their confidence and fluency grows, we start to introduce more sounds (Set 2 and then 3) and the children read texts with increasingly more complex sounds and graphemes (different ways of spelling the sounds, e.g. /igh/, /ie/ or /ay/, /ai/). They learn that a sound can be written using 2 or 3 or even 4 letters. We call this a grapheme (e.g. igh represent the /i/ sound in the word night). Equally they learn to use these graphemes to spell words.

Simultaneously, we run a daily, adult supported reading session where children get to practice their phonic skills but also learn further reading skills like looking at cues from illustrations and context.  They learn how to navigate a book and about the different features of books.  They are taught to point to each word as they read and they build a bank of high frequency words that they can read by sight rather than sounding out.  They get to discuss the book in detail and relate what they are reading to their personal experiences.  They comment on what they are reading, find evidence in the book to answer simple comprehension questions and practice phrasing so that we move to reading fluently rather - than - like - daleks!

Children also experience adults reading to them which enables them to enjoy stories which are too difficult for them to access independently.

Reading in Y2 & KS2
Once the pupils have learned to read independently, they move onto the school's Literacy programme- A text-based curriculum and they continue to work on deepening their understanding of stories and texts through our daily guided reading sessions.  In these sessions we teach and model  7 reading strategies.
1. Predicting
2. Questioning
3. Clarification
4. Summarising
5. Inference
6. Making connections
7. Evaluating

The group read short sections of a text independently and then discuss it as a group, building their understanding through dialogue.
We try to ensure all children read widely across fiction and non-fiction texts. That they read for different purposes e.g. planning for trips by reading brochures, leaflets. In addition, children are expected to be reading at home daily and keep a log of what they are reading.  We encourage children to visit our library, attend story sessions at our local book shop and recommend books to each other.

How can you help at home?
There is much you can do to support your child at home.
• Talk to them! The most important thing you can do is to talk to your child and listen to them when they are talking to you. Try to extend their vocabulary range and their skill at talking in increasingly more complex sentences. For example, try to teach them alternative words for ideas, or nouns they already know.
• Read to them and always discuss the story you are reading to try to build your child's comprehension skills and understanding.
• Practice the sounds they know at home. There are flashcards available to buy from the office.
• Listen to your child read every night. Find a quiet time to hear your child read and use lots and lots of praise to encourage them.Look out for our Reading Workshops for parents and carers, where you can find out more details of how to help at home.
Click here for some further ideas

Here is what our pupils have to say about Literacy at Millfields
---