Physical Education
At Millfields, we believe regular physical exercise is a vital component in maintaining the health and wellbeing of all of our pupils.
Children at Millfields receive 2 hours of taught PE per week. One of the sessions is taught by a specialist sports coach and the other lesson is taught by the class teacher. Each class covers two modules concurrently, with the sports coach teaching one module and the class teacher teaching the other. The lessons follow the 'Get Set 4 PE' curriculum which the school has bought into. Below is the curriculum map showing the modules each child will be covering this year: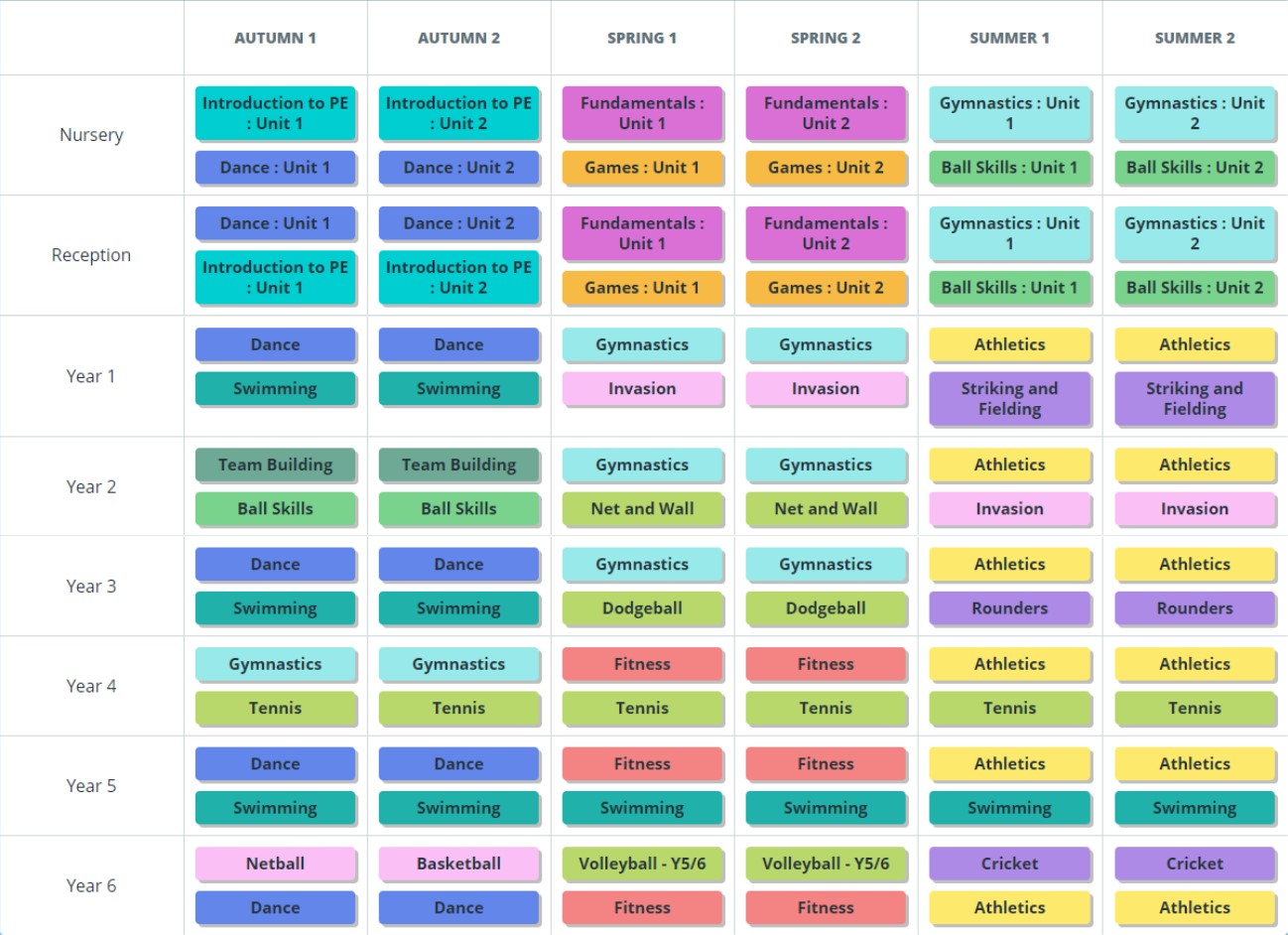 Included in the curriculum are comprehensive plans for each of the lessons, tailored for each specific year group. The programme was designed by PE teachers, for PE teachers and is a well-thought out, reliable and rigorous programme which uses an online assessment tool to enable us to ensure that all children cover all aspects of the PE curriculum, while also allowing each child's progress and achievements to be tracked against age-specific standards.
We believe that an innovative, varied PE curriculum and a wide range of extracurricular opportunities have a positive influence on the concentration, attitude and academic achievement all our children. This is evident in the wide range of activities and initiatives that we take part in and offer to the whole school community, including being involved in inter-school competitions and local events such as the Hackney Half Marathon, Bike Around the Borough, Hackney Run, and East London initiative, 'Beat the Street'.
There are abundant opportunities for pupils across all key stages to represent the school through inter-school and cross borough sporting events. Millfields are part of both the Girls' and Boys' Football Leagues, the Hackney Cycling League, the Orienteering League, the Cross Country League, the Cricket League, netball tournaments, tennis tournaments, athletics meetings, hockey games, swimming galas, basketball competitions, tag rugby competitions and Panathlon events for children with SEND. Millfields has a gained a formidable reputation in sporting events across the borough, having won the Hackney Cycling League for the last 5 years, placing first in the Hackney Half Marathon for the last 3 years, and winning the Orienteering League for the last 4 years.
Millfields has an extensive after-school sports and physical activity provision including judo, football through Arsenal Double Club, multi-sports skills, tennis, badminton, street dance, hula hoops, cycling and gymnastics. The Cycling Club incudes all pupils, including an EYFS Cycle Club to encourage participation from a young age. We also have a regular tennis programme (Millfields Tennis Academy) for pupils in the current Year 4 and Year 5 classes where a qualified coach takes the pupils off-site to train once a week.
---